For me, 2016 was a year of strong ups and downs. But while the downs were sharp, they were also short. Most of the year, I things were pretty "up."
The same can be said for the market in 2016. Even traders with a rather stable investment strategy learn many new lessons as the market brings new surprises each year. Our goal as traders is to internalize these lessons - and what better way than by documenting them.
So, here are my three lessons from 2016.
Lesson 1: Seasonality Is King
I've always found long-term seasonality to be rather simple. Commodities, for example, have well-known seasonal patterns. Long-term investing also has the advantage of being the focus of many academic studies, allowing for a wealth of reports that investors can use to time their buying of long-term holdings, such as dividend stocks.
At the beginning of the year, I gave my picks for the 5 best dividend stocks based off such an analysis. I posted my prediction on YouTube and let it sit:
The video now has 32,000 views and positive feedback via comments such as:

I don't think my predictions were particularly impressive because:
My choices were rather conservative.
I adhered to already well-known seasonal patterns.
For most stocks, however, long-term seasonality is not so reliable. Here, seasonality is generally short. Seasonality is a monthly or quarterly phenomenon that changes when earnings are released.
Although many traders ignore seasonality because "you cannot time the market," you ideally want to be trading in the same direction as the seasonality. By checking the stock's seasonality after your analysis, you get that final catalyst that seems to say, "Even if you push off the pier in the wrong direction, the wind still is blowing toward your destination." In 2016, I began ensuring that most of my trades were opened in the direction of the 1-3 month seasonality and found that these trades were not only my best personal trades but also my best recommendations here on Seeking Alpha.
For example, my article on my Top 3 December Dividend Bargains identified stock with the following criteria:
High yield dividend stocks (~4% and above)
In the midst of a downturn/sell-off
A history of bouncing back from a downturn/sell-off S
ees December as its strongest month
My picks were not 100% based on seasonality, but I did not include stocks that did not have strong Decembers. The result is that all three picks are up. Consolidated Edison (NYSE:ED), for example, is already up 5%, and December is not yet over.
This is statistically surprising, as stocks on a downturn usually continue downward; predicting pullbacks/turnarounds is one of the hardest prediction types. Yet I've found seasonality, mixed with fundamentals, to be a strong, consistent indicator for pullbacks and turnarounds. In late October, I predicted that a couple of stocks would experience a seasonal pullback - Google (NASDAQ:GOOG) (NASDAQ:GOOGL) and Facebook (NASDAQ:FB). Google's prediction was partly based on the stock's odd November, a consistently underperforming month stuck in the middle of its otherwise bullish season: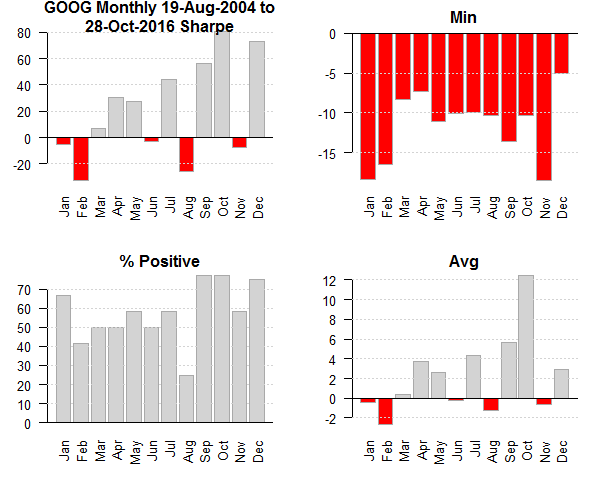 Both GOOG and FB pulled back, and the article was well-received:

In many of my articles, I added seasonality to the effect of strong predictions. I have too many articles to list as examples, but I think you get my point. Ok… one more: a prediction that Herbalife (NYSE:HLF) would not just experience a daily selloff on earnings but that the earnings selloff would lead into a seasonal selloff:

Regarding seasonality, this year showed me what we all know but we rarely act on: History repeats itself - or restated as per my preferences: The most expensive four words in the English language are "this time is different." If a stock fell 18/20 Januaries, it is highly likely to fall this January, as well, regardless of who the president is, regardless of what the weather's like, regardless of how the company has changed.
Still, I must emphasize that my analyses used seasonality in conjunction with other analytical information. Seasonality alone is not a strategy. However, from this year onward, it is a big part of my overall analysis workflow.
Lesson 2: For Similar Market Impact Events, Only the First Is Tradable
I did not predict nor trade Brexti - I stayed out. I stayed out because the data and the psychology contradicted each other. The data showed surveys stating that Brexit would not happen: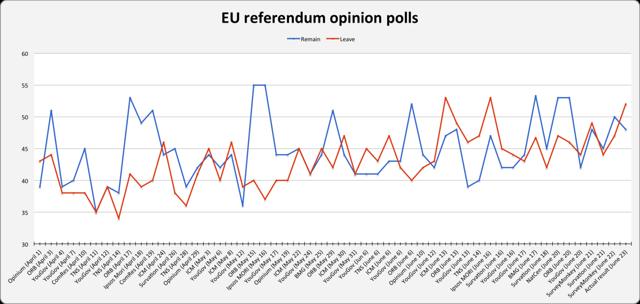 (Source: Business Insider)
The polls were pretty consistent showing "remain" to be a more popular vote than "leave." But if you read the news, you would have seen the psychology predicting "leave." What do I mean by "the psychology?"
When you see one side fighting harder than the other while at the same time claiming the battle will be easy, it usually means that side is going to lose. If "remain" was such a sure thing, pro-remain pundits wouldn't have been so focused on attacking the pro-leave side prior to the vote. In other words, the loser is the side that both fights harder and claims the battle will be easy. Indeed, the psychology was correct in this situation and the unanimous pro-remain media was wrong.
When that happened, we saw a buying opportunity after the market realized few were positioned for Brexit: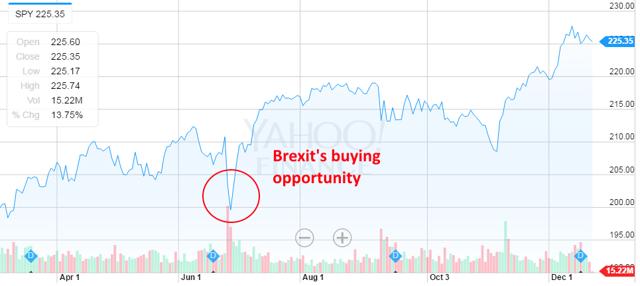 Those who missed the boat were mostly regretful because of the significant discount nearly every sector offered up to the investor in those few days. But a second chance came: Trump. It was the same situation - the mainstream media, confident that Trump would lose while simultaneously launching 24-hour attacks against the supposed pushover candidate.
Unfortunately for investors, the market's memory had Brexit fresh in its mind, and we did not see a repeat of this "shock trade." In fact, a buying opportunity did appear after Trump won, but only in the futures market hours before the stock market opened. The market smoothens out similar market-impact effects and only rewards those who get it right the first time.
If you had sold prior to the election hoping for another discount, you would have only gained a hole in your wallet via commissions and taxes. Those looking to trade repeats of recent happenings should not bother. The lesson is for speculators to speculate on novel events, not "rehappenings."
Lesson 3: Trade When Compelled
I took a vacation to Korea for my birthday this year. I planned on making zero trades during that time. After all: Vacation.
But as my subscribers probably noticed, I ended up making two trades during that time.
Zero Planned.
Two Made.
Why?
I made these two trades because they were simply too compelling not to make. When you know that the investment makes sense - when you have the data supporting the investment - the only wrong choice is not to act. Thus, I broke my own rules, and here's what happened:

ROI: 88% (including commissions)

ROI: 112% (including commissions)
I have always believed that investors need three things to be successful:
A data-based trading/investing strategy.
A math-based money management strategy.
A schedule.
In fact, I've learned this year that the third likely malleable, if not completely optional. Many investors use strategies such as dollar cost averaging to create a simple trading schedule, but sometimes breaking that schedule can bring in great profits. If you ever feel compelled to a make a trade, by all means, break your schedule and give it a shot!
Summary
I had a great 2016 here with you guys. My subscribers and followers have been great to me. I put my skin in the game for you guys, and I hope to continue doing so into 2017.
To recap:
Seasonality is a reliable, accurate predictor that can be used as a part of a larger trading strategy.
If Event B looks like Event A, don't expect to trade it like Event A. Move on to another trade.
A trade that compels you to think about it is likely worth making. It's better to regret having done something than to regret not doing anything at all.
I hope everyone had a great 2016 and will have an even better 2017! I'm looking forward to seeing it through with you.
Notes:
Note: Get my articles as soon as they are published by clicking the big orange "follow" button at the top of this page. Make sure you choose "real-time alerts."
Note: All unlabeled figures were created by me from data pulled from Yahoo and ADVN through R. Charts with blue backgrounds are from Etrade Pro. Fundamental charts from a paid subscription at simplywall.st. Line charts from Yahoo Finance.
Learn More about Earnings
Exposing Earnings - my earnings prediction newsletter - is now live, here on Seeking Alpha. In this newsletter, we employ both fundamental and pattern analyses to predict price movements of specific companies after specific earnings. I offer specific strategies for playing those earnings reports. To-date, we are 94% accurate on earnings report predictions.
Disclosure: I/we have no positions in any stocks mentioned, and no plans to initiate any positions within the next 72 hours.
I wrote this article myself, and it expresses my own opinions. I am not receiving compensation for it (other than from Seeking Alpha). I have no business relationship with any company whose stock is mentioned in this article.