Over the last week, the big concern for the natural gas market was the bearish storage draw revisions we forecasted for the end of December and going into the first week of January. Our projections went from -110 Bcf to sub -100 Bcf. Some of our premium subscribers informed us that we already had bottom of the barrel forecasts for the 12/30 week, and the estimates they've seen were around -150 Bcf. As we get closer and closer to the end of the month, it looks like the storage draw will be below the -130 Bcf pegged by the market.

However, recent model weather runs have started to trend colder for the first few weeks of January. The bearish warm blast that we are seeing now across the US will only last about a week and a half or so, and not the entire winter like some have claimed. The latest model run shows Arctic air reappearing by early January in Canada and the current projection is for the West to be affected.
So far, our storage forecasts are not projecting any intense storage draws as most of the Arctic air is kept with our neighbors up north, but if there are any indications that the cold air mass could approach the East, expect some firework in natural gas (NYSEARCA:UNG) prices.
In addition, the Eastern Pacific Oscillation or known as EPO is currently forecasted to trend negative come the end of December. Historically speaking, -EPO hints at much colder temperatures across the Northern parts of the US. HDDs are currently projected to be 10%-15% higher than the norm if the -EPO forecasts play out, so we will be looking to update with more info as we approach month-end.
Looking at storage projections for the next several weeks, readers should expect another massive draw in next week's EIA storage report. Our preliminary figure currently pegs a draw around -225 Bcf. Next week's EIA report should take storage below the five-year average by over 70 Bcf. Our updated April 2017 EOS is forecasted around 1.41 Tcf. How will natural gas prices react to the first sign of a material drop below the five-year average? If there is another Arctic blast that hits the East Coast within the next month, we could see natural gas prices spike over $4/MMBtu. If weather remains normal, we expect natural gas prices to move over $4/MMBtu by March 2017.
Overall, the warming temp trends we observed over the last week has stopped. Storage draws have been revised higher, and readers should expect more frequent updates of volatile weather changes ahead.
We will be posting daily material updates on the natural gas market as weather volatility remains high. We post our findings first thing to premium subscribers, so if you enjoy our natural gas daily updates, we think you will enjoy the premium service even more. You can sign up here.
8-14-Day Outlook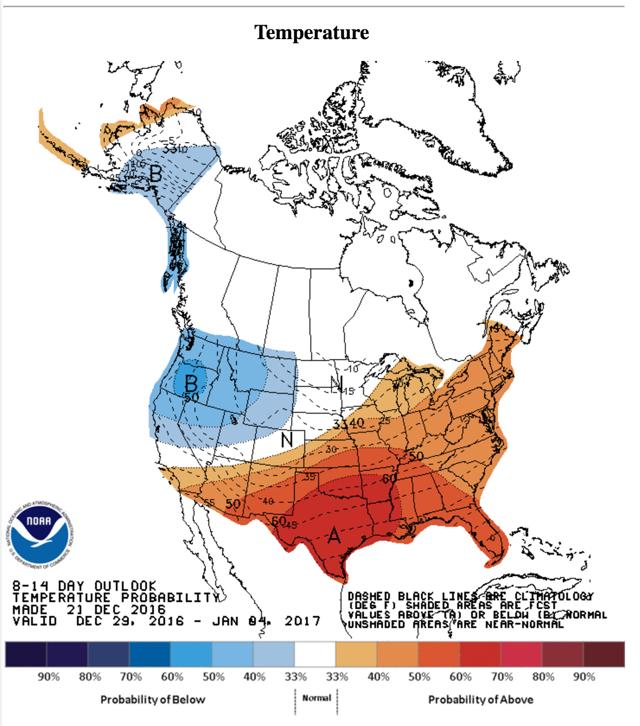 Disclosure: I/we have no positions in any stocks mentioned, and no plans to initiate any positions within the next 72 hours.
I wrote this article myself, and it expresses my own opinions. I am not receiving compensation for it (other than from Seeking Alpha). I have no business relationship with any company whose stock is mentioned in this article.