As those familiar with my articles know, I forecast the value and future distributions of various oil and gas trusts. This article presents a comparison of 15 trusts, given forecasts of their future performances.
I'm a little late on the Q4 update this year (life got busy) - happy holidays to all and best wishes for a healthy and rewarding 2017.
Quarter in Review
The end of 2016 has been a good one for trust holders. Although oil and gas prices dipped significantly in November, the OPEC-and-friends deal in December resulted in a rebound that has buoyed the entire sector. The Forensic Accountant tracked a few major plays, two of which stand out: SandRidge Permian Trust (NYSE:PER) +20% and Whiting USA Trust II (NYSE:WHZT) +60%, both of which were traded prior to the OPEC news. I remain long both.
Moving forward, investors should be careful - the rise in oil and gas prices has baked into prices overall. There are some trusts that appear to have significant upside remaining, but many others are at or above where I'd expect them to settle given the futures markets. January buying could trigger volatility that may open the door for long and short swing trades.
My favorite long positions include PER and WHZT, along with Pacific Coast Oil Trust (NYSE:ROYT), which may have finally turned the corner, Sandridge Mississippian I (NYSE:SDT) and II (NYSE:SDR), ECA Marcellus Trust I (NYSE:ECT), and Whiting USA Trust II, all of which I'm currently holding. I don't have any short positions at the moment, but the watch list includes BP Prudhoe Bay Royalty Trust (NYSE:BPT), MV Oil Trust (NYSE:MVO), and VOC Energy Trust (NYSE:VOC).
Oil and Gas Spot Prices are Up, Up
Trust values are highly correlated with oil and gas prices, both of which have been exceedingly volatile in the past year. With the announcement of the recent OPEC-and-friends deal, the NYMEX oil futures curve has risen about 10% to roughly $55/bbl in 2017, so perhaps it's a good thing that I waited to publish. Gas is also way up with the recent spot price at $3.40/mcf. However, gas futures are not as bullish as oil and the futures curve suggests that the market is expecting a significant pullback in prices toward spring. The model, which is based on the futures curve, is therefore pricing future gas at a discount to the current spot price.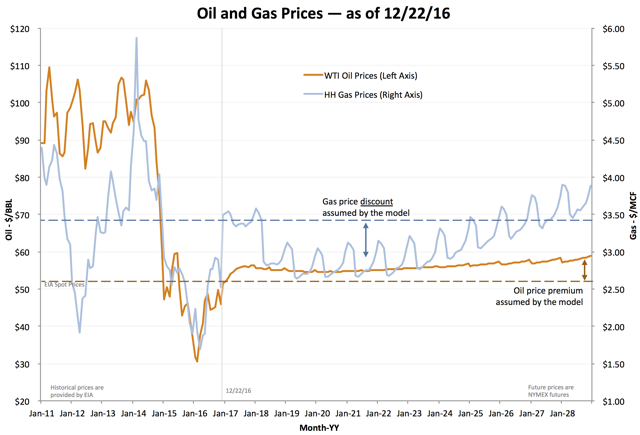 Fig. 1: Oil and gas prices used by the model and implied oil price premium. Source: NYMEX and author's analysis.
Two Ways to Forecast Value
I compute two different estimates of value for each trust. The first is a fundamental valuation that uses an engineering-style model and discounted cash flow (DCF) analysis. The second is an adjusted NPV-10 based on previously published reserve reports.
Model/DCF Method
The model/DCF method estimates future distributions by developing bottom-up forecasts for each revenue and cost component of a trust's distributable income statement.
Production is forecast based upon historical well depletion rates and expected future well completions and workovers; published reserves are ignored.
Sales prices are forecast as NYMEX Henry Hub (HH) and West Texas Intermediate (WTI) futures, adjusted for historical spreads.
Costs are forecast individually based on prior costs, revenues, production and inflation.
Termination dates, terminal value, share subordination and unique passive income streams are explicitly considered.
Reserve Report Method
The reserve report method adjusts the estimate of NPV-10 in each trust's reserve reports for updated price and production information.
Production since the date of the reserve report (if any) is subtracted from published reserves.
Oil and gas prices are updated to reflect current HH and WTI prices and historical spreads.
Costs, as provided by the reserve report, are prorated by remaining production.
Trust administrative costs are subtracted.
Although both methods may appear to be similar, there are key differences that provide strengths (or weaknesses) to each approach. Trust reserve reports are, in theory, based on detailed well production data. However, their assumptions are impossible to verify and they frequently exclude key costs and other considerations. The model is based only on public information and is fully transparent - if you would like to know a trust-specific assumption, please ask.
December 2016 Valuations
The table below presents a comparison of 15 trusts based upon valuations using the two methods. The table is divided into five sections. In the first section, trusts are ranked according to the model's forecast internal rate of return (IRR). For comparison, the risk-adjusted rate of return that I use for Fair Value (FV) calculations is also shown here.
The second section presents four different valuations: a recent closing market price and three net present value (NPV) estimates, two using 10% discount rates for the model and reserve methods and the third discounting the model's valuation at FV%.
The third section of the table presents the ratios of the market price to the three NPVs. I consider trusts with FV-to-market-price-ratios (column c) of less than 1.0 to be candidates for long positions, while reserve-report-NPV-10-ratios (column e) over 4.0 are one indicator that I use to identify short candidates. The fourth section compares 12-month forward and trailing yields and the fifth provides the oil/gas revenue mix, expenses and other details.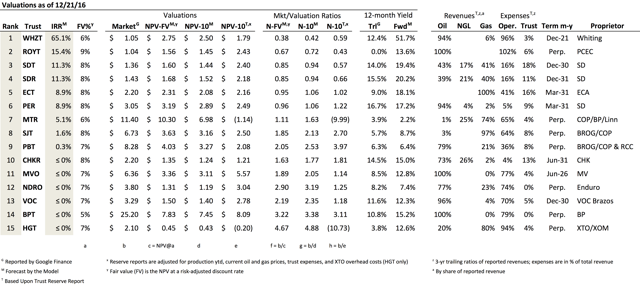 Fig 2. Trusts ranked by IRR. Source: Yahoo Finance, Trusts' SEC filings, and author's analysis. Note the new footnotes! Columns with an "M" are derived from the model's forecast; those with a "T" from the trust reserve reports.
Trust-specific comments
Predominantly Gas Trusts
Three trusts derive their income primarily from natural gas:
ECA Marcellus Trust I is the best of a bad gas market. The trust could rally, as the next distribution is forecast to be higher than the last, but it's far from a guarantee. March $2.50 call options might be an interesting play at $0.05 because of the possibility of a gas rally, but I wouldn't take a large stake.
Mesa Royalty Trust (NYSE:MTR) is new to the list. Model is in beta, but it forecasts a 5% long-term yield.
New Mexico's San Juan Basin Royalty Trust (NYSE:SJT), operated by a subsidiary of ConocoPhillips (NYSE:COP), continues to offer a low, long-term forecast yield of 1.6%. Slow, steady, uninspiring.
HGT remains well overpriced for what it offers... distributions in the range of 1 to 2 cents. As a monthly payer, though, it could always pop and offer a short opportunity.
Perpetual Oil Trusts
Four trusts have income primarily from oil production and have no fixed termination date (so-called "perpetual" trusts):
In the past quarter, California-based Pacific Coast Royalty Trust (ROYT) has been the subject of more bullish SA articles than any trust that I can recall. All of them have been overzealous and some disastrously so. ROYT is priced for termination, which remains a distinct possibility. However, if recent gains in oil price futures come to pass and the trust is able to maintain production (which has declined 30% y/y) and costs, there could be a return to profitability in the spring. Long a small position at $0.93, may increase stake depending on what shows up in the next SEC filing.
Permian Basin Royalty Trust (NYSE:PBT) is a stable oil trust operated by a COP subsidiary. But priced over $8 it's hardly a bargain.
Enduro Royalty Trust (NYSE:NDRO) has wells in Texas, Louisiana and New Mexico operated by Enduro Resource Partners. At $3.80, NDRO offers sub-10% short-term yield and negative long-term yield. Avoid.
BP Prudhoe Bay Royalty Trust is the granddaddy trust with wells in Alaska. It was a great long play this past quarter, and could see significant appreciation in 2017. I'm likely to hold out for an opportunity to short the next inevitable price crash.
Terminal Oil Trusts
Six trusts are terminal oil trusts, including three operated by SandRidge Energy (NYSE:SD) and two with Vess:
Whiting USA Trust II returned to the land of the living last quarter. The model forecasts that the coming quarter will pay between 2 and 10 cents - but it could be a real winner if the post-OPEC deal prices take hold. Long from ($0.55) on a massive upside.
SandRidge Permian Trust is an SD trust with wells in west Texas. At observed decline rates, the trust is priced for 8-10% long-term return. I suspect it will head a little higher around the next distribution and will probably sell my position (bought at $2.55) before then.
SandRidge Mississippian Trust I finally turned around last quarter and offered a slightly higher distribution, but the market has been holding the price steady at a floor around $1.40. I suspect the distribution will rise again this quarter - perhaps enough for the stock price to notice.
SandRidge Mississippian Trust II is the same story as SDT. I'm long small positions in both SDR and SDT at current market prices as I suspect that I will be able to sell where I bought after reaping a few distributions.
Chesapeake Granite Wash Trust (NYSE:CHKR) could rise on the near-term distribution, but the long-term prospects are pretty ugly.
MV Oil Trust is an MV Oil and Vess-operated trust with wells in Kansas and Colorado. I could see it settling around $5.50, but it's not a value play.
VOC Energy Trust gets the dog of the quarter award for being the most overpriced terminal oil trust. Bully for you, VOC!
Why I am long WHZT and ROYT (in a chart)
If you have made it to the end, I give you this interesting chart. WHZT is labeled; ROYT is #2. However, note that both need good 2017s to avoid termination next December.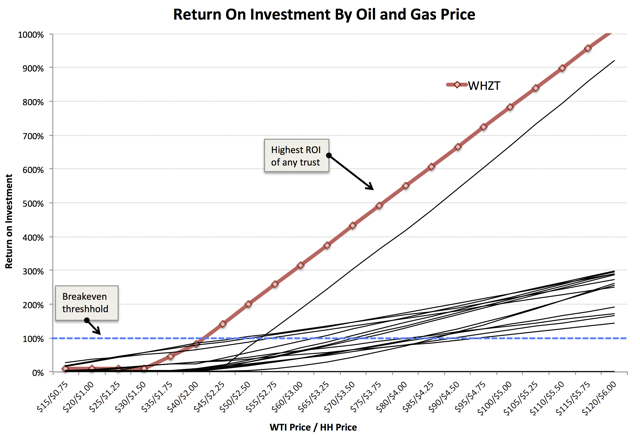 Fig. 3: Forecast ROI at different oil and gas prices. Source: Author's analysis.
Disclosure: I am/we are long WHZT, ROYT, ECT, SDR, SDT, PER.
I wrote this article myself, and it expresses my own opinions. I am not receiving compensation for it (other than from Seeking Alpha). I have no business relationship with any company whose stock is mentioned in this article.