There must be few markets that are as dominated by the US as the regional jet business. Take a look at this chart.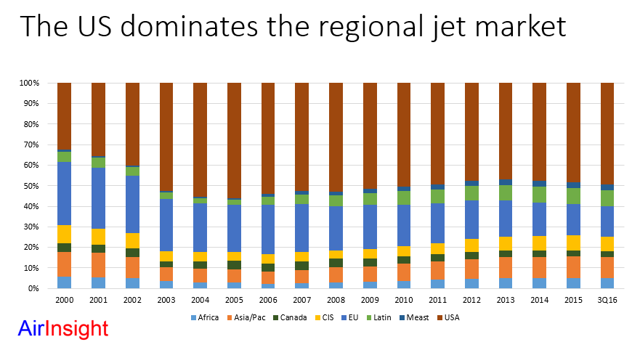 Even though US dominance has decreased, it remains worth about half the market. Any OEM trying to sell a regional jet must ensure the aircraft can be sold to US regional airlines. Forgoing this means there is still the other 50% of the market. But because it is fractured, marketing and sales become expensive.
Who are the players in this industry? Bombardier (OTCQX:BDRBF), Embraer (NYSE: ERJ), SuperJet International and Mitsubishi (TYO: 8058).
It is crucial to understand that the real limit on the market is not just size. The US has a unique rule called scope clause. The key items here are limits aircraft used by regional airlines to 76 seats and weighing no more than 86,000 pounds. The rule essentially ensures that regional airlines, whose pilots are at lower pay scales than pilots at large airlines, do not take away routes and markets.
Because of this rule, half the world's regional jets must remain within the rule. Any OEM that decides to forgo the US market takes on considerable risk.
That means that new aircraft like the Mitsubishi MRJ90 can't be used in the US. About 75% of Mitsubishi's MRJ90 orders are for two US regional airlines. These airlines can't take delivery and may have to swap for the smaller MRJ70 which has yet to be built.
For SuperJet, despite its attractive low price, they have not even applied for FAA certification. Yet their aircraft has been well received by Mexico's InterJet, which flies it into the US.
Embraer has delayed the development of its E175-E2 because of the scope clause limits. Fortunately Embraer has the E175, which not only fits within scope, it is also the market leader. However, you can be sure Embraer would prefer to move its customers to the E2.
The only OEM that benefits with the current scope clause is Canada's Bombardier. Not only does its CRJ900 comfortably fit under scope limits, it is also attractively priced, and is in many ways the low cost option for any US-based regional airline. If and when scope moves higher, Bombardier has the larger CRJ1000 ready to deploy.
Does the scope clause limit US regional airlines from aerospace progress? Perhaps. The newer aircraft have better engines with improved fuel burn. But they are heavier than 86,000 pounds.
US regional airlines sell their capacity to the US major airlines. The majors sell these seats and set the fares. US regionals are given a small margin. Consequently the primary focus of a regional airline is to produce a seat at the lowest possible cost. This means that any new technology that does not produce a lower cost seat is of limited to no attraction. Cheaper fuel has meant that older aircraft like 50-seat jets are kept in service. These aircraft remain useful as their capital costs are written down and maintenance costs are manageable.
For scope to move we need to see much higher fuel prices again. But we also need to a sea change in the market between pilots at major airlines and their employers. Since there is a looming pilot shortage, the negotiating power will remain with pilots. Even when the next round of scope negotiations take place in 2018, it is unlikely there will be any move higher.
This seems to us that Bombardier benefits from keeping its CRJ line as updated as possible in terms of cabin refresh (announced) and tweaks engines for maximum efficiency. Embraer benefits slightly less because of its commitment to the E2. Fortunately its current E175 is an excellent offering that has proven popular with US regionals. But it's a dark future for Mitsubishi and SuperJet in the US market.
Disclosure: I/we have no positions in any stocks mentioned, and no plans to initiate any positions within the next 72 hours.
I wrote this article myself, and it expresses my own opinions. I am not receiving compensation for it (other than from Seeking Alpha). I have no business relationship with any company whose stock is mentioned in this article.
Editor's Note: This article discusses one or more securities that do not trade on a major U.S. exchange. Please be aware of the risks associated with these stocks.