The latest durable goods orders should be better than one month ago. Why? Because leading indicators are doing very well since September of 2016. I am talking about the ISM manufacturing index and several manufacturing surveys, as conducted in several Federal Reserve districts.
In this article, I'm going to show you a few important indicators, that give us a solid overview of the durable goods situation.
Durable goods orders: Total (nondefense, ex aircraft)
Durable goods orders: Machinery
Durable goods shipments: Total (nondefense, ex aircraft)
Durable goods orders: Electrical Equipment
I compare every indicator with either the ISM manufacturing index or the regional shipments index.
If you want to know more about economic indicators, feel free to read my blog about this topic.
Blog: United States Economic Indicator Overview

Durable goods orders are currently 3.2% lower than one year ago. This is more than one point higher than last month's 4.4% decline. Durable goods orders should go positive over the next 1-3 months if the ISM index stays at these levels, or goes higher.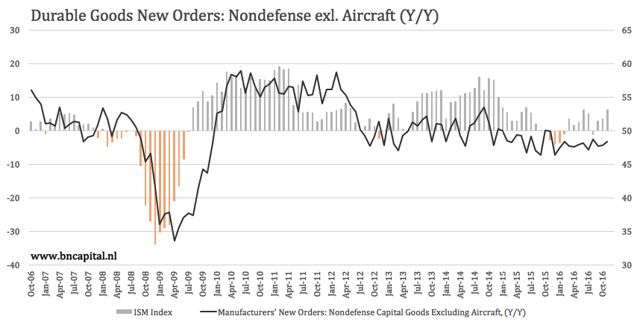 Machinery orders showd the same pattern. Machinery contraction came in at 4.1% versus 5.8% contraction in September. The 2014 slow down has hit machinery very hard as you can see. It would be a very important sign if machinery orders would increase over the next few months.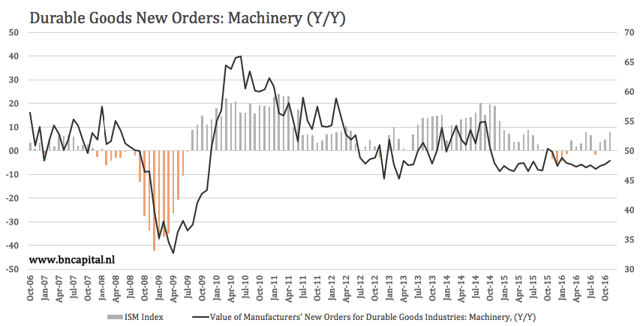 Shipments are currently in a steep recovery. Contraction has recovered more than 3 points after the -7.3% bottom in July of 2016. Regional shipments are also increasing since July. Therefore, it is likely that shipments keep increasing.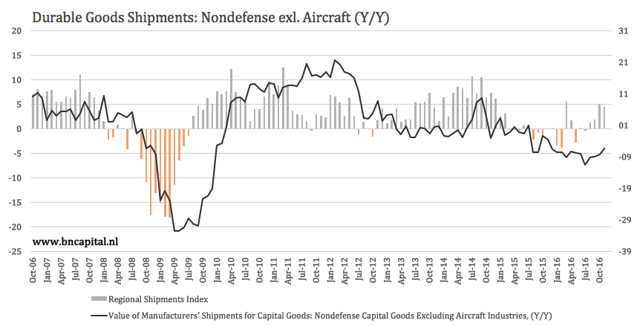 Last but not least: the highly cyclical electric equipment industry is doing very well. Electrical equipment orders are positive since October. Orders bottomed in March of 2016 with exactly 10% contraction.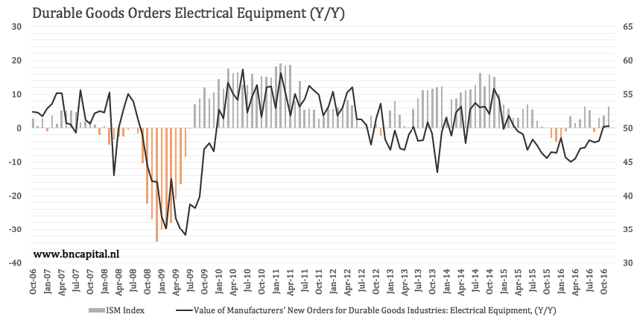 Conclusion
Durable goods orders are still contracting. However, the positive effect of leading indicators is supporting new orders. I expect to see positive numbers if leading indicators stay positive over the next few months. This should also positively affect corporate earnings in the first quarter of 2017.
Many thanks for reading my article. Please leave a comment below if you have questions or remarks.
Disclosure: I/we have no positions in any stocks mentioned, and no plans to initiate any positions within the next 72 hours. I wrote this article myself, and it expresses my own opinions. I am not receiving compensation for it (other than from Seeking Alpha). I have no business relationship with any company whose stock is mentioned in this article.