The U.S. Treasury just announced that its reopening auction of CUSIP 912828Q60 - creating a 4-year, 4-month Treasury Inflation-Protected Security - resulted in a real yield of 0.12%, a bit lower than looked likely in recent days.
Over the weekend, when I previewed this auction, the real yield (above inflation) looked like it could come in around 0.23%. You wouldn't know it from the 'Treasury market is crashing' coverage you see everywhere these days, but the TIPS market has had a nice rally in the last week. The NYSEARCA:TIP ETF is up about 0.75% since last Friday, and TIPS are outperforming the overall bond market and overall Treasury market: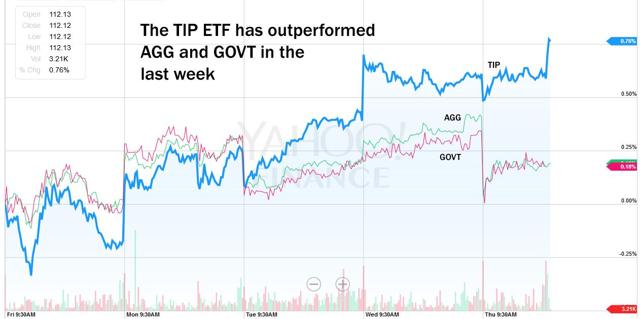 Bear market for TIPS? Really? All of this indicates continued strong demand for inflation protection among investors.
In today's auction, the real yield came in just below the coupon rate of 0.125%, so buyers paid a unadjusted price of $100.02 for $100 of value. When you add in accrued inflation of nearly 2% since the original auction in April, you get an adjusted price of $102.01 for about $101.98 of principal.
Inflation breakeven rate. With a 5-year nominal Treasury trading at about 2.03%, this TIPS gets an inflation breakeven rate of 1.83%, meaning that it will outperform a nominal Treasury if inflation averages above 1.83% over the next 4-year, 4 months. This is well above the 1.53% generated at the originating auction in April. Inflation expectations have risen sharply in the last half of 2016, as shown in this six-year history of the 5-year TIPS breakeven rate: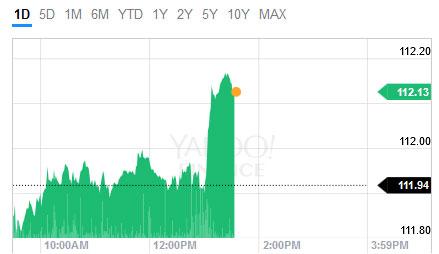 Reaction to the auction. The TIP ETF has been trading sharply higher after the auction close at 1 p.m., as shown in the chart. This is a very strong reaction, with a higher price indicating declining real yields for TIPS. In fact, according to Bloomberg's Current Yields, the same 5-year TIPS that was auctioned today was trading at 0.10% as of 1:35 p.m. EST, 2 basis points below the auction yield.
Today's auction continues a fairly strong week for Treasury Inflation-Protected Securities. Contradicting much that you might read, the sky is not falling for TIPS. Investors want inflation protection and are willing to pay for it.
Today's auction closes out CUSIP 912828Q60, an issue that never managed to auction above the Treasury's minimum coupon rate of 0.125%. Here is its auction history: