Thesis
In Masco's (NYSE:MAS) most recent quarter, they reported strong numbers despite foreign exchange headwinds. In the conference call, it is stated that 83% of their revenue comes from repair and remodel activity. Continuous earnings growth is inevitable for this company because they are exiting low margin businesses in their plumbing segment, improved results in their dealer channel (due to product introductions, and consumers are trading up to higher end products.
Quarterly Results Overview
Sales in the most recent quarter were up 2% year over to $1.9 billion, including foreign currency impacts. They saw weakness in their cabinets business (discussed later) and strength in their plumbing, decorative architecture, and windows businesses. It is tough to find companies with topline growth in this market (although this may change with the incoming administration). All in all, revenue numbers were excellent.
Earnings per share increased to $.40, up 25% year over year. There were some items in the quarter that lowered this number, primarily the $21 million warranty reserve increase in their Windows and Other Specialty Products segment. Also, operating margin increased 30 basis points to 14.3%. Gross margins increased as well by 70 basis points to 32.7%. Management appears to be focusing on strong operational excellence. Their results certainly seem to indicate that. Given their confidence in the business, management raised the dividend from $.38 per year to $.40.
Quarterly Results by Segment
Masco has four main segments: Cabinets and Related Products, Plumbing Products, Decorative Architectural Products, and Windows and Other Specialty Products. To provide some context on the makeup of the business, I will review the fiscal year 2015 results by segment. Total revenue in 2015 was $7.142 billion. Total operating profit was $1.023 billion. Cabinets and Related Products had $1.025 billion in revenue, or 14.4% of revenue. Operating profit was $51 million, or 5% of total operating profit. Plumbing products had revenue of $3.341 billion, or 46.8% of revenue. Operating profit was $512 million, 50% of operating profit. Decorative Architecture products revenue was $2.02 billion, or 28.3% of total revenue. Operating profit was $403 million, or 39.4% of operating profit. Other Specialty products had revenue of $756 million, or 10.6% of revenue. Operating profit was $57 million, or 5.6% of operating profit. To sum up, plumbing and decorative architectural products are the bread and butter of their business in terms of revenues and operating profit.
Cabinets and Related Products
Sales decreased by 6% to $239 million. A lot of this can be attributed to Masco exiting lower margin businesses which reduced sales by $25 million. In their dealer channel, there was single digit revenue increases due to volume and favorable sales mix. Operating profit was $19 million, down 9.5% year over year. Operating margin was down 40 basis points to 7.9%. Management is trying to improve the margins of this business over time. New product launches are expected in the fourth quarter which will increase costs by $5 million.
Plumbing Products
Sales in the quarter were $899 million which is up 5% including currency and 6% on a constant currency basis. Operating profit was $174 million, up 30% year over year. This was primarily due to increased volume and favorable commodities. Operating margin was 19.4%, which was up an astounding 330 basis points. The results in this segment were truly incredible. International results were up 7% on a constant currency basis with their Axor brand increasing double digits in the quarter. All in all, the plumbing business is spectacular.
Decorative Architectural Products
Sales in the quarter were $536 million, up 2% year over year including currency. Results were driven by their Behr Pro and Marquee product lines. Liberty Hardware was up 9% mainly due to operating leverage. Operating profit was $111 million, up 8.8% year over year. Operating margin was 20.7%, up 130 basis points year over year.
Windows and Other Specialty Products
Sales in the quarter were $203 million, down 1.5% year over year with currency impacts. Excluding currency impacts, sales would have increased 2%. The segment reported an operating loss of $10 million which is down from a $23 million profit last year. Operating margin was -4.9% compared to 11.2% last year. There were issues with their Milgard division. The main issues were the warranty accrual increase (now done), ERP system complications, and demand for products. The ERP system is now methodically being rolled out across periods so customers do not have delays. As for demand for products, the labor market is tight, so hiring has been a challenge. All in all, I expect results to improve in this division going forward.
Valuation
At the time of writing, Masco has appreciated 13% year to date and is approximately 15% off of its 52 week high. This has pushed valuations to 17.2x forward twelve month earnings. According to CNBC, 2017 are expected to be $1.90 compared to an estimated $1.53 for 2016 earnings. This would be a 24.2% growth rate, making a PEG of .71. This would put the company towards the cheap end of the range.
Charts
Masco has had a sizable move this year, so it is prudent to look at the charts. If we look at the chart below, we will find that the stock is neither overbought nor oversold. From the charts, the stock has been a sideways range from $30-37 for most of the year. A couple recent developments show that the MACD has a bullish signal. The black line has crossed over the red line in an upward direction. The black line must be above the red line to sustain this move, which I believe it will. There is support at $30 and $31 and resistance at $33, $35, and $37. I believe the stock represents real value at current prices, but a pullback to the $30 would make the stock an absolute buy.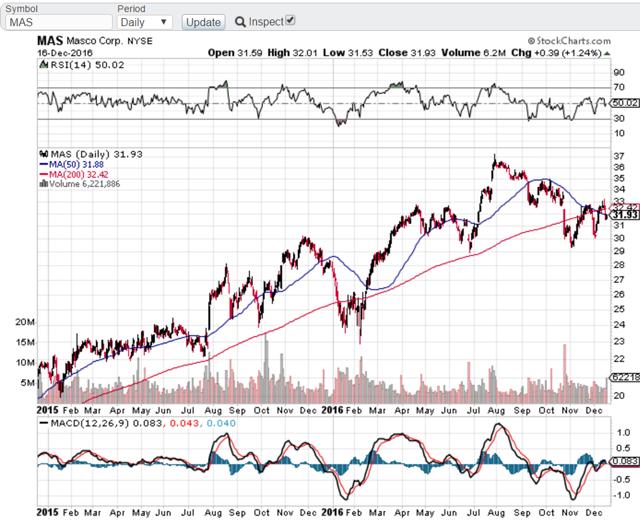 Source: StockCharts
Forward Looking Analysis
As mentioned in the conference call (previously cited), Masco's main priority is to reinvest in the business. They are doing this by having expanding their footprint into new stores, new product introductions that will drive foot traffic, consumer shift towards higher end products.
For instance, with paint, they are in Home Depot with their BEHR and Marquee brands. They said they are seeing positive results from the additional 100 stores put into place in 2016. The big kicker is that Home Depot is hiring more paint store representatives. The hope is that this will attract more professional paint contractors to Home Depot stores and increase comp store growth. If this plays out, Masco will benefit.
As for new product introductions, these will cost some money to launch. But, the impacts will be positive over time. Keith Allman said, "We've got some really nice new product introductions that we're launching, both in KraftMaid and our Quality brands, and the foot traffic we're seeing in that dealer channel, broadly speaking, is really solid. In fact, we're seeing that pick up a little bit as we look across the entire country. So, good foot traffic, good product introductions that are helping to drive that, and we're focused on dealer growth." I think this bodes well for the company and their dealer channels because it brings new excitement to their products which will build brand awareness. Allman goes on to say that Masco has "four new door styles in KraftMaid, we have new SKUs for KraftMaid, and then a significant launch in our Quality offering. So that's the primary driver of the incremental expense." I believe the new product launches will prove to be a worthy investment.
Given that the economy is ramping, consumers will naturally trade to higher end products because they have more money to spend. Masco is a beneficiary of this trend. Allman again states that Masco is seeing "good moves in terms of mix. So our higher price point products like our high-end Delta, our Brizo brand, our Axor brand, our spa business, things like that, and our Cabinet business, which is a big ticket item, so we're seeing good positive mix." It is clear that consumers are trading up for Masco and when they do this, more money is made on these products, which is great for margins.
Conclusion
Being in the building materials industry has shown relatively consistent returns in 2016 and Masco has certainly kept pace with many of its peers. Masco is driving excellent results in their business, specifically with Plumbing and Decorative Architecture. Valuations are reasonable at under 18x forward twelve month earnings. The PEG is .71, which is inexpensive, so the stock does not look expensive on valuation. After looking at the charts, it appears Masco should trade higher over the long term. I think the stock represents excellent value at $30. However, given that it may move higher, I think it would be wise to purchase some shares now and some shares if Masco moves lower.
Disclosure: I/we have no positions in any stocks mentioned, and no plans to initiate any positions within the next 72 hours.
I wrote this article myself, and it expresses my own opinions. I am not receiving compensation for it (other than from Seeking Alpha). I have no business relationship with any company whose stock is mentioned in this article.