Altria's (NYSE:MO) international offspring, Philip Morris (NYSE:PM), recently submitted an application to the FDA seeking to attain Modified Risk Tobacco Product status for its iQOS electronic cigarette. Altria is set to cash in if the FDA approves the product since it has exclusive selling rights for it in the United States. The approval process will likely be a lengthy one and investors will be watching throughout 2017 for signs that this potential market disruptor will give Altria something it hasn't had for a while, a viable high growth segment.
Altria's traditional growth story is boring but consistent, relying on core brands to generate single digit earnings growth and copious amounts of cash flow. The company's iconic Marlboro brand accounts for the majority of operating income, which I calculate to be roughly 75%. This is derived from the company's reported category income mix and reported shipment volumes for cigarettes, where it specifically separates out the Marlboro brand.

(source: company FY2015 10-K filing, page 1)
Taking a quick look at the operating income breakdown by category reveals that the overwhelming majority comes from the smokeable products category. The smokeable products category consists of, you guessed it, mostly cigarettes.

(source: company FY2015 10-K filing, page 30)
Looking at the breakdown of cigarette volumes shows that the Marlboro brand accounts for the overwhelming majority. The brand accounted for 85.8% of total cigarette volume in 2015. Combining that percentage with the percentage of category operating income gives you 85.8% X 87.4% = 74.9%. This doesn't take into account variations in margins among the various cigarette brands but it's a good enough estimate to get the point across that the Marlboro brand is very important.
Now it would be one thing to have such a high percentage of income derived from a single product if that product didn't carry such a large social stigma, but it does. Altria's flagship brand sets atop a category that many people place first on the "things that are bad for you" list and that is an ongoing problem. The possibility of being able to phase in an alternative product that has been rubber stamped by the FDA as being safer warrants some extra attention. HeatSticks could provide the product transformation that will keep the Marlboro brand strong for decades to come.
Here is an excerpt from the FDA's brochure Issue Snapshot: Modified Risk Tobacco Products (MRTPs),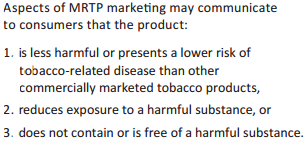 (source: fda.gov)
Having the ability to market a tobacco product under the premise that it's a safer alternative to traditional cigarettes is very powerful. In my opinion, it is so powerful that it could spark a renaissance in tobacco "smoking" use in the United States, which has been in long term decline.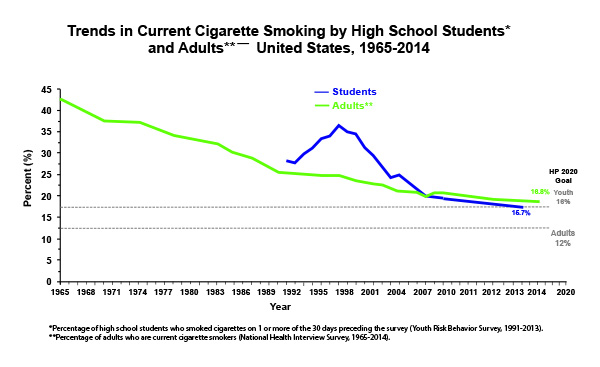 (source: CDC Website)
It's not as though management has been sitting idly by waiting for the inevitable continued declines in smoking rates in the United States. They've been busy further diversifying income streams through their equity ownership in SABMiller, which was recently combined with Anheuser-Busch InBev (NYSE:BUD), retaining the latter's name.
The combination of SABmiller and AB InBev gave Altria a 9.6% equity stake in the combined entity. The company quickly upped that stake to 10.2% in October by buying an additional 12.3 million shares of AB InBev stock and it will continue to provide an important source of net income. However, if iQOS becomes an MRTP approved product next year, the company's interest in further increasing its footprint in the beer market may diminish.
How is iQOS different from any other electronic cigarette? It heats tobacco instead of burning a nicotine infused liquid, coining the new industry term "heat-not-burn." It also uses real tobacco, branded as Marlboro HeatSticks.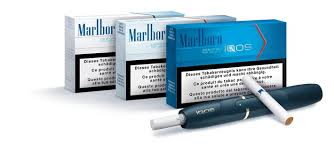 So why is it important that the product heats tobacco rather than burn it? Philip Morris International's CFO Jacek Olczak explains the reason during the Morgan Stanley Consumer Conference this past November:
And people don't really -- consumers don't really understand how the conventional cigarette works, right. That the burning the tobacco is exactly the problem. It's not the tobacco which is the problem, it is not the nicotine which is the problem, but the way you consume that product for burning for combustion creates the problem.
If he is right and if it can be proven to the FDA through the MRTP process, then I believe we'll have a game changer on our hands and Altria will be in pole position for the US market. The strategic agreement entered into between Altria and Philip Morris back in 2013 may soon pay big dividends.
There's not a whole lot to get excited about for a new product unless demand for the new product in high. Product data for iQOS in several foreign markets show that perhaps some excitement is warranted. Both of the slides that follow come from PM's Morgan Stanly Consumer Conference presentation and tout strong product growth. The first shows indexed volume gains in several markets, where indexing is a means of treating each country as though they were equal size.
The next slide focuses on the Japanese market. Market share has increased from 1.6% to 4.9% in about six months.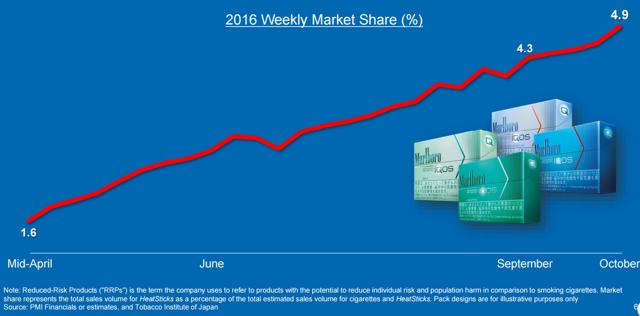 How good is that? Let's let Jacek Olczak answer (November 2016):
Every week or every two weeks we grow the market share by 20, 30 basis points. I mean this is spectacular.
He seems to believe that things are going really well.
Altria investors may be in for a "hurry up and wait" mode regarding FDA approval in the US. The first step in the MRTP process is the FDA reviewing the application to see if they're even going to accept and file it for substantive review. That will take at least 60 days. The actual review will follow and even though it is unknown exactly how long that endeavor might take, the FDA states on its website a goal of acting on applications within 360 days of receipt.
Will 2017 bring a new growth driver for Altria? Too early to say at this point but one thing is clear, chances in 2017 will be a whole lot better than they were in 2016. In the meantime, investors can enjoy the stability Altria's core businesses have continued to offer and also get paid to wait with a dividend yield of 3.63%, with annual increases expected to continue. In the end, I view Altria as a limited downside core holding with the potential for a spark in growth related to iQOS/HeatStick potential in the US market.
In my estimation, Altria is currently trading at fair value and is the kind of stock that rarely presents large discounts. The chart below shows an ever so small premium of 0.42%. Comparing forward P/E multiples indicate a 0.90% premium, with Altria at 22.2x compared with an industry wide 22x. This is in line with my estimate.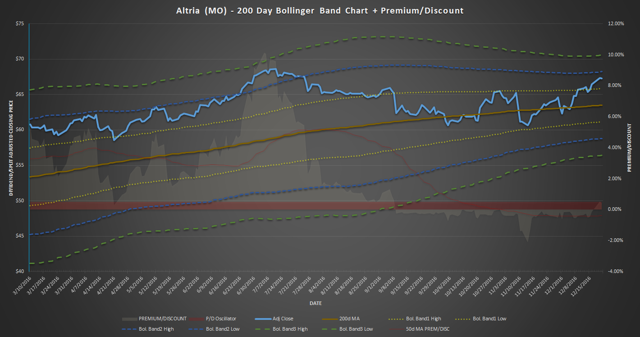 Author's note: Thanks for reading, and if you enjoyed this article, please take a few seconds and follow me. It's easy and free.
Disclosure: I/we have no positions in any stocks mentioned, and no plans to initiate any positions within the next 72 hours.
I wrote this article myself, and it expresses my own opinions. I am not receiving compensation for it (other than from Seeking Alpha). I have no business relationship with any company whose stock is mentioned in this article.