Last review
It was still hot and sunny when I wrote my last update on Altri (OTC:ASGSY). At the time, I mentioned this was "my favorite stock pick in the Portuguese stock market at the time being" and that I "initiated a position during a small pullback in the first week of August" at €3.3.
What happened since then?
The stock ended up the month of August in a positive tone, but was unable to break the €3.6 resistance. It retreated back to the €3.0 support in September and fell asleep during the autumn months. The stock finally woke-up in mid-November and approached the €4.0 barrier recently.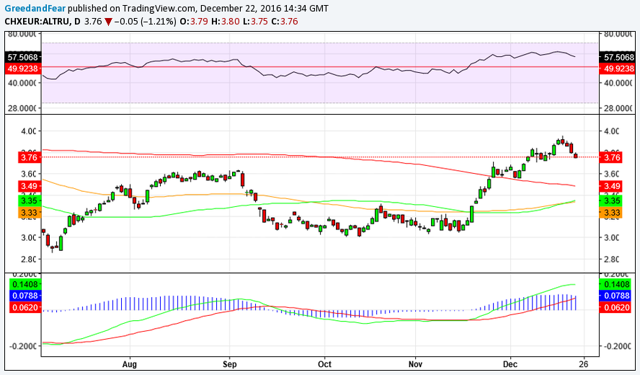 Source: Trading View
What about the third-quarter earnings?
Altri presented its third-quarter earnings in November. The last quarter was hurt by another decline in BHKP paper pulp prices. Nonetheless, this price cut of 1.8% in the third quarter when compared with the second quarter was slower than in the previous quarters, hinting that supply and demand may be close to equilibrium.
As a consequence, sales for the first nine months of the year decreased 8.3%, EBITDA declined 21.2%, and net income pulled back 32.7% when compared with the same period of 2015.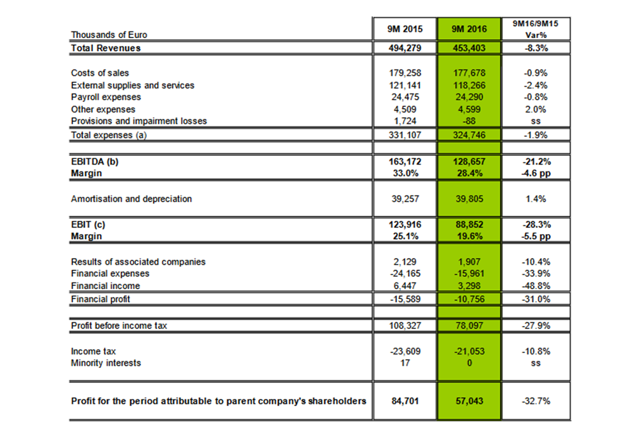 Source: Altri
Looking forward, the management team shared a mixed view regarding BHKP pulp prices. On the positive side, several relevant producers were implementing temporary capacity cuts and postponing some investment projects. On the negative side, the stocks among major producers (measured in terms of days of inventory) were above the historical average. Needless to say that BHKP pulp prices play a major role in Altri's top and bottom lines.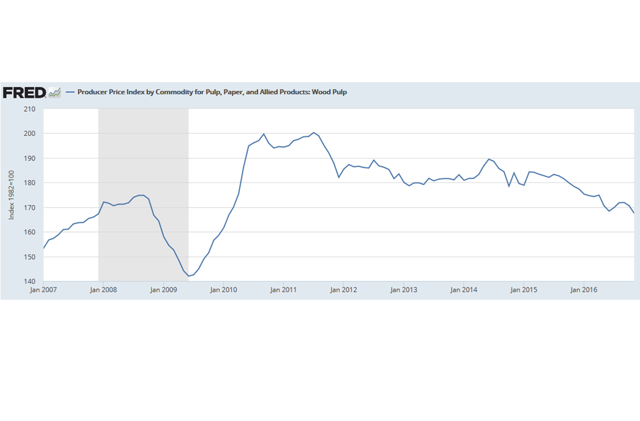 Source: Fred
The previous graph shows that the producer price index by commodity for pulp, paper and allied products fell in November to 167.5 from 171.9 in September. However, we can't forget that as a Portuguese producer, Altri is benefiting from a weaker euro against the dollar.
How do fundamentals look?
I made small adjustments to my year-end estimates for Altri. Generally speaking, even though I expect 2016 to be a softer year in terms of revenue, operating and net income than 2015, it will probably still be the second best year on record for the company. Looking at the balance sheet, Altri will probably end 2016 with the lowest absolute net liabilities since at least 2007 and the second lowest in relation to operating income (after 2015). But let's look at the fundamentals in more detail (please keep in mind that the 2016 figures presented in the following graphs are forecasts).
Altri's sales grew steadily over the years. From 2007 to 2015, sales grew at a robust 11% compounded annual rate (please note that I started the series in 2007 on purpose because it's the year before the financial crisis).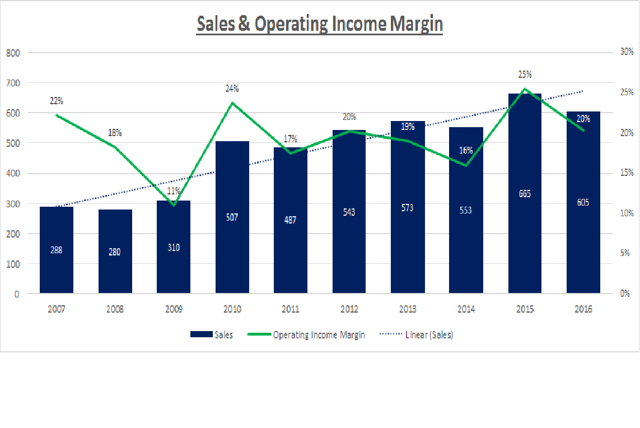 Source: Author
It is also interesting to note that despite the margin compression in 2009 (the year after the financial crisis), top-line growth was reached while keeping a stable operating margin of 19.2% of revenue. This shows the company is able to deliver both top- and bottom-line growth (which is not always the case as many companies choose to grow their sales by cutting their profit margins). In fact, from 2007 to 2015, operating income grew at a 13% compounded annual rate, and net profit grew at a 16.3% compounded annual rate.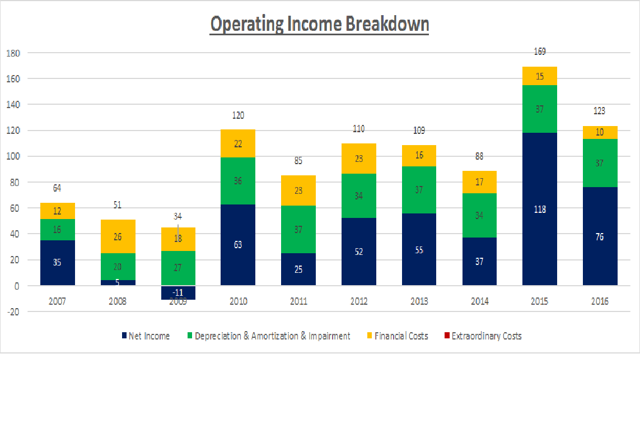 Source: Author
Please note that I made small adjustments to the depreciation & amortization and impairment, financial and extraordinary components of the operating income so that it is comparable with the other stocks I follow. Without those changes, the operating income would be slightly higher than the one presented in these graphs.
In the meantime, the company has improved the strength of its balance sheet. Please note that I calculate net liabilities by deducting the current assets from total liabilities (both current and non-current liabilities and both financial and operational liabilities). I believe this is a more comparable metric because some companies reduce their financial debt (loans) at the expense of their operational debt (payables). Also, some companies increase their cash positions by anticipating receivables among other "financial report-dressing" tactics.
In absolute terms, after an increase in 2008 and 2009 due to the financial crisis, net liabilities have decreased every single year since then. From 2007 to 2015, Altri reduced its net liabilities by 16.6% without harming its top- and bottom-line growth.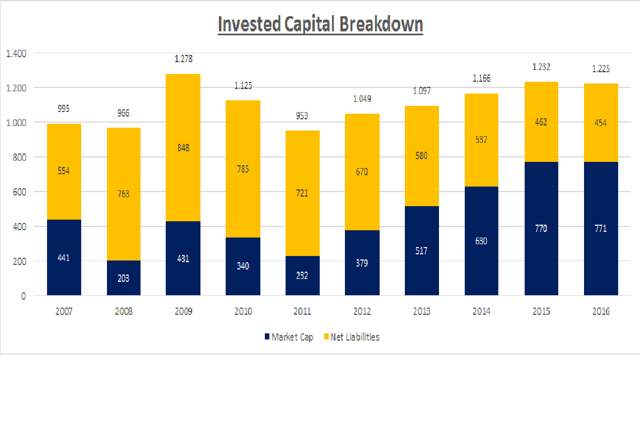 Source: Author
In relative terms, the ratio of net liabilities to operating income increased sharply in 2008 and 2009 due to the financial crisis, but have been declining ever since. From 2007 to 2015, this ratio improved substantially from 8.7 to 2.7, thanks both to the reduction in net liabilities and the increase in operating income.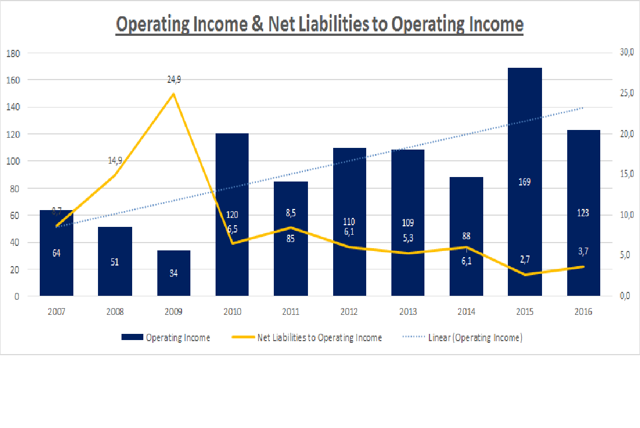 Source: Author
Putting everything together, the company value (calculated as a sum of the market cap with net liabilities) has remained stable at 10.1 times its operating income and 2.0 times its sales in the period between 2010 and 2015 (which is in line with the current valuation under my forecasts). For the period between 2007 and 2015 (which includes the outlier year of 2009), Altri traded at 14.7 times its operating income and 2.6 times its sales.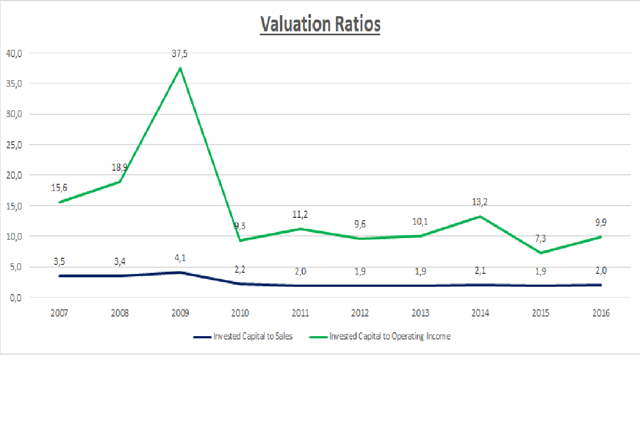 Source: Author
Finally, it is worth noting that while the stock price grew at a 7.2% compounded annual rate from 2007 to 2015, revenue grew at an 11% compounded annual rate, operating income increased at a 13.0% compounded annual rate, and net income rose at a 16.3% compounded annual rate.
In summary
The recent run in Altri's stock price is justified by its fundamentals. In fact, the stock is currently trading at the average valuation seen in the period between 2010 and 2015.
However, after a 30% run in one month, the stock needs to rest a bit and is already showing some signs of fatigue. That is why I took my profits. However, I'll be happy to buy the shares back if there's a correction.
Disclosure: I/we have no positions in any stocks mentioned, and no plans to initiate any positions within the next 72 hours.
I wrote this article myself, and it expresses my own opinions. I am not receiving compensation for it (other than from Seeking Alpha). I have no business relationship with any company whose stock is mentioned in this article.
Editor's Note: This article discusses one or more securities that do not trade on a major U.S. exchange. Please be aware of the risks associated with these stocks.