Investment thesis
Based on strong balance sheet and dividend increase perspectives, Canadians banks are part of the core of many dividend investors. They have proven they can outperform the TSX (33.05% avg vs. 31.08% for the TSX as at December 18th over the past 5 years). As Canadian banks have made their name among the investing community, I don't think they will perform equally in 2017. This is why I've selected Royal Bank (NYSE:RY) to be the best performing banks for 2017.
Canadian economy overlook
In 2016, the TSX has shown an incredible resilience capacity. After finishing at -11.8% (excluding dividend) in 2015 and continued its drop by -8.9% during January in 2016, the TSX bounced back and is currently showing +15.70%.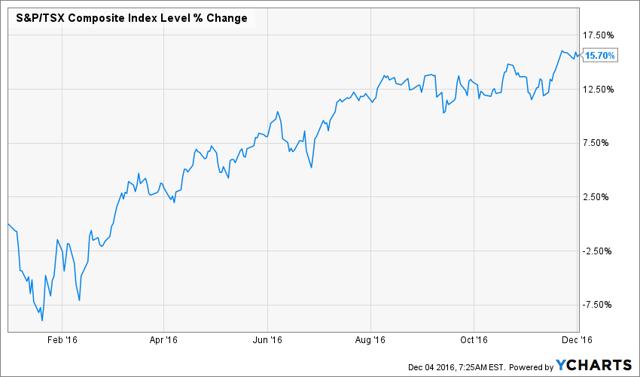 Source: Ycharts
The main reason why the TSX has done so well in 2016 is mainly because pretty much everybody expected the economy to take the oil price drop to affect the stock market for several years. But it seems that we were wrong (once again). As the Canadian economy doesn't seem to need oil to grow: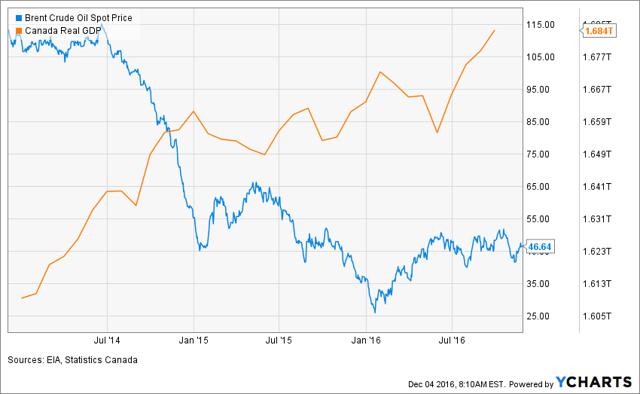 Source: Ycharts.
While the oil barrel was greatly affected, the Canadian GDP only stalled for about a year before growing back again. This is explained by various reasons:
There were several ongoing oil sand projects that continued their course;
Helped by a weaker dollar, Canadian exportation grew up;
Canadian service industry picked-up strongly;
Banks remain strong and show healthy balance sheet.
While it is quite good news to see the Canadian economy doing well without counting on resources industries, this phenomenon hides a more pessimistic truth. If you have been reading me for a while, you will note that I'm not a big fan of the Canadian housing market. It seems that one of the main reason why Canada economy is not suffering right now is because the housing industry is doing very well: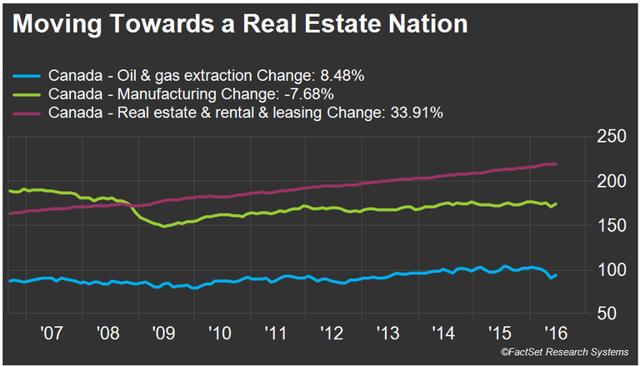 Source: Factset
At one point or another, the Real Estate industry will not be able to stay the course. When this will happen, banks and services will suffer from Canadian consumers' mortgage problems. Will banks be able to overcome this important speed bump in their growth trajectory? Let's review them one by one to see how they can manage 2017 and reward their shareholders. I have put them in order of preference.
#5 CIBC (NYSE:CM)
CIBC is the smallest of the "Big 5" and has the most "classic" business model with 60% of its net income coming from retail banking (source CIBC Fact sheet). This puts CIBC at a higher risk in the even the Canadian economy would slow down. In my opinion, it is just a matter of time before the impact of a slower oil industry has it effects on the Canadian economy. This should then affect the housing market and eventually banks loan & mortgage portfolios.
This is one of the reason why CIBC is seeking for growth opportunities outside Canada. In 2016, CM acquired PrivateBancorp, a commercial and private banking company based in Chicago. Unfortunately, this transaction is only adding $193M (CIBC presentation) in profit to a bank that generated at total of 4.3 billion in 2016.
Since the bulk of CM business model is around retail banking in Canada, I see little room for growth and potentially higher risk in the event of a housing slowdown.
#4 ScotiaBank (NYSE:BNS)
ScotiaBank is the most international of the Canadian banks. They have successfully built various geographic streams of income coming from Latin America and Asia (emerging markets). In fact, BNS is present in 55 countries. This is a strength other banks doesn't have, especially when the Canadian economy is going through challenging periods.
Unfortunately, BNS earnings performances haven't been in line with its peers: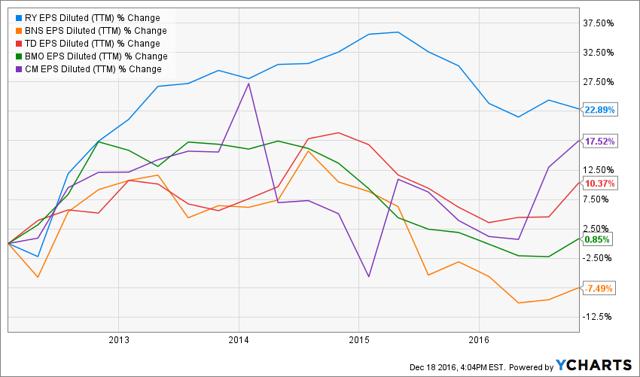 Source: Ycharts
The bank has run into several challenges such as the situation in Venezuela. It seems being present in emerging markets is not always a plus. I prefer BNS over CM mainly because this bank is more diversified. However, its past performance in term of earnings puts BNS in 4th position out of 5 banks.
#3 BMO (NYSE:BMO)
BMO is the 4 th biggest bank in Canada with $641 in assets. The bank has built an interesting business model over the past decade by shifting a great portion of its earnings toward capital markets (23% of its 2016 earnings) including its ETFs division, U.S. banking (21%) and wealth management (16%) through its Harris Bank division (source BMO 2016 Q4 presentation).
BMO shows a strong dividend growth history with a CAGR of 8% over the past 15 years:

Source: BMO Fact Sheet
BMO has also focus on several acquisitions over the couple of years. In 2014 the bank acquired F&C Asset Management in the U.K. and it has recently purchased General Electric Capital's transportation finance business.
BMO earns the #3 in my ranking mainly because #2 and #1 positions are occupied by larger institutions. In the event of a Canadian economy slow down, I rather go with the biggest banks.
#2 TD Bank (NYSE:TD)
TD is fighting with Royal Bank for the largest bank in Canada. It is currently the 6 th North American banks for total assets and market capitalization (source: TD presentation). TD has build a solid network in the U.S. in addition to Canadian presence. TD now shows $307 billion in U.S. deposit, $184 billion in loans and $85 billion in assets under management. Its strong U.S. presence (26% of 2016 TD earnings) will not only help to compensate for the slow expected growth in Canada, but will surely boost their revenues as the U.S. economy seems to be growing on solid ground (the FED expects up to 3 interest hikes in 2017). In addition to its strong presence in the U.S., TD is also the bank that is least presence in the Canadian oil industry (source; Morningstar).
The reason why TD has earned the #2 position in my ranking and not the #1 is more related to the fact that Royal Bank generates stronger revenues from Capital Markets and Wealth Management than its peers.
#1 Royal Bank
Royal Bank is the largest bank in Canada per asset (a title that is often disputed with TD Bank). It benefits from a great size and market share in Canada offering RY to explore other avenues (such as U.S. acquisitions). They do an awesome job generating strong profits from capital markets and their wealth management division generates revenues from over 15 million clients.
While RY counts on personal & commercial banking for 50% of its earnings, the bank also counts on its fast growing wealth management division (+41%, 14% of 2016 earnings) and its strong capital market segment (22% of 2016 earnings) to diversify its earning sources (Royal Bank 2016 Q4 presentation). It also shows a better geographic diversification now with 22% of its revenues coming from the U.S. and 16% for the international segment.
Royal Bank meets my 7 dividend growth investing principles. Those principles have been established based on several academic studies and my 13 years experience in the financial market. The company shows a strong dividend growth potential with a dividend growth rate of 8% CAGR over the past 10 years: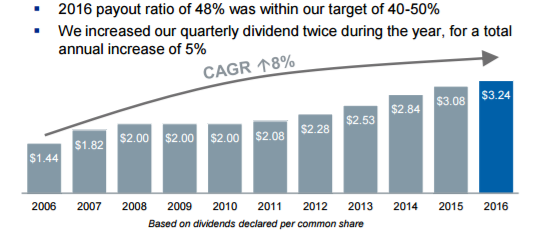 Source: RY Investor Presentation.
RY finished 2016 on a strong note with a revenue growth of 8.7% and earnings growth of 4.3%. Shareholders were rewarded with 2 dividend increases in 2016 for a total of 5% growth. Finally, RY stock has outperformed its peers for annualized return on 3 years, 5 years and 10 years period ( Royal Bank 2016 Q4 presentation). I think Royal Bank will continue on its trend and outperform its peers in 2017.
Final Thoughts
While there are some clouds over the Canadian economy such as the oil industry and the housing market, I still believe investing in banks is a good idea. The main reason is that they are all showing strong balance sheet and strong dividend yield. Investors are then paid to wait in the event of a challenging year.
In fact, even if we hit a housing bubble burst, banks will still generate enough cash flow to keep a strong dividend growth profile. However, since this bank can count on a strong diversification of its earnings, I think Royal Bank will outperform its peers in 2017. Revenues generated from the capital market and the wealth management divisions will help smothering any road bumps.
Disclaimer: I hold RY, TD & BNS in my Dividend Stocks Rock portfolios.
The opinions and the strategies of the author are not intended to ever be a recommendation to buy or sell a security. The strategy the author uses has worked for him and it is for you to decide if it could benefit your financial future. Please remember to do your own research and know your risk tolerance.
Disclosure: I am/we are long RY, TD, BNS. I wrote this article myself, and it expresses my own opinions. I am not receiving compensation for it (other than from Seeking Alpha). I have no business relationship with any company whose stock is mentioned in this article.