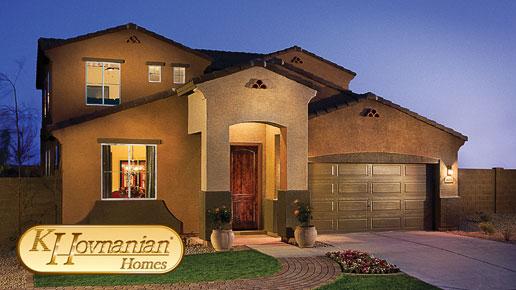 Picture: A home in Arizona built and marketed by Hovnanian Enterprises. Source
Business Summary
Hovnanian Enterprises (NYSE:HOV) is a U.S. home builder that designs, constructs, markets, and sells residential homes (there can be multiple "homes" within a building.) The company serves several regions:
Northeast: New Jersey and Pennsylvania (the company began in New Jersey before expanding over the years.)
Mid-Atlantic: Delaware, Maryland, Virginia, Washington, D.C. and West Virginia
Midwest: Illinois and Ohio
Southeast: Florida, Georgia and South Carolina
Southwest: Arizona and Texas
West: California
On December 20, Hovnanian released their annual report for fiscal 2016 which ended on October 31. Here's my take on the company.
1. Hovnanian Enterprises has approximately $1.2 billion in backlog consisting of 2,649 homes as of October 31, 2016. Management expects to deliver most of that backlog within the next 9 months.
"The majority of our backlog at October 31, 2016 is expected to be completed and closed within the next six to nine months," Hovnanian stated in their 2016 annual report on page 10.
This should provide a much-needed capital infusion for the company, which has experienced lumpy earnings over the past few years, which is typical of homebuilders who generally sport long turnover times.

Source: 2016 annual report
2. Hovnanian is still heavily indebted with almost $1.9 billion. Shareholder's equity is negative at -$128.5 million.
The company has approximately $1.9 billion in debt. Approximately $1.3 billion of the debt is long term debt. Total inventories amount to $1.3 billion.
The -$128.5 million book value would mostly remain unchanged as the inventories would be converted to cash and then used to pay down debt. The net effect is basically zero.
3. The stock's recent run may have already priced the delivery of the $1.2 billion in backlog at the current market cap of $421 million, or $2.87 price per share.
Year-to-date, Hovnanian shares have run up approximately 60%. Although there could still be some value left in the shares as the company pays down debt, I think the short term upside has already been priced in.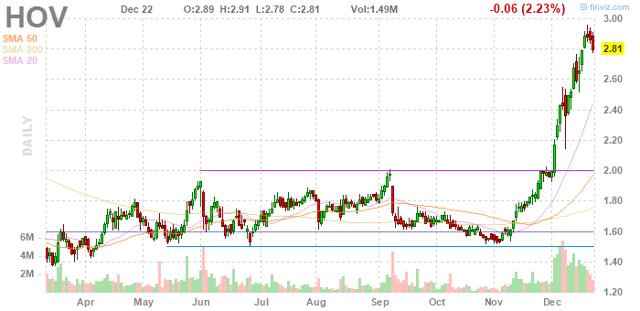 Despite my belief that upside has already been priced in, I still wouldn't short HOV as it could still run up on technical momentum. With such a low price per share, the stock could be showing up on a lot of low-priced, momentum traders' radars.
I would be unwilling to play the momentum game on this stock.
At 18.4 EV/EBIT, HOV is pricey in my opinion.
* Extra information on inputs used for EV/EBIT calculation: For EBIT value, I took the average of the past 5 years of EBIT from 2012 to 2016 and rounded to the nearest whole million to reach $101 million EBIT. For EV, I used the value of $1,862 million which assumed the current market cap of $421 million ($2.87 price per share) and subtracted $347 million in cash, $101 million in long term investments, and added total debt of $1,889 million. Due to the cyclical nature of Hovnanian's acquisitions and deliveries, I am more inclined to use an EBIT average for conservative purposes.
In terms of playing for the long term, a dividend has never been paid by Hovnanian, which is a stark contrast to other homebuilders such as PulteGroup (NYSE:PHM) and KB Home (NYSE:KBH), just to name a couple.
4. The biggest problem I see moving forward is that the company requires debt to finance growth, but cannot access it because they are too overleveraged.
More debt needs to be secured in order to finance growth. But Hovnanian already had problems refinancing their debt this year.
"During fiscal 2016, we had approximately $260 million of bonds mature, which we were unable to refinance because financing was unavailable in the capital and loan markets to companies with comparable credit ratings to ours. As a result, we shifted our focus from growth to gaining operating efficiencies and improving our bottom line, and we decided to temporarily reduce some of our future land acquisition and to exit from four underperforming markets during fiscal 2016." - 2016 annual report p26.
The company still has a decent cash horde of $340 million and has expressed that they intend to use this homebuilding cash reserve to purchase new land, albeit less aggressively in the past due to the lack of access to more credit.
This worries me because if Hovnanian has no growth prospects, then I can't see how a premium is justified. At 18.4 EV/EBIT, I would definitely consider the company to be trading at a premium. The Fed recently raised the interest rate by another 25 basis points, and in time this would impact the company.

Source: 2016 annual report
Conclusion
I do not see any clear value proposition in HOV. Technical momentum traders might find the chart interesting, but value-based investors should not be impressed by HOV even though an influx of $1.2 billion revenue is coming within 9 months. This cash infusion should be offset by the likelihood that backlogs will probably decrease in 2017, and YOY Q4 comps showed that backlogs decreased by $126 million in 2016 compared to 2015.
The biggest risk factor I can quantify - besides the heavy debt load - is that the backlogs cannot be replenished to the same degree as previous years, which would reduce top line growth. Although the company says they will focus on operating more efficiently, I would continue to watch for proof that the company can execute and perhaps a better entry price.
Disclosure: I/we have no positions in any stocks mentioned, and no plans to initiate any positions within the next 72 hours.
I wrote this article myself, and it expresses my own opinions. I am not receiving compensation for it (other than from Seeking Alpha). I have no business relationship with any company whose stock is mentioned in this article.