Eastman Chemical (NYSE:EMN) is a technologically sophisticated specialty chemical manufacturer, with leading positions in several well-defended markets, most of which offer solid growth opportunities. Nevertheless, it cannot seem to get out of its own way. Just about every Q4, it manages to destroy whatever credit it had earned among investors for the previous three quarters' more acceptable performance. Q4 2013 was apparently the exception that proves the rule. Its shareholders can be forgiven if they dread the approach of January 26th, when Zacks Investment Research expects Eastman to announce its Q4 2016 results.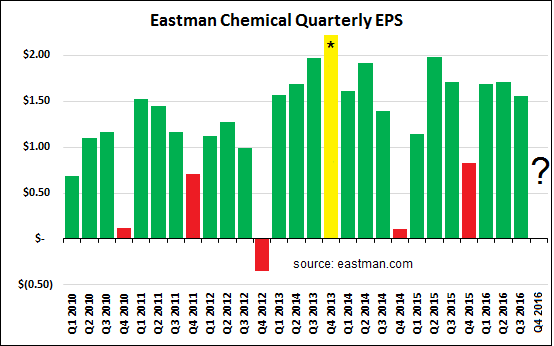 The result of so much variability in quarterly earnings has been a roller-coaster ride for shareholders. A comfortable yield (currently 2.7%) and a history of dividend increases and share buybacks have not lent stability to the stock through its earnings vicissitudes. Over the last five years, its price has been more than twice as volatile as the Standard & Poor's 500 Index (annualized standard deviation 27.2% versus 13.1%). Throughout that period, however, its shares maintained an appreciable, although not notably strong correlation with the broad market proxy (R2 0.4190).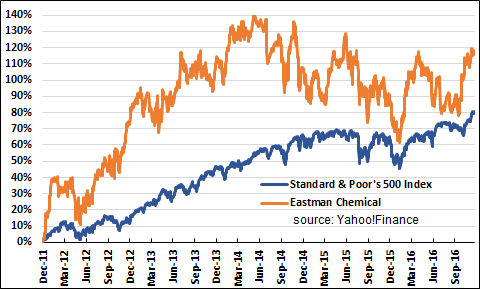 Its earnings mishaps are not the only reason for Eastman's share price volatility. Although its shares are not so terribly liquid, it seems to attract disproportionate short-term trading attention from hedge funds. I have written elsewhere about the withdrawal of hedge funds from ownership of Eastman (which coincided with the sharp price decline in Q4 2015), but I jumped the gun. They came back, and have since been in and out of its shares several times.
In fact, it is not clear which is chicken and which is egg here: is the volatility due to hedge funds' attentions to the shares, or are the hedge funds hungry for volatility, anywhere they can find it these days, attracted to Eastman because of its volatility? Probably the best guess is that the hedge funds exaggerate the volatility of shares that would have been volatile in any case. Average daily turnover of $94.9 million per day may not represent enormous liquidity, but it means that Eastman's entire capitalization changed hands 2.3 times in 2016. Either it has a minority of shareholders who trade it very actively or it does not have a large base of patient, long-term shareholders despite its seven-year history of dividend increases.
Not surprisingly, Eastman does not command a generous valuation. Despite a 22% rally from its shares' most recent low on October 13th, it is currently trading at 10.4X consensus 2017 earnings. Analysts expect this to be an 8.2% improvement on 2016 (PEG ratio 9.2X). A technical analyst might suggest that the recent rally breaks it out of its pattern of successively lower highs and lower lows. However, investors would probably be wise to wait for a pullback before they succumb to its charms. If recent history is a guide, the inflow of money that fed the recent rally will quickly become an outflow. If Eastman Chemical once again manages to disappoint with its Q4 announcement, that may provide an interesting buying opportunity.
Disclosure: I/we have no positions in any stocks mentioned, and no plans to initiate any positions within the next 72 hours.
I wrote this article myself, and it expresses my own opinions. I am not receiving compensation for it (other than from Seeking Alpha). I have no business relationship with any company whose stock is mentioned in this article.