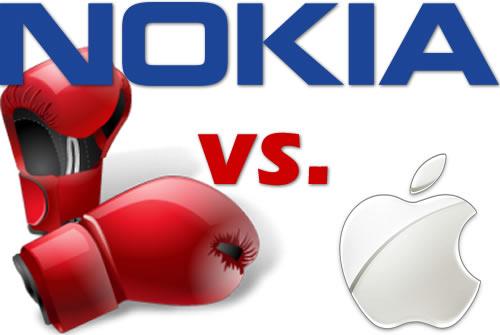 Yesterday the talk of the town was that Nokia (NYSE:NOK) sued Apple (NASDAQ:AAPL) in the U.S. and Europe for patent infringement (NOK's PR release here).
However, what went totally unnoticed (in fact every major news organization missed it) was that 24 hours before NOK's lawsuit, Apple filed an antitrust case against Acacia (NASDAQ:ACTG) and other PAEs (patent assertion entities) that act as a proxy for NOK.
Below is AAPL's filing (Dec. 20th), and you can read the entire 43-page document here (hat tip Florian Mueller).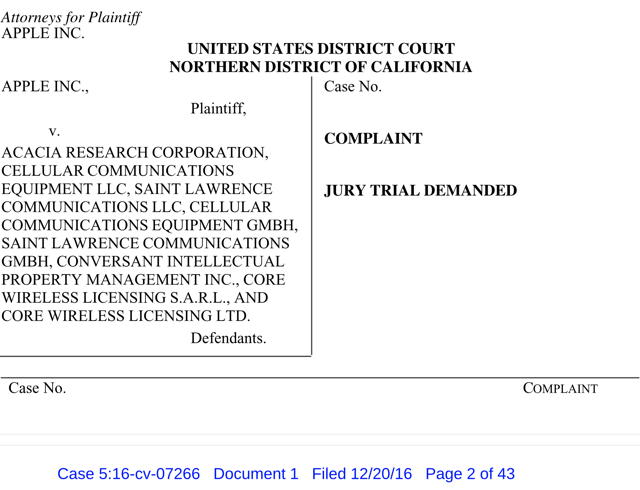 Now, let me give you some background information on what is actually going on here.
NOK first sued AAPL back in 2009, claiming that it was infringing on 10 NOK patents for wireless transmission technologies. AAPL settled in 2011, claiming that the agreement was "limited in scope":
"Apple and Nokia have agreed to drop all of our current lawsuits and enter into a license covering some of each other's patents, but not the majority of the innovation that makes the iPhone unique," Apple said. "We are glad to put this behind us and get back to focusing on our respective businesses."
While no one knows the terms of the settlement, speculation has it that the sum was small in size, perhaps several hundred million dollars.
However, since that settlement, NOK has been trying to milk AAPL for additional money. If one reads the Nokia press release, it is evident.
As one of the world's leading innovators, and following the acquisition of full ownership of NSN in 2013 and Alcatel-Lucent in 2016, Nokia now owns three valuable portfolios of intellectual property. Built on more than EUR 115 billion invested in R&D over the past twenty years, our tens of thousands of patents cover many important technologies used in smartphones, tablets, personal computers and similar devices.

Since agreeing a license covering some patents from the Nokia Technologies portfolio in 2011, Apple has declined subsequent offers made by Nokia to license other of its patented inventions which are used by many of Apple's products.
So, in other words, even if NOK won a settlement in 2011, it felt that it was not enough. The question is why now? Why didn't NOK take AAPL to court all these years?
One answer might be that whatever was agreed upon in 2011 is expiring now, and AAPL would not give into NOK's claims.
Now while this may be true, it's also worth noting that NOK filed its lawsuit right after AAPL filed its antitrust case against Acacia and other PAEs as mentioned above. I mean, there has to be some reason, because I find it too much of a coincidence.
This is what I think has happened...
Back when Nokia sold its smartphone assets to Microsoft (NASDAQ:MSFT), Joaquin Almunia, Europe's top regulator, warned NOK not to try to "extract higher returns" from its patent portfolio.
From the Associated Press via Yahoo, we read:
AMSTERDAM - Europe's top regulator has warned Nokia not to try to become a "patent troll" after the Finnish company sold most of its cellphone-making business to Microsoft Corp. this year but retained its patent portfolio.

Joaquin Almunia said in a speech in Paris on Monday he had approved the $7.2 billion sale as not presenting problems on Microsoft's side, but there is a danger Nokia will now attempt to "extract higher returns" from its patent portfolio. "In other words...behave like a patent troll, or to use a more polite phrase, a patent assertion entity."

Almunia, in charge of competition at the European Commission, the executive arm of the European Union, warned he will open an antitrust case against the company if it attempts to take "illegal advantage" of its patents.
So, in other words, NOK was warned by the EC (European Commission) that it would bring an antitrust case against the company in the event that it tried to bully the smartphone space with its patents.
Can the EC do this? In theory yes, regulators have been known to intervene in the market from time to time to break up monopolies. The case of the Baby Bells many years ago in the U.S. is but one example.
So I am guessing NOK stayed low all these years, not wanting to agitate the EC, because the EC might actually take the company to court on antitrust grounds.
As part of staying low, Nokia tried to force Apple into some kind of an agreement, but at the same time, had several patent entities (patent trolls as they are also called), harassing AAPL just to keep the heat on.
So Apple got tired of being harassed, and acted by filing an antitrust case against these patent entities, but also indirectly at Nokia, because the above companies listed are all NOK patent trolls (more on that below).
So getting back to the issue as to why now, NOK was simply responding to AAPL's first move. And as you will read in the introduction of Apple's complaint below, behind the companies mentioned lies NOK.
So, let's see what AAPL is accusing NOK and the other patent assertion entities of (the link to the document above):
Apple Inc. ("Apple") brings this action to remedy a continuing anticompetitive scheme. Acacia Research Corporation and its subsidiaries (collectively, "Acacia") and Conversant Intellectual Property Management Inc. ("Conversant") and its subsidiaries (collectively, "Conversant") have respectively colluded with Nokia Corporation (itself and through its affiliates Nokia Solutions and Networks Oy and Nokia Technologies Oy (collectively "Nokia")) to obtain from Nokia thousands of patents as part of a plan to extract and extort exorbitant revenues unfairly and anticompetitively from Apple and other innovative suppliers of cell phones, and ultimately from the consumers of those products. Acacia, Conversant, and many other patent assertion entities ("PAEs") have conspired with Nokia to use unfair and anticompetitive patent assertions to improperly tax the innovations of cell phone makers.

This conduct is all the more pernicious because it unfairly and anticompetitively evades binding commitments that Nokia made to license declared standard essential patents ("SEPs") on fair, reasonable, and non-discriminatory ("FRAND") terms. Nokia positioned itself to claim that its patents cover technologies included in telecommunications standards by repeatedly assuring standard-setting organizations that it would license its patents fairly. Yet Acacia and Conversant are now conspiring with Nokia in a scheme to diffuse and abuse such patents and, as the PAEs and Nokia fully intended, monetize those false promises by extracting exorbitant non-FRAND royalties in ways Nokia could not.

With the active collaboration of Acacia and Conversant, Nokia avoids licensing its own portfolio directly and transparently, though it is fully competent to do so. Instead, Nokia has 6 divided its patent portfolio and distributed portions of it among Acacia, Conversant, and other PAEs, while retaining an interest in revenues generated by those PAEs. Nokia then enlists mercenary PAEs including Acacia and Conversant - that have offered their services aggressively to threaten, sue, and thereby extract exorbitant, above-market royalties from cell phone makers, including for declared SEPs. The reasons why Conversant and Acacia have conspired with Nokia are clear. The PAEs can take advantage of the fact that-unlike Nokia, which now focuses on the network business-they produce nothing at all and therefore have no desire or need for "patent peace," and can impose disproportionate discovery and litigation costs on the product companies they sue. By conspiring with Nokia in a scheme to disperse the Nokia portfolio to the PAEs, Acacia and Conversant can obtain more royalties from product companies than Nokia cold have obtained through direct and transparent licensing, and then share with Nokia the ill-gotten fruits of their illegal exploitation.
This is serious stuff. Can Apple prove this? I think so, because most (if not all) of the patents in question belong directly to Nokia.
So, in reality, it was not Nokia that sued Apple yesterday. Everyone has it all wrong. It was Apple that sued Nokia, and the latter immediately counter-sued the former, because it had no choice. It finally had to come in the open after staying low all these years.
Does this mean anything for AAPL or NOK shares?
As for Apple, I doubt it. Even if Apple is forced to pay, it will not mean much, considering the company has over $200 billion in cash on its books.
As for NOK, if it does manage to milk AAPL in any way, it might mean a lot for its stock. NOK's market cap is currently about $27 billion. So, for example, if a $5 billion settlement is reached, it might mean a jump of at least 20% in NOK's stock price.
Bottom line
Personally, I don't think Nokia will get a dime. Apple is know for its hard-ball tactics in court, and the only thing Nokia will manage to do is to spend many years in court and hundreds of millions in lawyer fees that it cannot afford.
Furthermore, this case will also bring to life the tactics of patent assertion entities, by which many companies try to exert patent fees, without directly being involved themselves.
In fact, this whole thing might backfire against Nokia, because if the EC files antitrust charges against the company, regulators might force a settlement, and I doubt if it will come out as winner.
Disclosure: I/we have no positions in any stocks mentioned, and no plans to initiate any positions within the next 72 hours.
I wrote this article myself, and it expresses my own opinions. I am not receiving compensation for it (other than from Seeking Alpha). I have no business relationship with any company whose stock is mentioned in this article.