We initiate a BUY rating on ATN International, Inc. (NASDAQ:ATNI), and our target price is $74.9. ATNI is an expanding company investing worldwide both in telecommunications and renewable energy industries. Its international and multi-industrial investing strategies successfully overcome the decline in U.S. telecommunications business, which ensures a stable growth rate for the company. The stable growth and strong financial capability in turn enable the company for further investments. Overall, we think the stock price is currently undervalued.
Company Highlights
(1) ATNI has made two acquisitions to strengthen its presence in the Caribbean and has started a large-scale solar project in India. These new ventures should enable the company to generate a new source of free cash flow after its prediction of breakeven by the first half of 2017.
(2) The U.S. telecom segment is shrinking due to lower wholesale roaming data rate, partially offset by an increase in data volume. We don't see rapid growth in this segment.
(3) We expect that it would be two or three more quarters for ATNI to benefit from the recent acquisitions and projects. Over this period, the stock may trade in a similar trading range as last couple of years.
(4) The company has $352 million in cash after the two acquisitions, which can provide good financial flexibility and support further strategic M&A.
Company History
ATN International was incorporated in Delaware in 1987 and began trading publicly in 1991.
The company acquired GT&T and became a dominant telecom carrier of Guyana in 1990.
It sold the U.S. retail wireless business to AT&T (NYSE:T) in 2013.
ATNI acquired Ahana Renewables to enter into the renewable energy industry in 2014.
Company Data (As Of 10/12/2016)
| | |
| --- | --- |
| Closing Price | $66.71 |
| 12-Month Target Price | $74.9 |
| 52-Week Range | $62.7-83.8 |
| Market Cap ($M) | 1,266.8 |
| Shares O/S (M) | 16.14 |
| Float | 65.6 |
| Avg. Daily Volume | 83,153 |
| Dividend Yield | 2.04% |
| Dividend | $1.36 |
| Fiscal Year End | 12/31 |
Source: Yahoo Finance
Key Financials (As Of 10/12/16)
| | | | |
| --- | --- | --- | --- |
| | FY15A | FY16E | FY17E |
| Revenue ($mm) | 355.37 | 439.57 | 528.83 |
| EPS ($) | 1.05 | 0.85 | 2.01 |
| Net Income | 16.94 | 16.63 | 34.54 |
| EBIT | 78.60 | 54.14 | 91.61 |
| EBITDA | 135.49 | 145.00 | 175.11 |
| ROA | 3.43% | 6.50% | 4.17% |
| ROE | 2.33% | 7.13% | 5.92% |
Source: Yahoo Finance
Share Price Performance (LTM)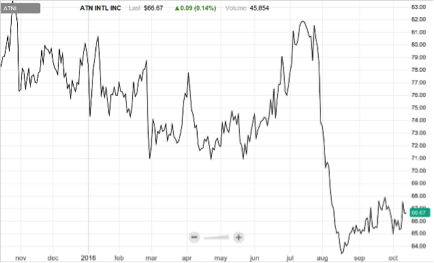 Company Description
ATN International, Inc. is a telecommunication services company that provides wireless and wireline connectivity solutions to residential and business customers. The company offers a range of mobile wireless solutions, local exchange services, and broadband Internet services. ATNI also offers renewable energy services in the U.S. The company operates in North America, Bermuda, the British Virgin Islands, Barbados, Aruba, and Guyana. It is headquartered in Beverly, Massachusetts.
The company recorded revenues of $355.4 million in the fiscal year ended December 2015, an increase of 5.7% over 2014. Its operating profit was $78.6 million in fiscal 2015, a decrease of 8.2% compared to 2014. Net profit was $16.9 million in fiscal 2015, a decrease of 64.8% compared to 2014 (Source: 10-K).
Management Team Overview
Michael T. Prior, CEO
Michael T. Prior has been the President and Chief Executive Officer since December 2005 and an officer of the Company since June 2003. He was elected to the Board in May 2008. Previous to joining the Company, Mr. Prior was a partner with Q Advisors LLC, a Denver-based investment banking, and financial advisory firm focused on the technology and telecommunications sectors. Mr. Prior began his career as a corporate attorney with Cleary Gottlieb Steen & Hamilton LP in London and New York. He received a B.A. degree from Vassar College and a J.D. degree from Brooklyn Law School. Mr. Prior currently serves on the Board of Directors of the Competitive Carriers Association. In 2008, Mr. Prior was named Entrepreneur of the Year for the New England Region by Ernst & Young LLP and One of America's Best CEOs by DeMarche Associates, Inc.
Justin D. Benincasa, CFO
Justin D. Benincasa is the Chief Financial Officer and Treasurer. Prior to joining the company in May 2006, Mr. Benincasa was a Principal at Windover Development, LLC since 2004. From 1998 to 2004, he was Executive Vice President of Finance and Administration at American Tower Corporation (NYSE:AMT), a leading wireless and broadcast communications infrastructure company, where he managed finance and accounting, treasury, IT, tax, lease administration and property management. Prior to that, he was Vice President and Corporate Controller at American Radio Systems Corporation and held accounting and finance positions at American Cablesystems Corporation. Mr. Benincasa holds an M.B.A. degree from Bentley University and a B.A. degree from the University of Massachusetts.
Barry C. Fougere, COO
Barry C. Fougere is the Senior Vice President, Business Operations. Prior to joining the company in 2014, Mr. Fougere served as a Partner in multiple advisory services firms (A.T. Kearney, Heidrick & Struggles, Cambridge Strategic Management Group and Sunapee Advisors), where he focused on telecommunications, high tech, and other technology-enabled client companies. Mr. Fougere has also served as Chief Executive Officer of several smaller information- and technology-intensive companies (Colubris Networks, BigBelly Solar, and BroadStar Energy Solutions). Mr. Fougere serves on the Boards of a number of industry and nonprofit organizations, including the Massachusetts Technology Leadership Council. He holds an M.B.A. degree from the Kellogg School and an M.E.M. degree from the McCormick School of Northwestern University, an M.S. degree in mechanical engineering from Rensselaer Polytechnic Institute and a B.S. degree in mechanical engineering from Worcester Polytechnic Institute.
Financial Overview
ATNI has a healthy financial status and has potential revenue drivers in international telecom and renewable energy segments. However, its U.S. wireless telecom business, which has the highest margin, has shrunk the last few quarters. Additionally, the company's proficiency margin has declined due to lower roaming rates and increasing marketing expense in recent quarters.
Balance Sheet/Financial Liquidity
As of December 2015, the company's long-term debt was $26.58 million and total liabilities (i.e. all monies owed) were $183.28 million. The long-term debt-to-equity ratio is very low, at only 0.08. As of December 2015, the accounts receivable were $39.02 million, which are equivalent to 40 days of sales. This is an improvement over the end of 2014 when it had 57 days of sales in accounts receivable. In addition, the company has $352 million in cash after two acquisitions this year, which means it has the capacity for further investments.
Financial Position

Company

Fiscal Year

LT Debt/Equity

Days of Account Receivable

ATN International, Inc.

2015

0.08

40

Shenandoah Telecommunications Company (NASDAQ:SHEN)

2015

0.61

40

GTT Communications, Inc. (NYSE:GTT)

2015

3.47

40
Revenue/Drivers
ATNI has three main segments, U.S. Telecom segment, International Telecom segment and Renewable Energy segment. The company reported sales of $355.37 million for the year ending December 2015. This represents an increase of 5.7% versus 2014 when sales were $336.35 million. The three segments respectively counted for 51%, 43% and 6% of total revenue.
For fiscal-year 2015, revenues from the U.S. Telecom segment were up 1% to $180 million. In the first half of 2016, this segment had a YoY decline, which was largely due to lower wholesale roaming rates. This decline was partially offset by growth in data traffic volume.
Revenues from the International Telecom segment were down 3% to $143 million in 2015. However, after acquiring KeyTech and Innovative Group in the Caribbean, this segment will weigh more in the company's portfolio. ATNI forecasts an additional $150 to $200 million in annual revenues after the full consolidation of the two companies.
Revenues from the Renewable Energy segment saw an increase that was more than double the company's growth rate. Sales were up from $449,000 to $21.04 million in 2015. In 2016, ATNI initiated a large-scale solar project in India, which is anticipated to have 50MW of solar power facilities and break-even by the second quarter of 2017.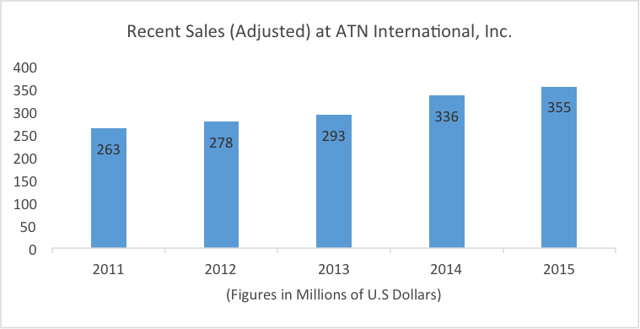 Margins/Expenses
On the $355.37 million in sales reported by the company in 2015, the cost of services sold totaled $96.93 million, or 27.3% of sales. This gross profit margin is lower than in 2014 when the cost of services sold totaled 23.0% of sales. EBITDA was $132.66 million, or 37.3% of sales. This EBITDA margin is worse than in 2014 when it was equal to 40.7% of sales. In 2015, earnings before extraordinary items were $15.85 million, or 4.5% of sales. This profit margin is lower than the level the company achieved in 2014 when the profit margin was 14.0% of sales.
The decline in margins is mainly due to lower wholesale roaming rates and upgradation of telecommunication infrastructures. And we may see the trend continue in the following quarters until the rates flatten or the increase in data volumes completely offset the rate impact.
Profitability Cooperation

Company

Fiscal Year

Gross Profit Margin

EBITDA Margin

ATN International, Inc.

2015

62.2%

37.3%

ATN International, Inc.

2014

65.0%

40.7%

Shenandoah Telecommunications Company

2015

64.6%

42.3%

GTT Communications, Inc.

2015

44.6%

17.1%
Financial Forecasts
We forecast total revenue growth rates of 17.8%, 12.3% and 11.8% in FY2016, FY2017, and FY2018, respectively. This is due to the revenue contribution from KeyTech and Innovative Group, and the Indian renewable energy project. The increase will be partially offset by a decline in the U.S. Telecom segment. EBITDA margin will decrease to 34% in 2017 as high-margin U.S. Telecom segment continues shrinking.
Industry Overview & Competitive Landscape
Over the past five years, demand for the wireless communication industry has surged, with revenue increasing accordingly. Over the five years to 2016, revenue is expected to grow an annualized 4.3% to $1.7 trillion. Industry operators have adopted two primary strategies to grow revenue; expanding subscriber numbers and increasing average revenue per user (ARPU).
Revenue growth is expected to slow slightly over the five years to 2021, with revenue to grow at an annualized rate of 2.7% to $1.9 trillion. The number of mobile subscriptions is forecast to grow at an annualized rate of 2.6% to 9.1 billion over the same period, as companies in the developed world reap the benefits of having rolled out fourth-generation (4G) networks while emerging markets continue to increase subscriber numbers. Over the next five years, fifth-generation (5G) networks are also expected to be a growth driver.
ATNI operates both in the developed market (U.S.) and developing markets (Caribbean and Guyana).
For its U.S. Telecom segment, U.S wireless telecom industry is in its mature stage and has a forecasted CAGR of 2.5% for the next five years. Concentration level here is very high. The four major players in the industry are expected to account for nearly 90% of total revenue. ATNI's business is different from that of a typical telecommunications company. The company provides connectivity in rural areas for customers of major telecom carriers such as Verizon (NYSE:VZ) and AT&T. In exchange, the carriers license spectrum to ATNI and enter into a contract with specified pricing and periods. This means ATNI's revenue highly relies on the data volumes from big carriers. To capture longer-term contracts, ATNI now is lowering its roaming rates. Although it is offset by an increase in data volumes, this segment faces a contraction in the near future.
For its International Telecom segment, ATNI is among the largest market players both in the Caribbean and Guyana, and this status was strengthened by the acquisition of KeyTech and Innovative Group. The company will continue to benefit from surging subscriptions in these markets. However, there are political and regulatory risks in those areas. First, Bermuda's government is considering introducing more competitors into the market which will affect ATNI's market share. Second, although ATNI renewed its exclusive operation license with the Guyana government, the government indicated that the exclusive license would work until such time a new legislation is in place with regard to its intention to introduce competition into the sector.
In addition, ATNI is exploring the renewable energy market. Currently, its Renewable Energy segment is relatively small, but has the potential to become a revenue driver sometime in the future. The risk for this segment is relatively low. Once construction is finished, electricity is sold via long-term power purchase agreements that range from 10 to 25 years, which guarantees long-term stable free cash flows to the company in return for the upfront investment. ATNI initiated a new project in India in 2016, and we may see more investment and M&A in the near future.
Valuation
Based on DCF and comparable analysis, our 12-month target price for ATNI is $74.9, which is 12.3% higher than the current price. Combining with the company's fundamentals, we initiate a BUY rating for ATNI. Our price target implies 8.0x FY2016E EV/EBITDA ratio.
DCF
We use a DCF valuation, because in our view, it better reflects the company's longer-term growth options. We also apply a scenario analysis to the revenue model and get a price range from $62.7 to $89.5.
Key assumptions in our DCF model include:
7.4% cost of equity: This is generated by a risk-free rate of 2.0%, the market risk premium of 4.7%, levered beta of 0.73, and size premium of 1.98%.
5.0% of after-tax cost of debt: Calculated based on ATNI's interest expense and the total debt in fiscal-year 2015.
7.2% WACC: This is driven by the cost of equity, the after-tax cost of debt, and a target debt to total capital ratio of 6.1%.
More than 10% revenue growth rate in next 2-3 years: Newly acquired companies and the solar project in India will add $150 to $200 million in revenues for the first full operational year, offset by a decline in the U.S. Telecom segment.
Rising capital expenditure: We assume Capex rises from FY2016 onward, reflecting accelerated expansion and potential M&A opportunities.
Terminal growth rate of 2.5%: Wireless telecommunication industry is a mature industry with a growth rate around 2%, and we assume a slightly higher growth rate for ATNI.
Peer Group Valuation
We choose five major competitors according to size, sales and business segments to form the peer group. They are Cogent Communications (NASDAQ:CCOI), Shenandoah Telecommunications, Consolidated Communications Holdings (NASDAQ:CNSL), GTT Communications, and FairPoint Communications (NASDAQ:FRP). Based on our analysis, ATNI's FY2016 and FY2017 P/E ratios are 78.2x and 33.1x, respectively, which are lower compared to the peer median numbers of 79.5x and 41.5x. The implied price ranges from $67.6 to $83.3, which is consistent with our DCF analysis.
Symbol

Price

Mkt Cap

($mm)

EV

($mm)

P/E

EPS

LTM

FY16E

FY17E

CCOI

$34.77

1,620

2,030

90.6x

$0.18

$0.40

$0.71

SHEN

$25.89

1,320

2,073

79.5x

$0.48

$0.34

$0.83

CNSL

$24.04

1,241

2,601

35.3x

$0.30

$0.70

$0.61

GTT

$23.08

1,176

1,573

110.6x

$0.86

$0.21

$0.56

FRP

$15.43

374

1,233

3.0x

$2.95

$4.69

$0.16

Median

1,241

2,030

79.5x

$0.48

$0.40

$0.61

Target Company

1074

906

78.2

$0.33

$0.85

$2.01
Source: Thomson ONE
Ownership
ATNI CEO Michael T. Prior and his family are the biggest stockholders of the company, and they control 31.01% of the outstanding shares. Company insiders hold 5.1 million shares, or 31.6% of total shares outstanding. Top 10 shareholders own 10.86 million shares, or 67.27% of outstanding shares. Top 50 shareholders own 13.87 million shares, or 85.91% of total outstanding shares.
Major Shareholders
| | | | | |
| --- | --- | --- | --- | --- |
| Holder | Shares Held | % O/S | Shares Change | Filing Date |
| Prior (Cornelius B Jr) | 4,456,770 | 27.59 | 0 | 04/22/2016 |
| BlackRock Institutional Trust Company, N.A. | 1,364,430 | 8.45 | 177,616 | 06/30/2016 |
| The Vanguard Group, Inc. | 1,251,379 | 7.75 | 59,842 | 06/30/2016 |
| Mawer Investment Management Ltd. | 963,314 | 5.96 | -2,285 | 06/30/2016 |
| Dimensional Fund Advisors, L.P. | 819,912 | 5.08 | 98,837 | 06/30/2016 |
| Prior (Michael T) | 552,139 | 3.42 | 8,281 | 08/18/2016 |
| Brown Advisory | 541,269 | 3.35 | 27,427 | 06/30/2016 |
| Renaissance Technologies LLC | 350,000 | 2.17 | -5,295 | 06/30/2016 |
| Fidelity Management & Research Company | 317,831 | 1.97 | 25,931 | 06/30/2016 |
| Delaware Investments | 247,433 | 1.53 | 53,697 | 06/30/2016 |
Source: Company's Website
Last Earnings Report
For the second quarter of FY2016, the company reported revenues of $100 million, an 11% increase from the $90.3 million reported for the second quarter of 2015. Revenue growth resulted primarily from a 34% increase in the International Telecom segment revenues. Adjusted EBITDA for the second quarter was $34.3 million, 15% below the prior year, resulting primarily from the anticipated decline in U.S. Telecom segment. The company posted an operating loss of $5.4 million. The decline in operating income was due to $23.2 million in special charges related to acquisition transaction costs, restructuring charges, and the impairment of goodwill and other assets in the U.S. wireline business.
Disclosure
This report has been prepared and distributed by Harriman Capital Inc. This report is based on sources that we consider reliable, but we do not represent it is accurate or complete, and it should not be relied on as such. All information contained herein is subject to change without notice. This report is not an offer to sell or the solicitation of an offer to buy any security in any jurisdiction where such an offer or solicitation would be illegal. It does not constitute a personal recommendation or take into account the particular investment objectives, financial situations, or needs of individual clients.
Clients should consider whether any information in this report is suitable for their particular circumstances and, if appropriate, seek professional advice, including tax advice. Statements included in this report may constitute forward-looking statements within the meaning of the Private Securities Litigation Reform Act of 1995. Such statements involve a number of risks and uncertainties such as competitive factors, technological development, market demand and the company's ability to obtain new contracts and accurately estimate net revenues due to variability in size, scope and duration of projects, and internal issues.
Neither Harriman Capital Inc. nor the principals, officers and directors of Harriman Capital have a long or short position with respect to any of the shares of the subject company covered in this report. Harriman Capital Inc. is not a broker-dealer and does not generate any investment banking or commission-based revenue with respect to the securities of the company described herein.
Our professionals may provide oral or written market commentary that reflects opinions that are contrary to the opinions expressed in this report. The price and value of the investment referred to in this report may fluctuate. Past performance is not a guide to future performance, future returns are not guaranteed, and a loss of original capital may occur. Certain transactions, including those involving futures, options, and other derivatives, give rise to substantial risk and are not suitable for all investors. Our report is disseminated primarily electronically, and, in some cases, in printed form.
© 2016 Harriman Capital Inc, No part of this material may be (i) copied, photocopied or in any form by any means or (ii) redistributed without the prior written consent of the Harriman Capital Inc.
Disclosure: I/we have no positions in any stocks mentioned, and no plans to initiate any positions within the next 72 hours.
I wrote this article myself, and it expresses my own opinions. I am not receiving compensation for it. I have no business relationship with any company whose stock is mentioned in this article.