We presented our long investment thesis on Regeneron (NASDAQ:REGN) to subscribers of our premium Seeking Alpha investment research service, Vasuda Healthcare Analytics, on December 7. Shares rallied about 7% in a week before a pullback. We consider this pullback as another excellent opportunity to start establishing a long position in this blue-chip large-cap biotechnology company.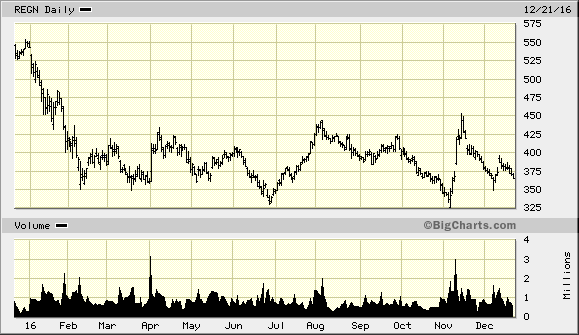 Regeneron common stock price chart
Comparables
We compared some key financial metrics for Regeneron and Celgene (NASDAQ:CELG), which are given in the table below.

Forward P/E is based on consensus sell-side analyst estimates, from Reuters
We already own Celgene in our portfolio. We like Regeneron here as a core large-cap biotechnology holding for purpose of diversification. Moreover, we think investors/analysts are under-appreciating the potential of the company's R&D pipeline.
Regeneron's stock chart shows a pullback from its 2015 highs, which can be explained by lower-than-expected sales ramp-up for Praluent, its cholesterol-lowering PCSK9 inhibitor and the overall pressure on the biotech sector due to drug pricing issues. At the current level, the company has near-term drug approvals that could add significant value to its pipeline.
Recent financials
Regeneron's revenue, EBITDA, EPS and FCF all showed QOQ growth. Its gross margin, operating margin and net margin expanded. Eylea (anti-VEGF drug for wet-AMD) sales increased 16.3% QOQ. Sales of Praluent also grew (850% QOQ). The company's GAAP EPS rose 24.75 QOQ.
Future revenue drivers
Duplimumab: IL-4R antibody, passed phase 3 trial, being developed in two huge indications (atopic dermatitis, a $5.6 billion potential market in 2022 and in asthma). Peak sales estimates (consensus) are about $2.5 billion (2023). The molecule is partnered with Sanofi (NASDAQ:SNY).
Sarilumab: 1L-6 receptor antibody, partnered with Sanofi, passed phase 3 trial versus Humira (NYSE:ABBV). Peak consensus sales estimate is $2-4 billion (2023).
Praluent: PCSK9 inhibitor, approved for treatment of high cholesterol (including some hereditary conditions). Initial sales have been slow, but are ramping up. Pfizer (NYSE:PFE) recently discontinued its similar drug, so Regeneron and Amgen (NASDAQ:AMGN) are the two players left in the field. A phase 3 trial testing the drug's effect on cardiovascular outcomes is under way. The consensus peak sales estimate is $2.5 billion (2020).
Eylea: Anti-VEGF antibody, approved for treatment of wet AMD, a common cause of blindness. Sales are increasing, and the consensus peak sales estimate is $4 billion (2022).
CRISPR-Cas9 gene editing pipeline: We think investors are overlooking the future potential of this pipeline. Regeneron has licensed rights to 10 therapeutic targets (including 5 liver targets; TTR amyloidosis is the first target being developed jointly) from Intellia Therapeutics (NASDAQ:NTLA), one of the three publicly traded companies in this space. Stock prices of Intellia and Editas Medicine (NASDAQ:EDIT) are both suppressed, since the two companies are fighting over patents to the technology in court (the hearing started this month). We cannot forecast future revenue from these 10 indications (since they are not finalized), but it could run into billions of USD/year at peak.
Other R&D products in Regeneron's pipeline that we are interested in
Fasinumab: Antibody against nerve growth factor, being developed for pain treatment like osteoarthritis. It is partnered with Teva Pharmaceutical (NYSE:TEVA) (for osteoarthritis, in phase 3), and is also being developed for treatment of chronic back pain. It is licensed to Mitsubishi Tanabe for the Japan territory.
REGN2222: For prevention of RSV virus infection in infants, competing with Synagis from AstraZeneca (NYSE:AZN).
Nesvacumab: Angiopoetin 2 antibody, being tested in combination with Eylea (in phase 2, partnered with Bayer (OTCPK:BAYZF)).
Rinucumab (anti-PDGF): Being tested in treatment of wet AMD in combination with Eylea. Phase 2 trial was not successful, but the treatment duration was less (only 12 weeks versus 24 weeks for rival Ophthotech (NASDAQ:OPHT)). 28-week and 52-week data will be released later. With Ophthotech's phase 3 failure with Fovista, we are bullish on Rinucumab's commercial potential in wet AMD.
Immuno-oncology pipeline: Checkpoint inhibitors and novel CAR-T; still in early stage.

Regeneron analyst EPS forecast chart, from Thomson Reuters
The consensus analyst price target is $460. Based on sector average 25x consensus estimate for 2018, shares could have 25% upside (first price target = $452).
Capital allocation for Regeneron is reserved for subscribers of our premium research service.
Premium Research Service
Get more investment ideas like this by subscribing to Vasuda Healthcare Analytics, our premium equity research service (listed in the SA Marketplace, in partnership with Seeking Alpha). Subscribers have access to exclusive investment ideas and have access to the model portfolio (with price targets and suggested allocation) and a contrarian portfolio. Subscribers also have access to an exclusive chat room with insights from other subscribers and myself. A free trial is available to test drive the service. Take advantage of this offer before the price increase starting January 1, 2017.
Disclosure: This article represents my own opinion and is not an investment advice or solicitation to buy or sell any security. Investors should do their own research and consult their financial adviser before making any investment.
Disclosure: I am/we are long REGN. I wrote this article myself, and it expresses my own opinions. I am not receiving compensation for it (other than from Seeking Alpha). I have no business relationship with any company whose stock is mentioned in this article.