A major oil & gas firm with integrated operations, Occidental Petroleum Corporation (NYSE:OXY) could be considered a Big Oil-lite player. The company has continued to showcase its affinity for both the conventional and unconventional side of the Permian, which Chevron Corporation (NYSE:CVX) and ExxonMobil (NYSE:XOM) have long called home, while also finding it hard to cope in the new pricing paradigm as cash flow neutrality remains elusive due to its hefty dividend payouts (something Big Oil has also been grappling with).
Extending Permian presence
Occidental Petroleum Corporation exited the third quarter of this year with $8.7 billion in current assets, including $3.2 billion in cash, versus $5.7 billion in current liabilities and $8.3 billion in long term debt. That liquidity position was strong enough to justify its $2 billion acquisition in the Permian Basin that was announced in late-October.
While an expensive acquisition this is one that fits right in with Occidental Petroleum's business model. The company has been selling out of riskier (exited Bahrain, Iraq, and plans to end Libyan contract) and/or less economical (divested Williston Basin and Piceance Basin acreage) upstream ventures so it can direct more attention to its core divisions. That includes its upstream assets in the Permian Basin, the UAE, Oman, Qatar, and Colombia, along with core midstream and downstream operations as well.
Through this transaction Occidental Petroleum gained 35,000 net acres in Texas' Reeves and Pecos counties that are situated within the Delaware Basin. Occidental refers to this region as the Greater Barilla Draw Area, and after the deal closes the firm will become operator across a large portion of that acreage as its working interest increases.
Along with the additional acreage Occidental gained 7,000 BOE/d in net production (72% crude) from 68 producing horizontal wells and 4,000 BOE/d (80% oil) in net production from increased interest in EOR (enhanced oil recovery) projects in the region. That price tag included $100 million in associated infrastructure for both conventional and unconventional activities.
What this purchase does is a few things. First, it provides Occidental with "a minimum of 700 gross estimated horizontal drilling locations" with plenty of room to grow that further. These are locations capable of targeting the Upper Wolfcamp intervals (Wolfcamp A & B) and the Bone Spring Sandstone horizons, particularly the Second Bone Spring interval (potential upside from the first and third Bone Spring benches in the future).
In a $55 WTI environment analysts see the average Delaware Basin well yielding an IRR of around 37%, the highest level around. As this is core Delaware acreage that number may go even higher for Occidental. Even though the firm already has a massive position in the Permian Basin this acquisition grows its top tier inventory and allows the company to assume operatorship of several key properties.
By becoming the operator Occidental thinks it can do a significantly better job developing the Greater Barilla Draw Area, with higher EUR (estimated ultimate recovery, the amount of oil & gas a well produces over its lifetime) rates and lower completed well costs. Maybe management is being overly confident but the company does have the operational track record to back up its bullish sentiments. Below is a look at two slides showcasing Occidental's view on the benefit of being operator.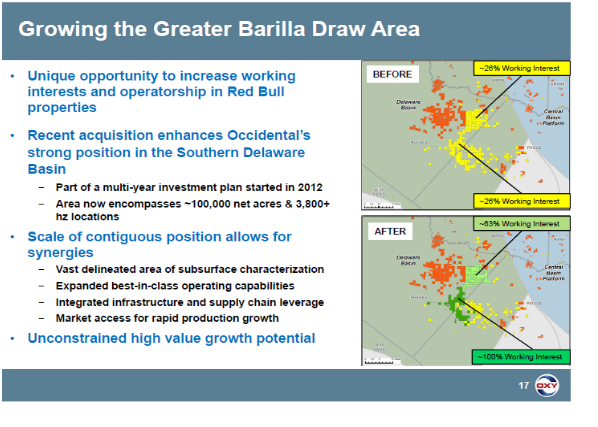 Source: Occidental Petroleum Corporation Presentation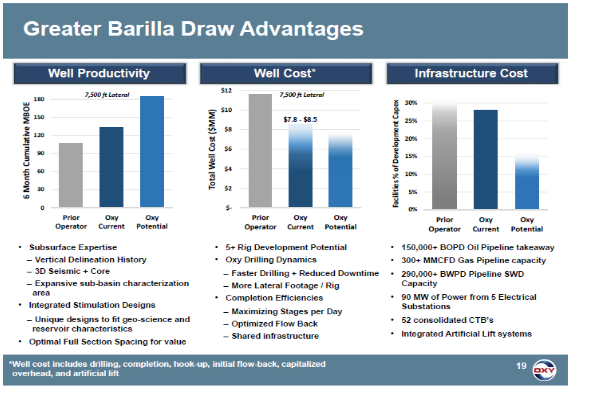 Source: Occidental Petroleum Corporation Presentation
Secondly, this transaction increases Occidental's exposure to low-cost low-decline EOR (enhanced oil recovery) developments in the Permian Basin. Those EOR projects utilize CO2 injection to pump out primarily crude from reservoirs that are mature and have been producing for a long time.
A little over half of Occidental's Permian production base of 264,000 BOE/d in Q3 came from its CO2 EOR division. Free cash flow generated from its Permian EOR operations is used to help fund its Permian Resources drilling activity and overall corporate overhead.
Occidental's Permian EOR assets house 1.9 billion BOE in reserves and resources that have a high probability of being extracted over the years to come. Year-to-date (through the end of Q3), the firm had finished extending the vertical reach of 94 wells and the related completion activities as it also brought 36 new wells online as part of its Residual Oil Zone project.
The ROZ scheme seeks to develop oil-weighted resources that were previously not targeted as they lay underneath the main oil column. During the fourth quarter, Occidental expects to deepen and restimulate 50 additional wells while drilling another 10 wells as part of its ROZ development plan.
Cash flow outlook
On average Occidental Petroleum generated $730 million in net quarterly operating cash flow in Q2 & Q3 while WTI, Brent, and Henry Hub averaged $45.27/barrel, $46.98/barrel, and $2.34/Mcf, respectively. That implies $2.92 billion in annual cash flow generation.
Management posted that Occidental generates an additional $100 million in annual cash flow for every $1 increase in WTI and an additional $45 million in annual cash flow for every $0.50 increase in Henry Hub pricing. Using spot prices from December 19, where WTI and Henry Hub came in at $51.91 and $3.43, respectively, Occidental's annual cash flow generation should have grown by ~$700 million (increase in WTI) plus ~$100 million (increase in Henry Hub) to around $3.7 billion - $3.8 billion.
This is before factoring in the impact of improved Middle Eastern performance (on both the production and cost cutting front), additional midstream investments coming online (allowing for improvements in realized prices), and the start-up of its massive ethylene cracker development in Ingleside, Texas.
Combined, those three factors will add $850 million - $900 million to Occidental's cash flow streams in 2017 versus this year. A large part of that is due to its Ingleside developments, including its new oil export facility and ethylene cracker, starting to contribute.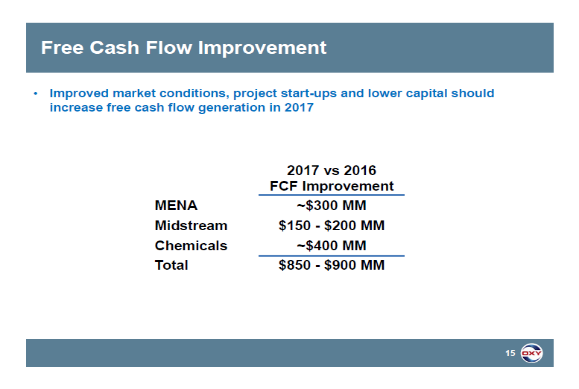 Source: Occidental Petroleum Corporation Presentation
When taking all of that into account, Occidental Petroleum's guidance would imply ~$4.65 billion in cash flow generation next year at current prices. As Occidental plans on spending between $3.3 billion - $3.8 billion on capital expenditures in 2017, on top of $2.3 billion in dividend payments, it would still come up short. WTI would have to move up closer to ~$60/barrel in order for Occidental to reach cash flow neutrality when including the several beneficial factors that will be realized by the firm next year.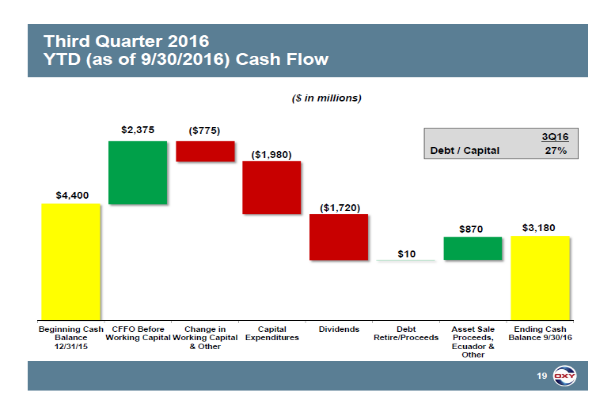 Source: Occidental Petroleum Corporation Q3 2016 Presentation
Final thoughts
Occidental Petroleum Corporation's biggest obstacle is that it is spending well above its maintenance capex requirement of $2.2 billion (cost of keeping downstream and upstream output flat) while also attempting to maintain a very generous dividend. A little too generous in my view, and one that has been funded by cannibalizing the balance sheet.
Even after the recent rally in crude prices and when factoring in several very favorable 2017 cash flow enhancers, Occidental Petroleum Corporation still requires materially higher oil & gas prices (going from a sustained low $50s WTI world to a $60 WTI world is a big jump) to break even. It's outspend will continue negatively impacting its financial statements and balance sheet until then.
Its Permian acquisition made strategic sense and seems well timed given the OPEC/non-OPEC news. As management ramps up development of the Permian through increased drilling activity next year, expect to hear more good things out of the basin.
There is a lot to like about Occidental Petroleum Corporation as I've written about before, but it may be time to accept what Big Oil hasn't either, sky high dividends come with a very heavy price.
Disclosure: I/we have no positions in any stocks mentioned, and no plans to initiate any positions within the next 72 hours.
I wrote this article myself, and it expresses my own opinions. I am not receiving compensation for it (other than from Seeking Alpha). I have no business relationship with any company whose stock is mentioned in this article.