In the Staples sector, I am bullish on one trade and bearish on one trade. To get right to the point, I like Sanderson Farms (NASDAQ:SAFM) and I am wary of Coty Inc (NYSE:COTY).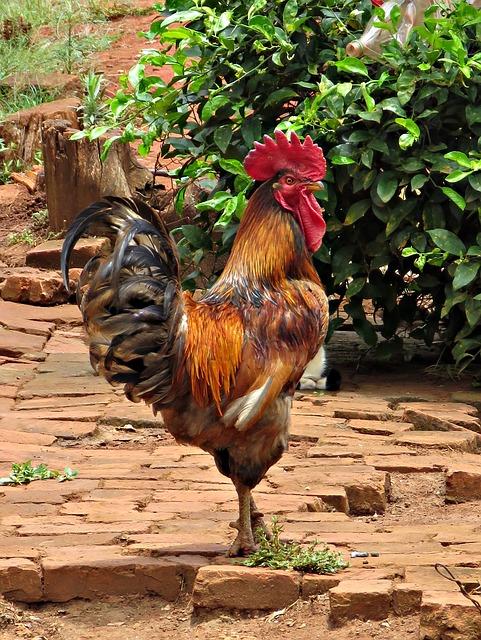 Before I get into this article, it would help to understand that I am a quantitative model developer. This means that I use various combinations of factors that are linked to historical performance and backed by academic research. If stocks with a certain set of traits show consistent out-performance (or under-performance), then I follow this trend until something changes. I don't try to forecast projections based on stories, rumor or wishful thinking. I trade by the numbers, not the gut.
These are some of the reasons I believe Sanderson Farms is a buy and Coty Inc. is not.
Earnings Revisions
Since 1998, the top two performing strategies at American Association for Individual Investors have been based on upwards earnings revisions. I have also found that positive earnings surprises, also know as post-announcement-earnings drift, has a powerful influence on returns - particularly for the first 4 weeks following the surprise.
Please look at the consistently upwards revised earnings forecasts for SAFM over the past 13 weeks. Please focus on the upper right hand side of the chart which shows the current year EPS forecast (blue line) and next years forecast (red line). The 10 analysts covering this stocks continue to see additional upside. As well, 4 of the past 5 quarters had positive earnings surprises with 2 of them being quite significant.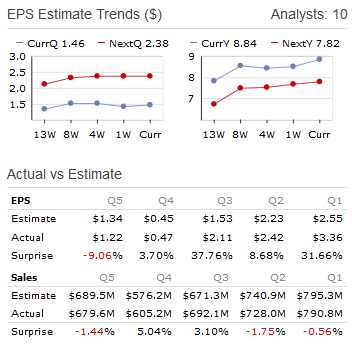 In contrast, look at the negative earnings revisions over the past 13 weeks with COTY. In addition to this negative pressure - like air being let out of a balloon - there were a couple of significant negative earnings surprises.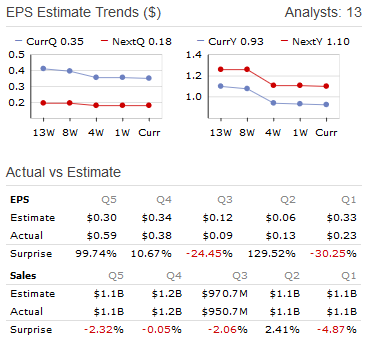 Value
Value is one of the key metrics I consider when building a model. All investing carries risk but I have found better stability and performance with stocks that give you a bird in the hand while you try to capture that second bird in the bush. Of course, low PE stocks are usually priced that way because of risk or perceived low upside potential. But I would much rather have a risky stock with good value than a risky stock with poor value.
The forward PE Ratios of COTY and SAFM are compliments of YCharts.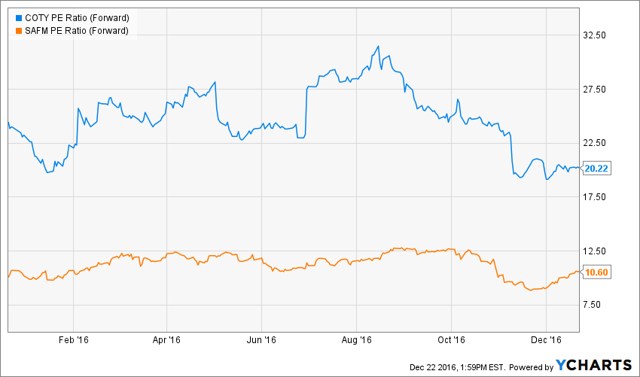 The value of Sanderson Farms is much more attractive to me. The trailing PE ratio has a much wider gap if you prefer that metric to the forecast PE as in the chart above. Sanderson has a trailing PE of 11 and Coty is north of 200.
Price Performance
Another key area relates to recent price performance. Momentum is an anomaly where prices with a relatively strong price move in a certain direction over the past 3 - 12 months often continue to trend in that direction over the next 3 - 12 months. I am not a momentum investor who buys stocks that move up for no reason. In my research I have noted a strong correlation between stocks that move down heavily over the past 3 - 6 months and future under-performance.
This chart shows the normalized return of Coty vs. Sanderson Farms.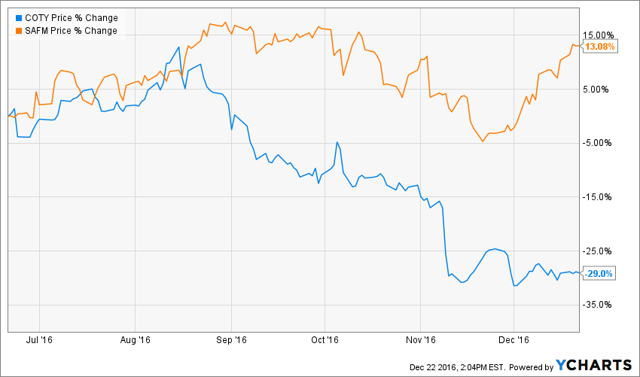 The downward momentum of Coty makes me very wary of investing at this time.
Other Factors
Of course, there are numerous other factors to consider. One interesting catalyst is the high amount of short interest in Sanderson Farms - over 37%. If the recent concerns over chicken price manipulation turn out to have little or no impact, like chicken feed, then subsequent short covering could provide a large boost in prices. Even if the chicken prices go down and this affects profitability, I still prefer to have lower valuations so any negative impact can be absorbed more readily.
Summary
To sum up, quantitative investing is by the numbers. Hype, rumors, stories and potential lawsuits will all be reflected in various factors such as short interest, price performance and value. The quantitative investor is not oblivious to this, but he chooses to use factors to determine whether odds are slightly in his favor and whether there is enough upside to warrant the risk.
I have found that deep value stocks with upward revised earnings, healthy surprises and decent recent price performance typically do much better than stocks which are the opposite.
In this regard, I recommend Sanderson Farms as a buy while I do not recommend Coty Inc.
Disclaimer
All data and model designing is through Portfolio123. This is a partner link which will double your trial period and I may receive a small fee if you later decide to use the software - at no extra cost to you. This is the software I have been using for the past 5+ years for my consulting business.
Because I design models for funds, family offices and brokerages - it is very likely that stocks I recommend in my articles are the same stocks that they are investing in, whether or not I personally buy or sell these stocks in my private account.
Disclosure: I/we have no positions in any stocks mentioned, but may initiate a long position in SAFM over the next 72 hours.
I wrote this article myself, and it expresses my own opinions. I am not receiving compensation for it (other than from Seeking Alpha). I have no business relationship with any company whose stock is mentioned in this article.