When we look at the market performance over the last year, one of the most hard hit sectors has been seen in the gold mining industry, which is best tracked using the Market Vectors Gold Miners ETF (NYSEARCA:GDX), which tracks the price and yield performance of the NYSEARCA Gold Miners Index (GDMNTR).
In the latest declines we have seen the market give back most of the gains seen in the earlier parts of the year, and bullish investors are now looking for reasons to support the positive outlook supporting buy positions at these lows. In an earlier report on these topics, we have outlined some of the reasons that explain why the Federal Reserve might be forced to raise interest rates at speeds faster than even they had anticipated. But if this does turn out to be the case, we could see markets react in a way that broadly favors GDX and assets tied to the underlying value of gold as a safe haven investment.
Chart View: Market Vectors Gold Miners ETF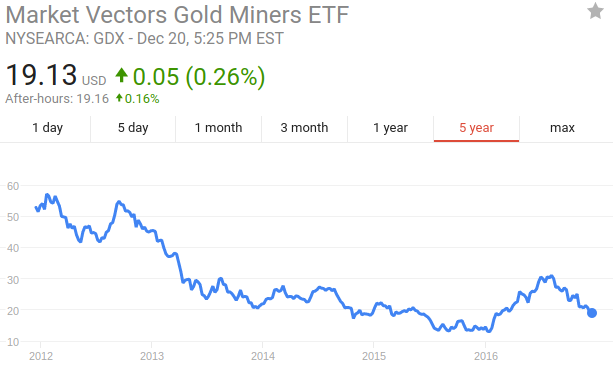 Chart Source: Gold Traders
The most likely catalyst, however, might come from external sources as factors that do not typically support mining stocks. Namely, we could see positively activity in sector stock valuations if interest rates increase at a rate that is faster than expected. The reality is that most in the market have not yet positioned for more hawkish changes, and this could lead to momentum selling if we start to see the Fed highlight potential areas of strength (ie. service sector job creations or more material advancements in the consumer inflation rate). Falling stock values suggests higher volatility readings in measures like the iPath S&P 500 VIX ST Futures ETN (NYSEARCA:VXX) and potential rallies in precious metals instruments like the SPDR Gold Trust ETF (NYSEARCA:GLD).
Chart View: US ISM Non-Manufacturing PMI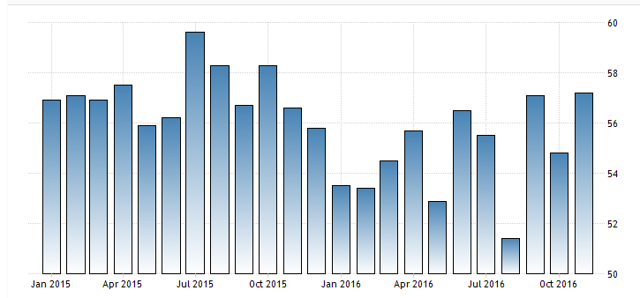 Chart Source: Dividend Investments
All combined, these factors create a confluence of events that could actually become supportive for stronger revenue performances in the mining industry as a whole. We can add to this the allure of safe haven protection within a broader stock sell-off in the commonly traded benchmarks, as this is something that could be seen if our forecasts for more rate hikes becomes a reality.
Chart View: US Unemployment Rate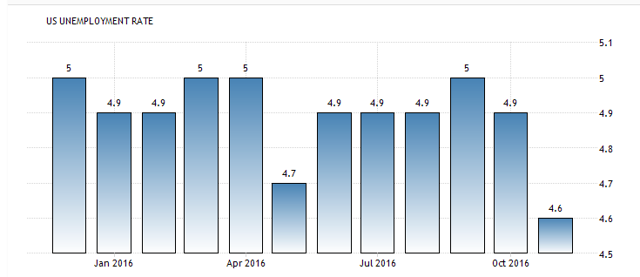 Chart Source: Gold Traders
We have already seen the Fed make these suggestions in its meeting statements, and there is currently no evidence to suggest that things could swing in the other direction. When we look at numbers like the US unemployment rate, we can see that markets have risen to nine-year highs at 4.6%. This is far below the Fed's earlier target of 5%, which was the level at which the economy was thought capable of sustaining increases in borrowing costs. This shows that markets could see a significant change in the underlying trends and still likely satisfy the requirements for data readings that have been thought of as indicative of sustainable strength.
If the Fed does highlight positively factors like these, we could see more interest rate hikes ahead, potentially more then the three that are already expected. If this occurs, investors should look for undervalued assets that could rally in a higher interest rate environment. And while this is not typically thought to be the case for assets dependant on the value of precious metals, there is a growing possibility that this time will be different -- and that instruments like GDX will benefit over the next few months.
Disclosure: I/we have no positions in any stocks mentioned, and no plans to initiate any positions within the next 72 hours.
I wrote this article myself, and it expresses my own opinions. I am not receiving compensation for it (other than from Seeking Alpha). I have no business relationship with any company whose stock is mentioned in this article.