Transocean (NYSE: RIG), like all other offshore drillers, has had an incredibly difficult time since the start of the market crash. Even with recent share price recoveries, the company's stock price is still noticeably below pre-crash highs. And given the company's long-term earnings potential and impressive market position, the company is a strong investment at the present time.
Introduction
Transocean Ltd. is one of the world's largest offshore drilling contractors with a market cap just over $5 billion. The company is based out of Vernier, Switzerland but has offices in 20 different countries and operates out of noticeably more countries. The company's rig was the rig that exploded in the 2010 Deepwater Horizon explosion. However, from that point, the company has worked on improving its market position.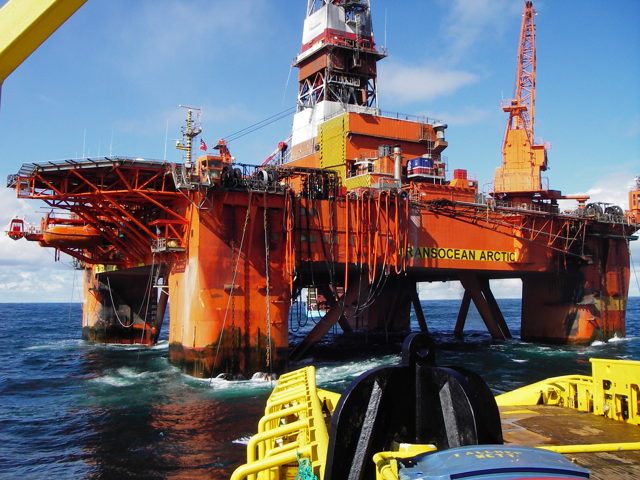 Transocean's stock price peaked in mid-2014 at just over $45 per share or a market cap of more than $16 billion. From that point, the company's stock price dropped rapidly to February 2016 lows of just over $8 per share. Since that point, the company's stock price has almost doubled to present share prices of just over $14 per share. However, even with this recovery, Transocean has significant future stock potential.
Transocean Fleet Overview
Now that we have an overview of Transocean, it is time to begin by discussing the source of all of the company's revenues, its drilling fleet.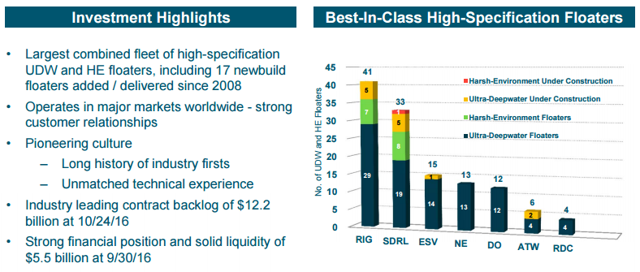 Transocean Investment Highlights - Transocean Investor Presentation
Transocean has the largest combined fleet of high-specification ultra-deepwater rigs and high-efficiency floaters. The company has included 17 newbuild floaters since 2008 significantly decreasing the average age of the company's fleet. Ultra-deepwater rigs are incredibly important portion of a company's fleet. These rigs tend to have multi-year contracts and be a long-term source of continued earnings.
In fact, as we can see, Transocean has the largest fleet of high-specification floaters compared to all offshore drillers. The company operates in major markets and its enormous fleet allows it to have strong customer relationships. The relationships make it easier for the company to earn money in these difficult times. On top of this, Transocean has a market leading contract backlog of $12.2 billion with an incredibly impressive $5.5 billion of liquidity to help the company handle the crash.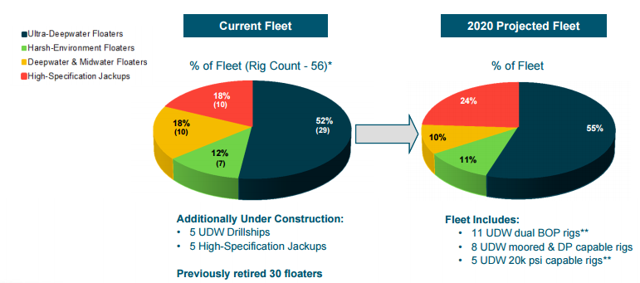 Transocean Fleet - Transocean Investor Prsentation
This next image shows Transocean's fleet composition and how the company anticipates its fleet composition to change over the next 4 years. The company anticipates having additional ultra-deepwater ships and high specification rigs. As opposed to jackups and midwater floaters, these are rigs that tend to gain a longer contract. These longer contracts mean future oil crashes will have a smaller impact on the company's earnings.
Transocean Backlog
Now that we have an overview of Transocean including a detailed overview of the company's fleet, let us move on to discussing Transocean's backlog.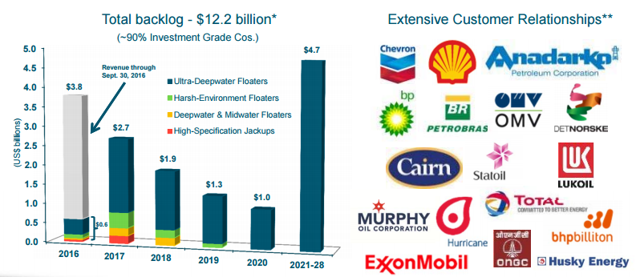 Transocean Total Backlog - Transocean Investor Prsentation
Transocean has a total backlog of an impressive $12.2 billion. A significant portion of the company's backlog was used up in 2016, but the company still has significant backlog of more than $1 billion a year all the way to 2020. After that Transocean has a very respectable $4.7 billion of backlog. It is also important to point out that even in a drawn out oil crash, the company's backlog will be slightly higher as its jackups will gain some contracts.
On top of this, Transocean has the largest backlog in the industry of an astounding $12.2 billion of which 90% comes from investment grade companies. This means two things. One, the high percentage of investment grade companies means that Transocean doesn't have to worry about contracts being cancelled. Two, these extensive customer relationships means that Transocean will be able to effectively compete with other offshore drillers for contracts.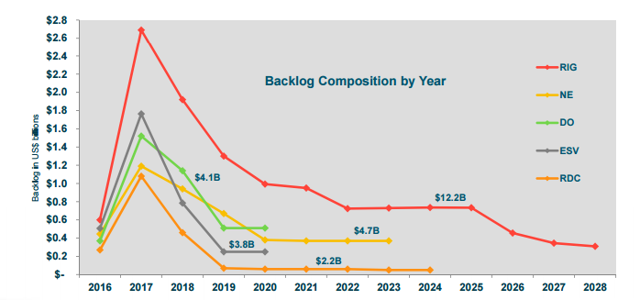 Transocean Backlog Timeline - Transocean Investor Prsentation
This shows Transocean's backlog composition by year. Transocean's backlog peaks in 2017 at $2.7 billion and drops rapidly. However from the early-2020s to 2025, Transocean's backlog stays fairly consistent at just under $1 billion. This backlog will be enough for Transocean to keep its company afloat and means that Transocean will be able to handle a very drawn out market crash especially compared to its peers.
Transocean Liquidity
Now that we have an overview of Transocean, a company's liquidity, and a discussion of the company's backlog, it is now time to finish up by discussing Transocean's liquidity.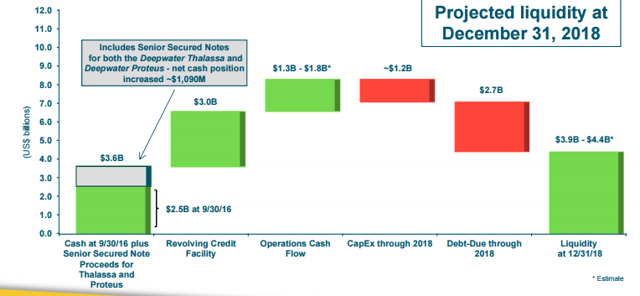 Transocean Liquidity Schedule - Transocean Investor Prsentation
Transocean, at present, has $3.6 billion in liquidity. The oil crash first began in mid-2014 and from that point, it took 7 quarters for prices to bottom in January 2016, in what was widely viewed as their bottom. As a result, we can expect prices to take another 7 quarters to recover meaning that they should recover by mid-2018. Given this estimation for a recovery in oil prices, we can see Transocean's incredibly impressive liquidity picture.
Transocean has another $3.0 billion revolving credit facility and anticipates $1.3-$1.8 billion in operations cash flow. The company anticipates finishing 2017 with an astounding $3.9-4.4 billion in liquidity. Even removing the company's $3.0 billion in revolving credit facility, the company should still have $0.9-1.4 billion in liquidity by year-end 2018 by which point oil prices should have recovered.
Conclusion
Transocean is an oil company in an incredibly difficult environment. The company has watched its stock price taken an incredibly hit with its present stock price just 30% of its pre-crash highs. Despite these difficulties, even with its recent stock price recovery, Transocean still has significant potential to recover.
Transocean has a market leading fleet, a fleet that it is continuously renovating, and one that is continuously becoming younger. The company has a market leading backlog drowning out all of its competitors. On top of this, the company has significant the company has significant liquidity and anticipates ending 2018 with $4.0 billion or more of liquidity, a time by which oil prices should have recovered.
Given Transocean's impressive market position, long-term earnings potential, and impressive liquidity, the company is a strong investment at the present time.
Disclosure: I am/we are long RIG.
I wrote this article myself, and it expresses my own opinions. I am not receiving compensation for it (other than from Seeking Alpha). I have no business relationship with any company whose stock is mentioned in this article.