I use a stock screener to find good dividend stocks. The criteria I search for are, in order of importance: dividend longevity, dividend yield, and dividend growth rate. At a 7.11% yield, on top of an annual 5% stock dividend on a payout running for almost a decade, Vector Group (NYSE:VGR) looked like an excellent investment - at first.
When I did more research on the stock, I noticed some negativity in its coverage on Seeking Alpha and other sites. This negativity focuses on the stock's dividend safety, industry risks, and debt levels. This article will explain why I don't think these problems should scare investors away from VGR.
Industry Risks
The tobacco industry is declining. Cigarette usage in the United States is dropping rapidly, and while Tobacco products are still very popular in Europe, use of the products are decreasing here as well. There is still a high demand for Tobacco products in the developing world, but Vector Group operates solely in the U.S market.
Vector group addresses these issues through its new electronic cigarette businesses and its acquisition of New York Real Estate giant Douglass Elliman. Vector groups e-cig and real estate business will be the growth engine of the company going forward and diversify it out of the declining U.S cigarette market.
Debt Levels
Vector group has a relatively large amount of debt on its balance sheet. The total was around $850 million by the end of 2015. This is a significant amount of debt for a company with a market cap of only $2.7 billion.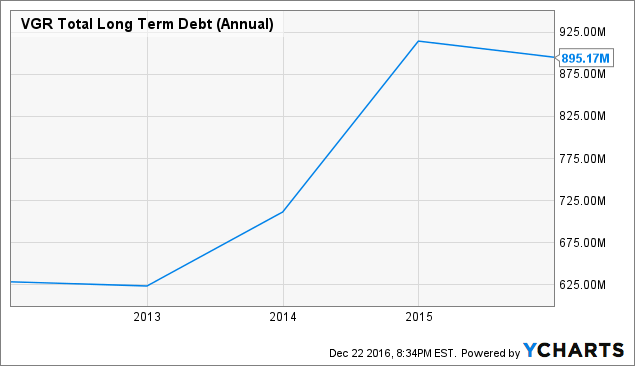 VGR Total Long Term Debt (Annual) data by YCharts
Vector Group's debt looks less scary when compared to the company's massive cash position and healthy EBITDA. The debt growth rate leveled off in 2015.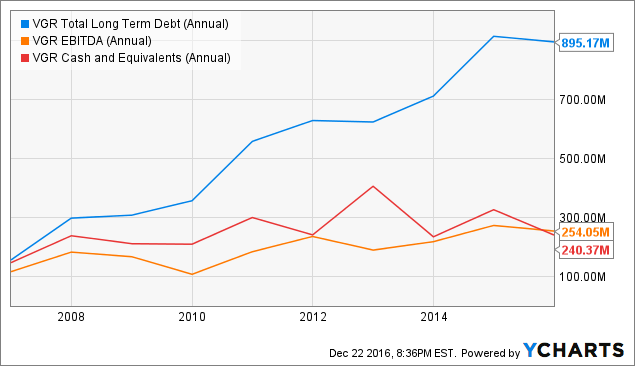 VGR Total Long Term Debt (Annual) data by YCharts
All this being said, by no means is Vector group a completely 'safe' company. Vector Group's interest payments make me nervous; they swallow almost half of EBITDA, and completely negate free cash flow. This is problematic.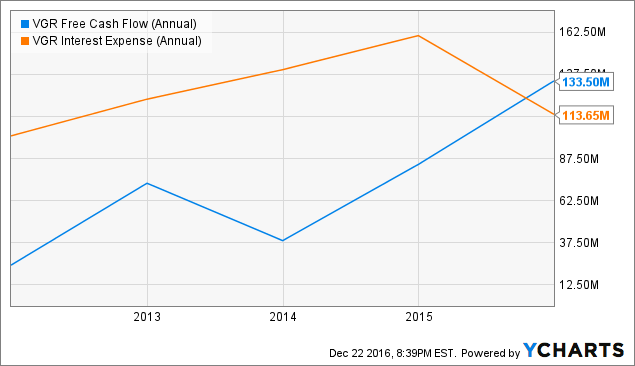 VGR Free Cash Flow (Annual) data by YCharts
Dividend Safety
On the surface, Vector Group's dividend doesn't look very safe. First off, the company has an unusually high payout ratio of over 300%. This is scary, but it can be easily explained by the structure of the business. Vector Group isn't a pure tobacco play; it has a real estate growth engine, and this means metrics like payout ratios are unreliable.
Real estate has non-cash costs like depreciation that artificially lower net income, and by extension EPS, making the payout ratio high. A more accurate way to analyze Vector Groups dividend safety is to look at its FCF per share compared to dividend per share. When we look at the stock like this, its dividend is much more attractive.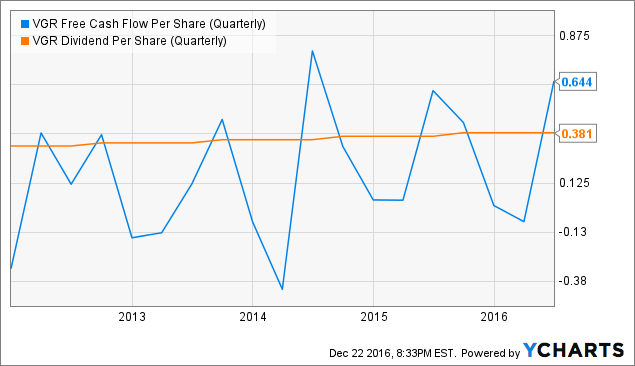 VGR Free Cash Flow Per Share (Quarterly) data by YCharts
On top of the healthy free cash flow, Vector Group has a large cash position on its balance sheet. This money adds another layer of safety to the company's dividend.
Conclusion
Vector Group is a sound investment. Its dividend is safe; debt levels are manageable, and the company has a viable way to hedge against tobacco industry risk through its acquisition of Douglas Elliman and its growing e-cig business.
The primary cause of concern for VGR shareholders is the company's high interest payments because they are almost half its EBITDA, and this may cause problems if the issue is not addressed.
Disclosure: I/we have no positions in any stocks mentioned, but may initiate a long position in VGR over the next 72 hours.
I wrote this article myself, and it expresses my own opinions. I am not receiving compensation for it (other than from Seeking Alpha). I have no business relationship with any company whose stock is mentioned in this article.