Exxon Mobil (NYSE:XOM) is wrapping up one hell of a year. At the beginning of the year, analysts and traders alike were questioning the value proposition of large integrated O&G companies, saying they could be some of the worst performers in 2016. Well, that didn't happen, and in fact, integrated O&G majors were some of the best investments of the year. There's something to be said for XOM being such a quality investment, as the company's outlook for capital gains and total return are both encouraging and likely market-beating. Notably, investors should expect a pick-up in its Upstream and Chemicals segments next year.

Source: Exxon Mobil
Capital Appreciation
Exxon Mobil is supposed to be one of those stocks you buy in bulk on dips and put away for multiple years until an upcycle runs its course relative to historical values. From a capital gains perspective, investors aren't supposed to expect massive yearly appreciation, in part due to the low volatility associated with the stock, especially relative to small pure play E&Ps. However, this year was an anomaly, as it was the first in a recovery. XOM put up about 17% in capital gains before dividends, beating the broader equity market by a sizable amount. For a stock as large as XOM, that's an excellent return, and what shareholders should largely expect over the next 3-5 years is steady capital appreciation (low double digits per year) plus a growing dividend.
Below is a trailing 5Y chart to provide some perspective: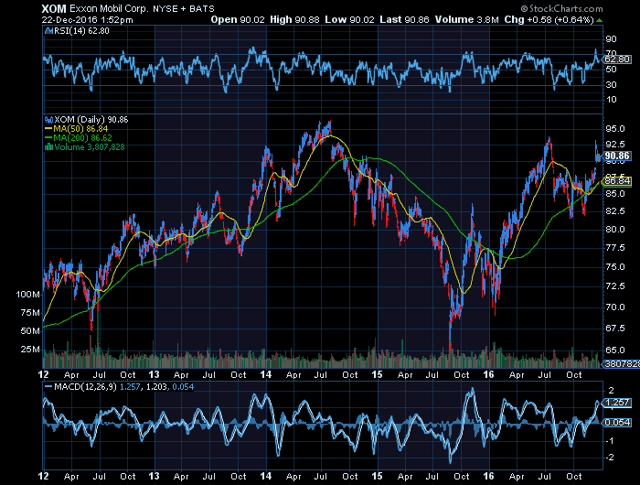 Source: StockCharts
By looking at this chart, two things become immediately apparent. First, the stock has nearly recovered all of its losses prior to the downturn in crude oil, and second, that relative to other integrated O&G majors, it doesn't have a massive long-term risk/reward scenario based on historical charting.
Let's start with the first point. The benefit of owning stocks like Exxon Mobil was clearly displayed over the last two years. The drawdown was about 30% (from mid-July 2015 peak to late 2015 trough), but the upside was nearly 20%, and we're only at $53/barrel oil. Quite impressive when you consider that crude still has such a long way to go to reach its 2014 levels, but Exxon Mobil has already recovered a large majority of its losses. That's rapid pacing and something I didn't expect to see from a large-cap name like this.
Second, and probably a bit more of a negative point, is its risk/reward relative to other integrated majors like Royal Dutch Shell (RDS.A, RDS.B) or Chevron (NYSE:CVX). As mentioned in respective articles here and here, these two companies both have very attractive risk/reward scenarios on multiple time horizons, making them viable investments for many different individuals.
Chevron has nearly 20% potential near-term appreciation coupled with a yield of about 3.8%. Royal Dutch Shell has a 6.6% yield, but about 31.5% near-term appreciation, based upon how I've charted its pacing to crude oil prices. While these stocks come with a slightly higher level of risk than Exxon Mobil (RDS more so than CVX), they may arguably be worth the investment.
2017 Outlook
With all of this being said, Exxon Mobil is still one of the best companies to own. While I prefer it in a smaller quantity to Chevron or Royal Dutch Shell next year, it's still a portfolio staple. What I think is reasonable to expect from the company is that it will track crude oil prices upwards, but that analysts will begin to place a larger emphasis on its massive petrochemicals operation. That's just one of the added benefits of the company being so large. Its revenue stream is fully diversified, and thus explains the limited drawdowns in time of a price crunch.
The company's Chemicals segment lost money both QOQ from Q2 to Q3 2016 and YOY (seen below), which may seem not that encouraging at face value. However, this segment's margins are picking up, and pricing has been poor the last couple of years, indicating that 2017 could be a year where pricing shows the first signs of strength.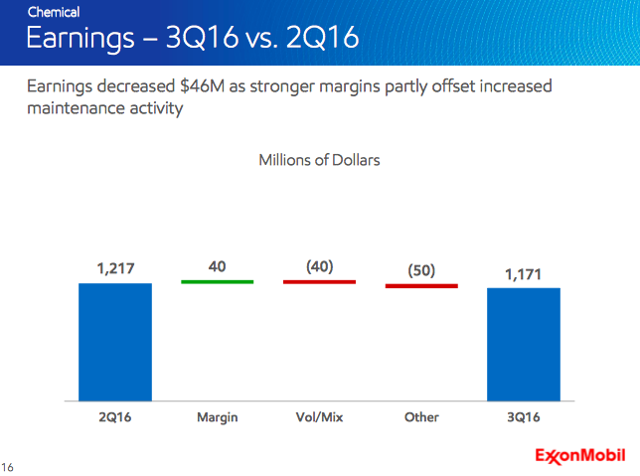 Source: Investor Presentation
Just taking a look at the last twelve months of petrochemical pricing via the S&P Platts index, it's not been easy for companies to make money with rapidly falling, let alone volatile, pricing. Petrochemical prices have fallen from the indexed 1250 level to sub-800, indicating an LTM decline of nearly 35%. So, I can't blame Exxon Mobil for losing earnings in this segment, but it shows you all the more resilience of the business considering that this past quarter's losses were nothing compared to the Q3 slump that petrochemical prices saw. When petrochemical prices start to rise, hopefully as soon as Q1 2017, this company will see a considerable amount of strengths on a quarterly earnings report.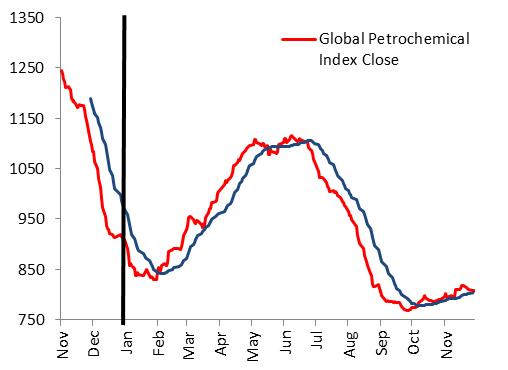 Source: S&P
As for other areas of Exxon's core operations, it really comes down to crude oil prices improving for the upstream business and crack spreads improving for the downstream business. I think the combination of those two factors could elevate the upward pacing on the stock and beat capital return expectations. As you can see below, the company lost $738 million YOY on the upstream. That's nearly an 18% bottom line loss YOY. While the Q4 report will likely not show the same effect, crude oil pricing has remained low, so I wouldn't expect a massive QOQ pickup.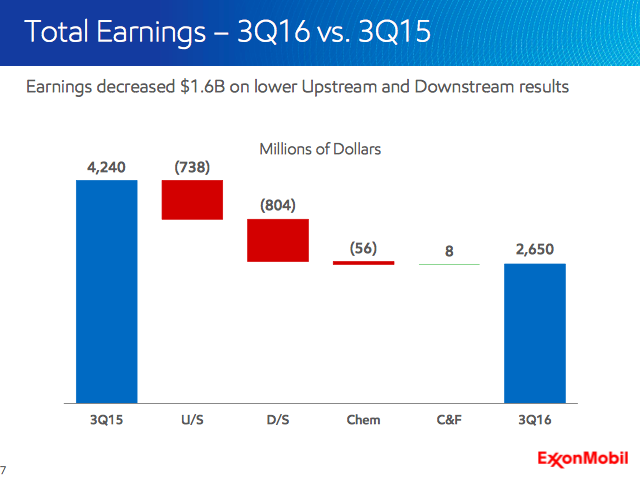 Source: Investor Presentation
The upstream business, naturally, has been far more challenged than other segments, due to the lower average price received per barrel. With strong support at $50 per barrel based upon OPEC and non-OPEC cuts, the commodity has a solid basis for continuing its uptrend in 2017. While cooperation needs to come from American producers, notably those in the Permian basin, as inventories need to retract, this is a positive first step on the road to recovery. As a result, Exxon Mobil will be the positive beneficiary of the commodity's increased YOY pricing.
Conclusion
As Exxon Mobil enters 2017, this is likely a stock that investors can go back to not worrying about. Capital appreciation will follow as the uptrend of the crude oil cycle begins to take off. That will boost earnings in the upstream, which have seen a significant YOY decline. Additionally, the petrochemicals segment should also see an uptick next year, as prices rapidly fell in 2016. Investors would be wise to accumulate XOM stock on dips as we make our way into 2017.
Disclosure: I/we have no positions in any stocks mentioned, but may initiate a long position in XOM over the next 72 hours.
I wrote this article myself, and it expresses my own opinions. I am not receiving compensation for it (other than from Seeking Alpha). I have no business relationship with any company whose stock is mentioned in this article.