Peabody Energy Corp. (BTUUQ) filed a reorganization plan (docket 1820) late on December 22 that gives no recovery to shareholders and no recovery for convertible bond holders. The company also filed a disclosure statement (docket 1281), but as expected, there were no exhibits regarding financials. The plan equity value is stated at only $3.105 billion and enterprise value at $4.275 billion. Peabody has more than the amount of priority debt claims, so neither shareholders nor convertible bond holders are entitled to any recovery, according to the company. Holders of the equity, such as Mangrove Partners, are expected to fight the plan's confirmation.
First liens are getting cash and up to $1.5 billion exit credit facility participation. Second liens (10% 3/15/2022 notes) are getting $450 million combination of cash and/or new 1lien and/or new 2lien debt. 2liens are also getting 14.8% equity in a new company (subject to dilution) and rights for the remaining $258 million of their total $1.158 billion claim.
The unsecured noteholders are getting 85.2% of the new equity (subject to dilution) and rights for their $3.7 billion-plus unpaid interest claim. (Note: Because of some uncertainty regarding the wording of the details of the rights and new equity, I am not including an estimated valuation in this article. When I get clarification, I will post a valuation study. I do not want give incorrect information.)
Management is getting 10% of the new equity, with 25.8% of that to be paid on the effective date.
Under the plan, the company will raise $750 million via a rights offering and $750 via a private placement of convertible preferred stock. There is also going to be an exit facility of $1.5 billion and $450 in new debt. (Note: The DIP loan was recently paid off using cash from operations.) In addition, 5% of the new equity will be issued via "penny warrants" that have an exercise price of only $0.01.
Peabody will raise $750 million via rights. The 14.8% and 85.2% allocation for new equity remains the same. Since these rights are non-transferable, 2lien and unsecured debt holders should sell their holding if they do not anticipate participating in the rights offer. The purchase price shares via the rights will be 45% of the plan equity value.
The $750 million of convertible preferred stock will have an 8.5% coupon, which is paid in kind of additional preferred stock, and is convertible at a 35% discount to the $3.106 billion plan equity. The terms seem overly generous. It will be interesting to see their price when they start trading.
As expected, the disclosure statement did not include a liquidation analysis or financials. These will be included in amended filings to be filed as "Exhibit C" 10 days before the January 26 hearing to approve the disclosure statement. Peabody even stated in its December 22 press release that the company would update its August Business Plan, "... to provide updated projections for 2016 through 2021, incorporating changes to the company's industry views and financial performance/outlook as of October 2016, and will make these projections public. Revisions to the August 2016 business plan mostly impact early years based on changes in near-term pricing and currency, along with the planned sale of the Metropolitan Mine targeted for the first quarter of 2017..."
Time Table
January 26: Hearing to approve the disclosure statement
March 3: Ballots are due
March 16: Hearing to confirm the reorganization plan
April: Exit Chapter 11 bankruptcy (April 15 is a milestone)
Fees
There is an 8% fee for the private placement of the preferred stock and an addition 2.5% monthly tracking fee starting April 3 until the effective date. There is also an 8% fee for the backstop agreement. Noteholder Co-Participants are getting half of the "penny warrants", and the other half will be issued to those who participate in the rights offer.
Those receiving these fees are called the "Creditor Co-Proponents", who negotiated and helped develop this plan. The group, which collectively holds 30.75% of 1lien debt, 33.79% of 2lien notes, and 38.19% of unsecured notes, includes Aurelius, Elliott, Discovery Capital, PointState, Citibank, SDIC, Panning Capital, and Contrarian. Some of these funds are also getting seats on the new board of directors.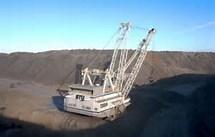 Valuation of New Peabody Energy
The stated "plan equity value" is $3.106 billion. The stated estimated enterprise value is $4.275 billion, which assumes $1.95 billion funded debt and $20 million in capitalized leases. That implies that they are expecting to have approximately $800 million cash when they exit Ch.11.
Using the latest monthly operating report that was filed with the court (see below), which had an EBITDA of $115 million, this enterprise value seems extremely low. Using a very basic estimation of annual EBITDA (12 x $115 million) and multiples of 5x and 7x, the enterprise valuation is $6.9-9.66 billion. Many investors, therefore, are assuming that the valuation estimates used by the company do not fully reflect the latest increases in coal prices.
Since it does not appear that the $3.7 billion senior unsecured debt plus unpaid interest claim is getting full recovery, those in lower priority classes are not getting any recovery. In theory, the $732 million convertible bond holders who are not getting anything would have to get full recovery before shareholders get anything. In addition, there are $1.568 billion in mine reclamation claims that have a priority.
Only one of voting-impaired classes needs to approve the plan for it to be confirmed. (You need two-thirds approval by dollar amount held and one-half of the number of claim holders in that class for approval.)
Since Mangrove Partners and others are trying to get an official equity committee appointed, this could get very nasty, as they go against Aurelius Capital Partners and other major hedge funds that hold Peabody's debt.
November Monthly Operating Report
The company filed its November monthly operating report (docket 1817) on December 20. As expected, revenue and EBITDA rose because of the increase coal prices in Australia. The quarterly contract prices often take about a month to show the price increases, which is why the October monthly operating report did not reflect these price increases. There was an impairment charge of $180 million. This was a write-down of certain Australian assets that are being sold.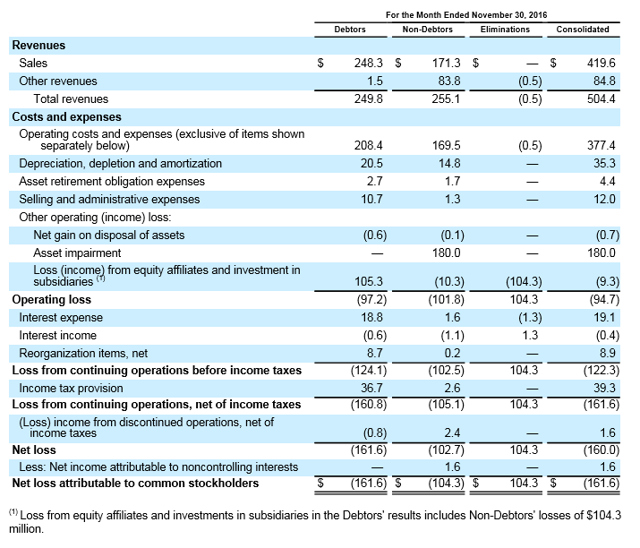 Conclusion
Many BTUUQ holders were hoping that soaring coal prices in Australia would save their investments under a reorganization plan instead of being cancelled with no recovery. They were wrong. Chapter 11 bankruptcy is not always fair.
Given the low valuation that management and Creditors Co-Proponents have assigned to Peabody, I would expect that Mangrove will be extremely aggressive in trying to get an official equity committee appointed and trying to delay the plan's approval process. I would also expect the Ad Hoc Convertible Committee to be aggressive with litigation. I still, however, cannot recommend either the stock or convertible bonds because of the extremely high risk for any recovery.
If an investor's forecasted actual trading value for the new Peabody stock is much greater than management's stated equity plan value, the unsecured notes could be an interesting investment, because they are getting most of the new equity. Since there is some confusion over the wording of the details in the disclosure statement and reorganization plan, I am withholding a recommendation on the notes, but those who do not expect to participate in the rights offer should sell.
Disclosure: I/we have no positions in any stocks mentioned, and no plans to initiate any positions within the next 72 hours.
I wrote this article myself, and it expresses my own opinions. I am not receiving compensation for it (other than from Seeking Alpha). I have no business relationship with any company whose stock is mentioned in this article.
Editor's Note: This article discusses one or more securities that do not trade on a major U.S. exchange. Please be aware of the risks associated with these stocks.