By Tim Gaumer
The U.S. run-up since Nov. 8 has the stock market nearing Dow 20,000 - a big round number that has prompted much discussion among market commentators. Given all the attention the market has been receiving, we thought we'd take a look at what's leading the charge.
Leading sectors
The Dow Jones Industrial Average is a rather strange index - it's share price weighted rather than market cap or float weighted. It's also a narrow index of just 30 stocks. So, we're expanding the view to broader indices.
First, a look at price changes in the S&P 500 over the last four weeks and quarter suggests that funds which are underweight the financial and/or energy sectors are probably lagging their benchmark. Financial sector stocks are the leaders here. Quarter to date, this sector has appreciated by nearly 17% compared to the overall index increase of 4.37% - a nearly four-fold return over the broad index.
Expectations of higher profits from easing regulations and rising interest rates seem to be behind this surge in buying pressure. We'll see how much of that materializes.
Turning to the energy sector, an expectation of more accommodating regulatory policies appear to be partially behind the surge in prices, putting it number two among the highest returning sectors in the current quarter.
A recent agreement among OPEC oil-producing members to cut production volumes is likely a contributing factor. Our analysis in our latest edition of This Week in Earnings, looking at analysts' forward earnings estimates, shows the implied growth rate for the energy sector, while the lowest in calendar year 2016, moves to the fastest expected growth rate for 2017. This is also supportive of the surge in prices.
Exhibit 1: S&P 500 Sector Performance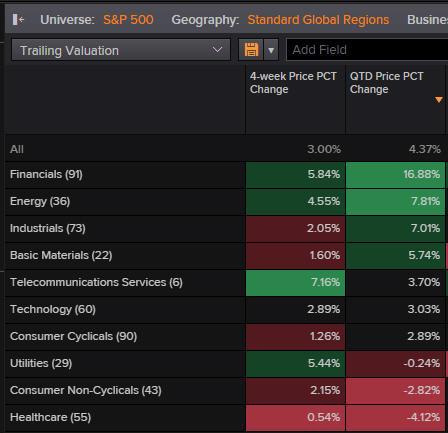 Source: Thomson Reuters Eikon
Small-caps may benefit
According to some market strategists, small-cap stocks will outperform large multi-nationals under a Trump administration. One hypothesis is that small caps often have revenues dominated by domestic sales. This makes them less exposed to a rising dollar, both making U.S. exports more expensive and presenting currency conversion headwinds. It also makes them less vulnerable to any potential trade war or import tariffs.
Unlike large multinationals, small U.S. companies typically lack the army of lawyers, accountants and global offices that serve to lower taxes. Instead, most small companies bear the full brunt of the U.S. corporate statutory tax rate - the highest in the world among major developed countries. Trump's campaign promise to lower corporate tax rates would therefore disproportionately benefit these smaller companies.
To see if this hypothesis has been playing out, we show the trailing three-month performance of the large cap S&P 500 index vs. the mid-cap S&P 400 and small-cap S&P 600 indices, rebased to 100. So far, so good - the small-cap index has gone from being a pre-election laggard to the more recent winner. Over the last three months, it's pulled ahead of the S&P 500 by more than eight percentage points.
Exhibit 2: S&P Large-cap, Mid-cap, Small-cap Indices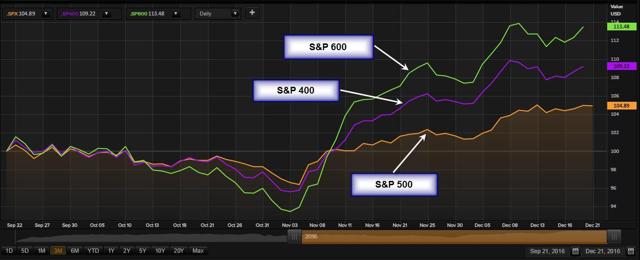 Source: Thomson Reuters Eikon
Leg-up for active managers?
If the trend of small- and mid-cap stock outperformance continues, this may be good news for active fund managers, especially for those focused on smaller companies. For years, they have suffered outflows as clients shifted to cheap S&P 500 and other index tracking funds.
Look at the left side of the chart above and you can perhaps understand their motivation - all three indices performed similarly. So, why not choose one with the lowest expense ratio? With more disperse returns, active managers have more opportunity to differentiate the winners from the losers, especially among smaller companies that may be priced inefficiently and have less coverage.
The drawback is one of valuation. According to our analysis, the latest bottoms-up forward CY 2017 P/E ratios for the S&P 600 small-cap universe is 20.0 versus 18.8 for the mid-cap index and a lower 17.0 for the S&P 500. Our pre-election rally data from the week ended Nov. 4 showed the forward P/E of the S&P 600 at a more moderate 16.5. The forward four quarter ratios are shown in the table below. Notice that the small-cap Russell 2000 index is more expensive still, at 26.1 times earnings. In terms of expectations, at least some of this potentially good news for small-caps has already been priced in.
Exhibit 3: Forward P/E Index Comparisons

Source: Thomson Reuters I/B/E/S