Markets seem destined to trade based on president-elect Trump's tweets going forward. Thursday, Trump set off a round of excitement for the long-suffering uranium industry with this: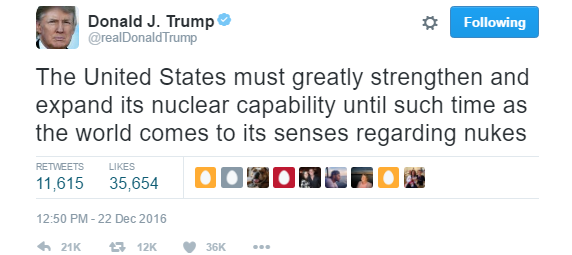 Micro-cap uranium company Uranium Resources (URRE) certainly felt charged up - shares did this following the tweet: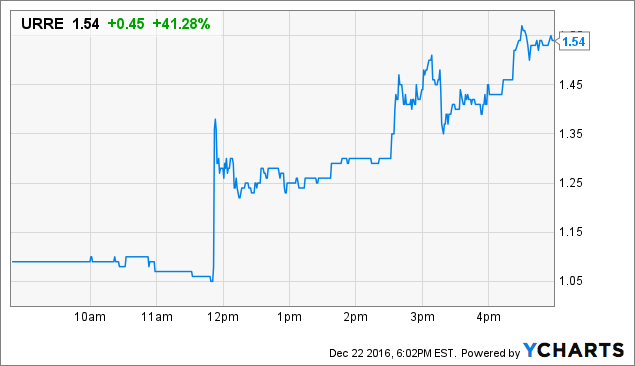 URRE Price data by YCharts
Russia and the United States account for more than 90% of the world's nuclear weapon capabilities. Both were steadily reducing their arsenals since the end of the Cold War. Here's the US' nuclear arms arsenal size over time (source):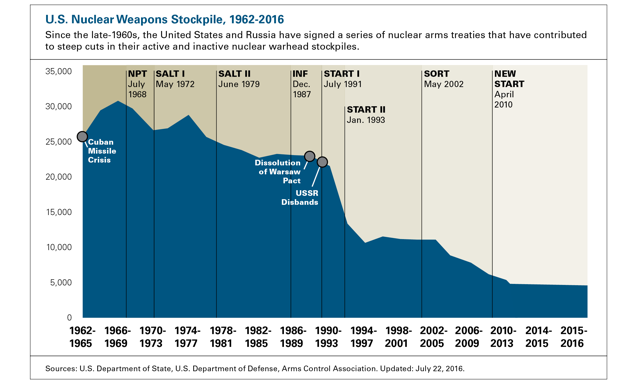 Not only have the US and Russia not needed fresh uranium supplies, they've in fact dumped uranium back onto the market. The Megatons to Megawatts program converted uranium for warheads into fuel supply for nuclear power plants. The World Nuclear Association said:
Highly-enriched uranium from weapons stockpiles has been displacing some 8850 tonnes of U3O8 production from mines each year, and met about 13% to 19% of world reactor requirements through to 2013.
So, if Trump reverses past policy, instead growing rather than diminishing the nuclear arms stockpile, it would be a significant boost for the uranium industry. Notably, Putin appears to be having similar thoughts about rebuilding Russia's capabilities as well.
Thus, the uranium market may move from missiles being a competitive source of supply to being a meaningful returning demand driver. And man could the market use it. The price of uranium (graph from Cameco's (NYSE:CCJ) website) continues to slump, with the decline accelerating this year: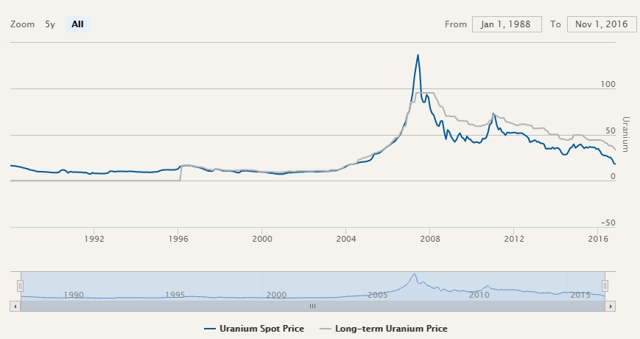 The price spiked in 2006-07, and had another run going before Fukushima halted the industry's momentum. With many older nuclear plants now shutting down or likely about to over the next decade, the demand picture still looks troubled. In the US alone, more than a dozen reactor sites have been closed or had closures announced since 2012.
It's true that nuclear is the only large carbon-free source of power currently available. Hydro has scalability issues, while wind and solar aren't (yet) ready for the primetime - and they come with a host of their own environmental drawbacks.
That said, for the time being, relatively clean natural gas simply kills nuclear on competitiveness. Until fossil fuel prices move up or environmental regulations are tightened, the nuclear power industry will still find itself on its back foot.
Uranium is appealing as a contrarian play. Just look at the long-term performance of the sector ETF (NYSEARCA:URA):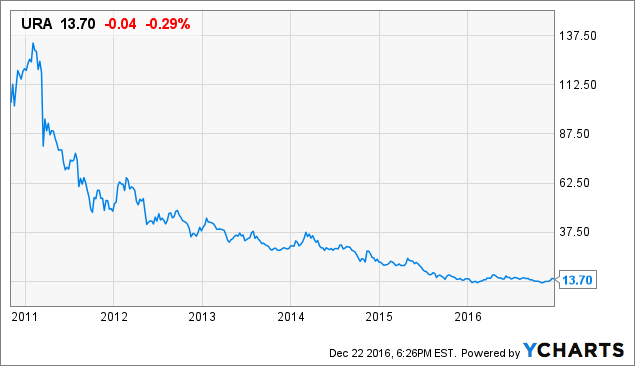 That said, a rapid rebound would be driven by Trump-powered sentiment. The actual supply/demand picture isn't likely to significantly improve in the near term. However, after sentiment has been down this long, there's a decent case for taking a speculative position, on the basis that sentiment turns well before the sector would return to widespread profitability. Consider the run in coal (NYSEARCA:KOL) this year for example: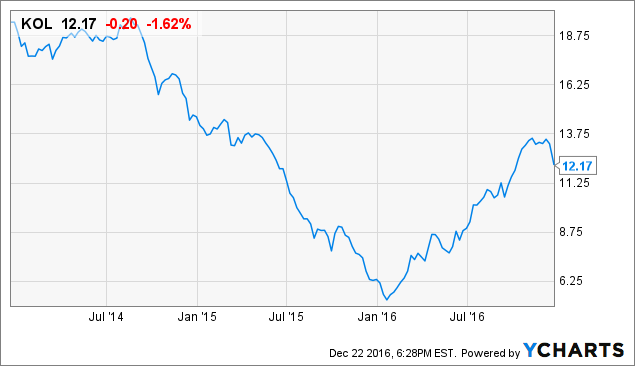 Disclosure: I/we have no positions in any stocks mentioned, and no plans to initiate any positions within the next 72 hours.
I wrote this article myself, and it expresses my own opinions. I am not receiving compensation for it (other than from Seeking Alpha). I have no business relationship with any company whose stock is mentioned in this article.
Editor's Note: This article covers one or more stocks trading at less than $1 per share and/or with less than a $100 million market cap. Please be aware of the risks associated with these stocks.