Some financial advisors persuade their customers to buy annuities by saying they can receive income for life.
"You will have a guaranteed income," the salesman says. "A lifetime of payments."
The salesmen persuade their customers into believing an annuity is a suitable investment that will provide regular income.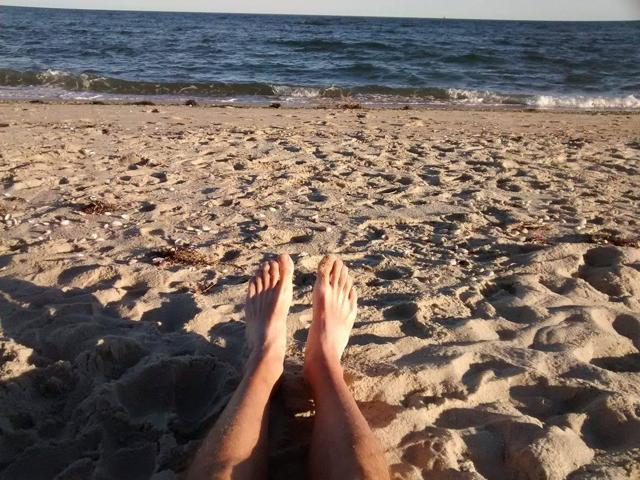 Photo of author at Nantucket 2016, by Michael Hooper
But there is a catch, actually multiple catches. In this article, we will talk about the expenses and restrictions associated with annuities. Then I will share with you two possible portfolios, one with a mix of stocks and ETFs and the other a mix of ETFs only, each providing regular income.
The basics
A variable annuity is a contract sold by an insurance company. The contract provides the holder with future payments based on the performance of the contract's underlying securities. The insurer guarantees a minimum payment, but the rate of return on the underlying securities may vary.
A fixed annuity is a type of annuity contract that allows for the accumulation of capital on a tax-deferred basis. In exchange for a lump sum of capital, a life insurance company credits the annuity account with a guaranteed fixed rate of interest while guaranteeing the principal investment.
With most variable annuities, there is often a 7% commission for the sale of the annuity (page 12 of The Security Benefit Advisor Program Variable Annuity contract), and with fixed annuities, the commission could be as high as 12%. Most of the commission will go to the insurance agent who sold the contract, with the balance going to the broker/dealer.
Variable annuities typically have periodic expenses of 2% to 4% that you will pay during the time that you own the contract, not including fees and expenses of the underlying funds (sub accounts).
The Security Benefit Advisor Variable Annuity said its annuity had periodic expenses of 0.90% for annual mortality and expense risk charge; 0.15% for annual administration charge and 1.55% maximum annual charge for optional riders; plus a 0.25% charge for certain waivers of the withdrawal charge, plus $30 account administration charge (page 13).
Underlying fund operating expenses are 0.80% to 2.94%.
So the Security Benefit Advisor Variable Annuity has annual expenses of somewhere between 3% to 5%, depending on the underlying fund operating expenses and optional riders.
The Security Benefit variable annuity also says there are surrender fees of 7% to 3% for taking out money ahead of the schedule in the contract (page 10).
The surrender charge works like this. If you take out $50,000 from your annuity ahead of schedule, you will suffer a surrender charge of 7% of the $50,000 -- that is, $3,500.
I know a person who was told by an advisor to put her money into an annuity, but she lost big chunks of her wealth through surrender charges, due to early withdrawals.
I think some people will do OK with an annuity if they are careful to live within their means and have other sources of cash savings. Give some people a big chunk of money and they are quick to blow it. But if you divy it out over time, they might have income for life.
If you are considering buying annuity, why not circumvent the broker and buy direct from a firm, to avoid the 7% sales charge? Some investment companies sell annuities without charging a sales commission or a surrender charge. These are called direct-sold annuities, because unlike an annuity sold by a traditional insurance company, there is no insurance agent involved. With the agent out of the picture there is no need to charge a commission. Firms that sell low-cost annuities include Fidelity, Vanguard, Charles Schwab, T. Rowe Price, Ameritas Life and TIAA-CREF. Total expenses are typically 1.25%.
Ken Fisher, a money manager who "hates annuities," says customers don't understand the long, convoluted annuity contract. The prospectus for the Security Benefit Advisor Variable Annuity is 109 pages.
Fisher says the fiduciary standard will eliminate some of these seller statements like "guaranteed income, guaranteed principal, guaranteed return on investment." In reality, he said, the customer is getting "a return of their capital."
The first phase of implementation of the Fiduciary Standard rule will go into effect April 2017. It's perhaps possible President-elect Donald Trump could reverse that directive from the Department of Labor.
Annuity guru Moshe Milevsky said the new Fiduciary Standard rule is already having an impact on sales of annuities.
"There is absolutely no doubt in my mind that it will have a very big impact. It's already having impact," Milevsky said. "Variable annuity sales have declined quite dramatically in the last year, partially due to uncertainty about the rule. Indexed and fixed annuity sales have increased, partially because [advisors and agents] thought they wouldn't be covered by the rule. But if indexed annuities are considered to be part of it and require a BIC [Best Interest Contract Exception], I think they'll decline too."
He also says fixed annuities have fees, too, but they are hidden: "Almost every single fixed index annuity I've seen does not include a dividend. So right off the top, you're not getting the 1% to 2%, or possibly 3%, dividend yield that you'd get if you held the underlying index."
However, he believes annuities can provide steady income when needed.
"We're in a volatile world. With the decline in [providing] defined benefit pensions, it's important to [substitute that] guaranteed lifetime income with some other form of guarantee. Guarantees become more valuable to people that are moving into retirement. The vast majority of what you're buying with an annuity is risk management," Milevsky said.
On a $100,000 annuity, periodic fees of 2.85% will take at least another $2,800 annually. And then underlying fund expenses will take another 1% or $1,000 depending on the fund. Your annuity will have to grow 3% to 4% percent to stay even.
Another way
Why pay so much in fees? With technology today, it is simple, easy and affordable to build a portfolio of low-cost investments that provide income and potential for growth.
You could build your own income stream with dividend-paying stocks and interest-bearing bonds. If you have $500,000, you could buy stocks and bonds that carry an average interest rate or yield of 2.77%. This will generate $13,850 annually in income and you may also see an appreciation in your stocks.
If you pick stocks that raise their dividends around 5% annually, your income stream will actually grow over time. Once you have purchased the stocks and bonds for your portfolio, you pay no additional expense to hold the assets at Schwab or Fidelity. To keep fees down, you could build your portfolio with low-expense funds or exchange traded funds to match the indexes like the S&P 500 and the Lehman Aggregate Bond Index.
The following is how I have created an income portfolio, with some appreciation in mind.
| | | | |
| --- | --- | --- | --- |
| Investment | YTD Return | % of Portfolio | Yield |
| General Electric (NYSE:GE) | 1.93% | 8.33% | 3.0% |
| Chevron (NYSE:CVX) | 31.2% | 8.33% | 3.7% |
| Church & Dwight (NYSE:CHD) | 5.94% | 8.33% | 1.6% |
| Coca-Cola (NYSE:KO) | -2.84% | 8.33% | 3.3% |
| Hershey (NYSE:HSY) | 13.32% | 8.33% | 2.11% |
| PepsiCo (NYSE:PEP) | 5.95% | 8.33% | 2.9% |
| Public Storage (NYSE:PSA) | -11.7% | 8.33% | 2.4% |
| Dominion Resources (NYSE:D) | 12.17% | 8.33% | 3.8% |
| Eversource Energy (NYSE:ES) | 6.85% | 8.33% | 3.76% |
| IShares Core S&P500 ETF (NYSEARCA:IVV) | 11.16% | 8.33% | 2.07% |
| IShares S&P500 Value ETF (NYSEARCA:IVE) | 15.8% | 8.33% | 2.27% |
| IShares Core U.S. Aggregate Bond ETF (NYSEARCA:AGG) | -0.72% | 8.33% | 2.36% |
| Average Return | 7.42% | Average Yield | 2.77% |
My proposed portfolio would have returned a total of 10.19% average appreciation plus average dividend yield. The expenses would be minimal except trade costs to purchase the securities; 12 trades at an average cost of $9 would be $108.00. That's it. No more fees leaving the account to pay mutual fund managers -- there are no mutual funds.
The expense ratios for the ETFs are extremely low. For IVV it is 0.04%; for IVE is 0.18%; and for AGG is 0.06%.
If you don't like individual stock exposure, you could build a portfolio like this, which has low-expense exchange traded funds:
| | | | |
| --- | --- | --- | --- |
| Investment | YTD Return | % of Portfolio | Yield |
| VanEck Vectors Morningstar Wide Moat ETF (NYSEARCA:MOAT)) | 22.47% | 8.33% | 1.76% |
| ProShares Russell 2000 Dividend Growers ETF (NYSEARCA:SMDV) | 33.82% | 8.33% | 1.40% |
| Vanguard Value Index ETF (NYSEARCA:VTV) | 15.55% | 8.33% | 2.38% |
| Vanguard Industrials Index Fund ETF (NYSEARCA:VIS) | 18.61% | 8.33% | 1.77% |
| Vanguard Dividend Appreciation Fund (NYSEARCA:VIG) | 11.15% | 8.33% | 2.20% |
| Consumer Staples Select Sector SPDR (NYSEARCA:XLP) ( | 3.09% | 8.33% | 2.56% |
| Vanguard REIT Index Fund ETF(NYSEARCA:VNQ) | 3.64% | 8.33% | 3.78% |
| Utilities Select SPDR Fund (NYSEARCA:XLU) | 11.85% | 8.33% | 3.51% |
| Vanguard Health Care ETF (NYSEARCA:VHT) | -3.60% | 8.33% | 1.42% |
| IShares Core S&P500 ETF | 11.16% | 8.33% | 2.07% |
| IShares S&P500 Value ETF | 15.8% | 8.33% | 2.27% |
| IShares Core U.S. Aggregate Bond ETF | -0.72% | 8.33% | 2.36% |
| Average Return | 11.9% | Average Yield | 2.29% |
The second portfolio would earn a total of 14.23% YTD.
I'm overweight American assets because I believe the USA has the best economy in the world. I do own some Canadian stocks, but they are a minor part of my entire portfolio. I expect the U.S. dollar to remain strong. President-elect Donald Trump's mantra seems to be buy American, hire American. So I expect American assets to perform fairly well going forward.
However stocks are trading near the high-end of historic multiples. The S&P 500 is trading at 25.9 Price/Earnings ratio, which is considerably higher than the historic average around 15.6 P/E. Anyone buying stocks today may have to hold them for a while before they see any appreciation. But you will still get income. And that income seems to be extremely important to retirees.
With stocks, you must remember, there will be fluctuation in prices. But the big benefit of my portfolios is the tremendous liquidity compared to an annuity. If you do have an emergency, and need $10,000, you can sell stock and have cash pretty quickly.
If you want income, build a portfolio of securities that will pay you income four times per year. Spend the income, don't touch the principal/corpus and you will have income for a long time. You may leave a substantial amount of money to your heirs.
Disclosure: I am/we are long AGG, CVX, CHD, KO, HSY, PEP, PSA, D, ES, IVV, IVE.
I wrote this article myself, and it expresses my own opinions. I am not receiving compensation for it (other than from Seeking Alpha). I have no business relationship with any company whose stock is mentioned in this article.