This July, the 10-year US treasury yield hit an all-time low of about 1.35%. Many investors including The Street's Douglas Kass are seeing this as, "A generational low in yields." After the Fed Funds rate was kept at roughly 0% after the recession, rates have begun rising and many investors see this as the end for inflated bond prices. Since the 10-Y bottomed in July, its yield has rallied almost 100% and is currently trading at 2.56%. Does this mark the end for extremely low yields or is there still upside left in the world of fixed income valuations? This article serves to point out that in the long term yields will most likely continue to rise, leaving bonds as a poor investment. However, I would also like to indulge on why I think there is still upside potential for bonds in the short term. They are currently extremely oversold and in my opinion, it is not yet time to click sell. Investors also must not forget the role that fixed income securities play in mitigating a portfolio's overall risk. Bonds are an important asset to hold in any portfolio and have many tailwinds in the short term.
Current Environment
Last week, The Federal Reserve hiked short-term interest rates for only the second time since 2006. This depreciated bond prices that have already been crushed in recent weeks. After the uncertainty of the US election settled, (It lasted for a few hours in the overnight futures) yields soared as a December rate hike became fully priced into the market. A flight away from safety and towards equities crushed the prices of safe-haven assets such as treasuries and gold. $TLT- an ETF for tracking the 20-Y US Treasury has fallen nearly 10% in the past month. The recent election of Donald Trump seems to have led to unusually dramatic changes in future growth projections and also current evaluations in equities. Though Trump has promised a large infrastructure bill and interest rates seem to be on the rise, there are still factors in today's market that could send capital flowing back into bonds.
Short-Term Bullish Factors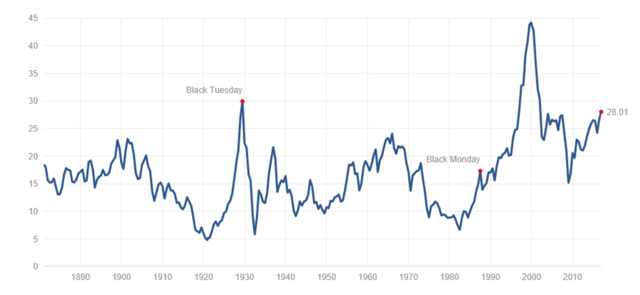 Equity valuations measured by the cyclically adjusted Shiller P/E ratio are currently at their 3rd highest valuations ever (28.05). The 14-day RSI (Relative Strength Index) on the Dow Jones index reached one of its most 'overbought' levels ever last week and is currently at 80.67. For context, an output of 70 is normally seen as 'overbought', in the short term. These both exist in a period of declining earnings and low growth both domestically and abroad. Many EM economies are still going to struggle to grow and this is part of the reason I believe the demand for treasuries is not going anywhere. I agree with Jim Grant in viewing the Fed as a, "Central Bank of Many Time Zones". Other countries are not seeing the same growth and inflation projections as the United States. Many foreign investors will continue to pile into US fixed income securities if our yields become even more attractive relative to their own. Also, foreign governments hold over a third of US treasuries. This is because it is important for export-dependent countries to keep their currencies from appreciating. Instead of converting earnings from abroad to their own currency causing them to appreciate, foreign countries invest in foreign denominated debt to stimulate exports. This is extremely popular for countries such as China which depend on exports for their already slowing growth. Until EM such as China can truly rely on domestic growth, their export-dependent economies will continue to store earnings in foreign debt, bidding up the price of US treasuries.
With interest rates on the rise and an inkling of domestic inflation, bond prices look to have little upside potential in the longer-term picture. However, just because we just saw a rate hike does not mean bond prices cannot go up. In December 2015, we saw the first rate hike since the financial crisis. One year ago many were seeing this first hike as the end for inflated bond prices. However, after a week of down-trending bond prices of Treasury ETFs such as IEF and TLT began to trend upward again and eventually soared 10-20% by the time Brexit occurred at the start of summer.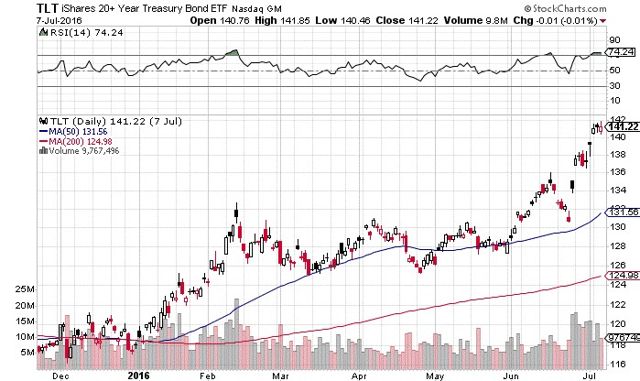 This shows the large effect that uncertainty and external events can have on bond prices. With a new President who has been incredibly vague with his policy intentions, potential new taxes incentives for realizing gains and a plethora of economic data to be received in the next few weeks, I see there being many potential factors that could bring volatility back into the market.
Summary
Overall, it is important to diversify any portfolio with fixed income securities. They serve as important assets with upside potential during times of volatility and uncertainty. With questionable equity market valuations and the lowest price in the $VIX since August 2015, this is not the right time to sell bonds. I do not think bonds are a good long-term investment as rates will most likely continue to rise and bonds should continue to lose value. However, I believe before that can happen we will need to see an equity price correction and much less uncertainty abroad.
Disclosure: I/we have no positions in any stocks mentioned, and no plans to initiate any positions within the next 72 hours.
I wrote this article myself, and it expresses my own opinions. I am not receiving compensation for it (other than from Seeking Alpha). I have no business relationship with any company whose stock is mentioned in this article.