This . . . this simple graph (courtesy of Rystad Energy) outlining the development of well economics from 2014 to 2016 says so much.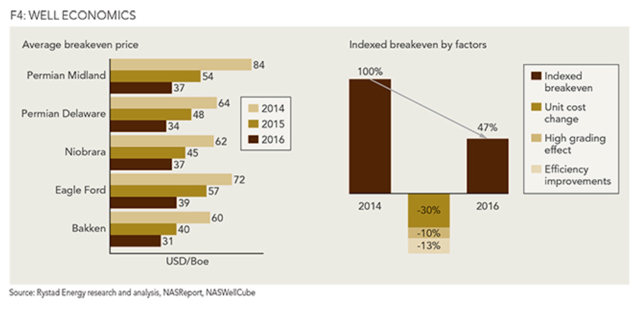 Based on recent research by Rystad we have some additional clarity on break-even prices for shale producers. We've written previously that we believe the "shale band" theory is likely incorrect because of rising service costs, high-grading, and geology.
As we close 2016, we're beginning to get a better view as to how much of the capital efficiencies that shale drillers are claiming will be sustainable. For the shale band theory to hold, break-even costs need to stay low, thus allowing upstream producers to continue raising production to cover any oil shortfall and temper prices.
Per Rystad, however, it's becoming clear that the majority of the breakeven factors that account for the 53% reduction in breakeven well costs are coming from unsustainable savings. Breaking out the 53% of total savings from 2014 to 2016, "Unit Cost Change" and "High-Grading Effect" represented 30% and 10%, respectively. Thus, close to 80% of the 53% in savings are derived from non-permanent sources.
As detailed in our last article, service costs are beginning to rise, and will continue doing so given the uneconomic nature of current service contracts. Moreover, as demand in certain shale regions (i.e., Permian) increase, then service costs will inevitably rise, particularly following the consolidation/liquidation of the service sector these past few years. Fewer suppliers coupled with more demand will lead to increased prices.
Second, as producers step out of their "sweetest" of sweet spots and begin drilling again in non-core regions, the effects of "High-Grading" will diminish. Producers have retreated to their most fecund plays, not out of choice but of necessity. Unfortunately, these reserves dwindle, so step out . . . you must. Extracting less oil per well increases breakeven costs overall.
The third factor, efficiency improvements, is likely sustainable because this is internal institutional knowledge. Companies have become leaner and have added to their understanding of their plays (i.e., gaining an understanding of what proppants to use, amount of proppants to load, lateral lengths, and fracks per section, etc.). We think these will continue, albeit reduced slightly as labor costs eventually also increase. On balance though, this should remain.
2017 will certainly be interesting as Q1 will provide our first glimpse as to how increasing service costs will affect breakeven costs. If we're correct, and 80% of the 53% reduction is unsustainable, watch out. Shale oil will not only get more expensive, but production won't grow as much as expected. Going up . . . next floor, higher oil prices.
Disclosure: I/we have no positions in any stocks mentioned, and no plans to initiate any positions within the next 72 hours.
I wrote this article myself, and it expresses my own opinions. I am not receiving compensation for it (other than from Seeking Alpha). I have no business relationship with any company whose stock is mentioned in this article.