Note: Tidewater (NYSE:TDW) has been covered by me previously, so investors should view this article as an update to my earlier publishings on the company.
It has been an encouraging time as of late for Tidewater's badly stricken shareholders as the stock, aided by the recent Trump-related market rally and particularly the OPEC production cut agreement, has rallied close to 200% from its recent 52-week lows at its peak.
That said, the company continues to be in negotiations with its creditors after breaching some of its debt covenants earlier this year.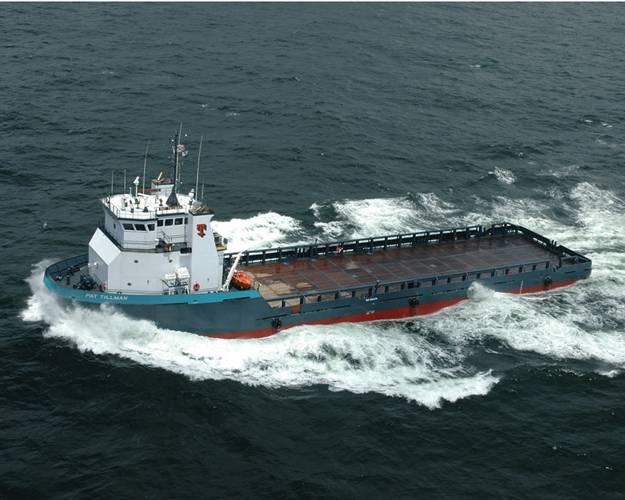 Picture: Offshore Supply Vessel "Pat Tillmann" - Source: professionalmariner.com
As a reminder:
Tidewater's stock took an almost 50% hit on October 24 after the company dramatically changed its disclosure language in its SEC-filings with regard to its ongoing discussions with its creditors.
Previous disclosure:
Consistent with disclosures included in the company's recently filed Form 10-Q, the company believes that the ongoing discussions with its lenders and noteholders have been constructive and progress is being made towards resolving the principal open issues. However, work remains to be done, and no assurance is given that the various parties will reach agreement on amendments to the various loan agreements and notes.
New disclosure:
The company has previously reported that progress was being made in its negotiations with its principal lenders and noteholders to obtain the covenant relief sought; however, recent industry data, including data regarding projected levels of offshore drilling activity, a primary driver of activity within the offshore service vessel (OSV) industry, has led the company to conclude that important debt terms will require further negotiation. While the company will continue to work toward amendments to its various debt arrangements that will be acceptable to all parties, there is a possibility that the lenders, noteholders and the company will not be able to negotiate new debt terms that are acceptable to all parties, in which case the company will have to consider other options, including a possible reorganization under Chapter 11 of the federal bankruptcy laws.
At that time, given the downbeat language and the rather short three-week waiver extension, I did not see the company coming to terms with its various lenders anymore and accordingly expected Tidewater to file for bankruptcy protection until year end.
But contrary to my believe, on November 11, the company managed to receive another set of limited waivers from its lenders, this time for a considerable longer period until January 27, 2017.
While most investors interpreted the news as highly positive, given the lenders' obvious willingness to negotiate an out-of-court agreement with the company, I hinted at the possibility that both parties might just need more time to work out a comprehensive debt restructuring plan. In this case, investors should actually expect just another deadline extension at the end of January as working out a debt restructuring is actually a complex and time-consuming effort.
Yesterday afternoon, the company disclosed in a SEC-filing that it has "implemented an incentive bonus program designed to motivate and retain officers and certain key personnel through the current industry down cycle and to support important restructuring initiatives of the Company".
In total, the program provides for total cash payments of $3.225 mln to the company's five named executive officers in return for them agreeing to a one-year retention period.
The payment terms have been determined as follows:
50% of the bonus shall be paid to the employee as soon as administratively practicable following the effective Date
25% of the bonus shall be paid to the employee on the earliest to occur of: (NYSE:I) the waiver expiration Date, (ii) the restructuring agreement date, and (NASDAQ:III) the 120th day after the effective date
25% of the bonus shall be paid to the employee on the earlier to occur of the restructuring effective date or (ii) the first anniversary of the effective date
In the incentive bonus agreement the term "restructuring" has been defined as follows:
"Restructuring" means the earliest to occur of the following: any out-of-court agreement for the restructuring of the Company's senior indebtedness that is achieved, without limitation, through (NYSE:A) a solicitation of waivers and consents from some or all existing senior debtholders that results in a material modification of covenants and/or maturity extensions in existing senior indebtedness, (NYSE:B) repurchase, settlement or forgiveness of all or substantially all of the existing senior indebtedness, (NYSE:C) conversion of all or substantially all of the existing senior indebtedness into equity, (NYSE:D) an exchange offer including the issuance of new securities in exchange for all or substantially all of the existing senior indebtedness, or (NYSE:E) other similar transactions or series of transactions; (ii) a confirmed plan of reorganization under chapter 11 of title 11 of the United States Code (the "Bankruptcy Code") or similar provision under the laws of any other jurisdiction providing for the restructuring of the Company's balance sheet, or the sale of all or substantially all of the assets of the Company, on a consolidated basis, or a majority of the outstanding stock of the Company in one or more transactions under section 363 of the Bankruptcy Code or pursuant to a confirmed chapter 11 plan or similar provision under the laws of any other jurisdiction.
The individual bonus payments amount to up to 75% of the executives' individual annual cash compensation.
So what is going on here?
Actually, all of Tidewater's named executives are well north of fifty years old already and have been with the company for quite some time. Particularly given current industry conditions, it looks highly unlikely for each of them to accomplish a career move by leaving the company at this point.
So technically and particularly in light of the company's financial issues there would have been no need to generously award millions of dollars in bonus payments to executives who most likely will remain with the company anyway.
In fact, the answer is quite easy:
In 2005, US Congress added section 503 to the bankruptcy code which limits bankrupt companies' freedom to give management retention bonuses, severance payments or other ancillary compensation. For instance, under the current regime, a company cannot pay managers retention bonuses unless it proves to a bankruptcy court that the managers both provide essential services to the reorganizing business and that they have alternative job offers in hand. Even then, the bankruptcy code caps the amount of the retention bonuses.
In light of these issues, Tidewater, like many other companies that found themselves in a similar situation in recent years, has decided to proactively award retention bonuses before a bankruptcy filing might soon become necessary.
Looking at the rather wide range of restructuring events defined in the agreement above, the timely award of retention bonuses does not mean that bankruptcy will be inevitable for Tidewater. But obviously the option continues to be on the table in the company's ongoing discussions with creditors.
Personally, I expect the company to negotiate a comprehensive debt restructuring agreement with its lenders which will most likely have to be implemented under bankruptcy protection in order to overcome objecting creditors.
The move might cause very substantial dilution or even a wipe-out for equityholders as senior lenders generally do not tend to leave much, if anything, on the table for equityholders which usually rank the lowest in the company's capital structure.
That said, the recent OPEC agreement and subsequent further recovery in oil prices might have improved the company's bargaining position somewhat despite the ongoing deterioration in industry fundamentals.
Investors might also want to take a look at the recent events around smaller peer GulfMark Offshore (NYSE:GLF) which is also in the process of restructuring its debt obligations but has been running into resistance from a group of bondholders as of late. While the current restructuring proposal would dilute existing equityholders by roughly 80%, it does not contemplate a wipe-out.
Bottom line:
Things continue to be in a state of flux at Tidewater. As negotiations with lenders continue, the company is obviously preparing for a worst case scenario and accordingly decided to proactively implement a retention bonus program for its named executives.
Given industry conditions, a comprehensive debt restructuring still looks like the most likely outcome at this time. Given the high probability of some creditors potentially objecting to the restructuring agreement, investors should prepare for a necessary implementation under bankruptcy protection.
The move might very well cause substantial dilution to existing equityholders, but most likely not an entire wipe-out when judging by the recent events around smaller peer Gulfmark Offshore.
Under a best case scenario, the company will be simply provided covenant relief as well as maturity extensions by its lenders with little or even no dilution in return. Given the considerable additional runway that would be provided by this move, I wouldn't be surprised to see the stock rally to new recovery highs despite the ongoing deterioration in industry fundamentals.
Disclosure: I/we have no positions in any stocks mentioned, and no plans to initiate any positions within the next 72 hours.
I wrote this article myself, and it expresses my own opinions. I am not receiving compensation for it (other than from Seeking Alpha). I have no business relationship with any company whose stock is mentioned in this article.
Editor's Note: This article covers one or more stocks trading at less than $1 per share and/or with less than a $100 million market cap. Please be aware of the risks associated with these stocks.