Company Profile
United Continental Holdings, Inc. (NYSE:UAL) is the holding company for United Airlines, one of the largest air carriers in the world. The company primarily operates in North America. It is headquartered in Chicago, Illinois and employs over 84,000 people worldwide. The company generated revenues of $36.9bn, EBITDAR of $8.1bn and EPS of $10.92 during the latest 12 months ended 9/30/16. UAL has $4.85bn in cash and cash equivalents/short-term investments and $11.4bn of long-term debt (SEC Filings).
Forecast
Due to increased competition in the domestic airline industry, deteriorating financials, as well as a poor macroeconomic outlook, we expect UAL to be significantly overvalued at its current market price. My one year price-target is at $23.70 which represents a 69% fall in share price. Though recently there have been a few positive signs from UAL, such as the end of its labor disputes and the appointment of Andrew Levy as CFO and Julia Haywood as CCO. But as the saying goes, "All the kings' men could not put UAL back together again."
Catalysts
Industry Slowdown and increased competition
Management has continuously stated that demand is expected to slow in the industry, with a growth rate of 1.5-2.5%. We believe we should take this with a grain of salt especially because of the ever-increasing competition that airlines are facing and the poor track record of UAL.
Deteriorating fundamentals
The company continues to spend recklessly on its fleet, expanding them when the load factor is currently falling causing even more downward pressure on the load factor. Lower revenues due to increased competition while maintaining this level of capex will lead to more debt borrowing and higher leverage. This increases the riskiness of equity. The settlement of labor disputes came at too costly of a price. This mixed with the eventuality of higher jet fuel prices will lead to a sharp contraction in margins. Putting together these items paints a bleak picture of UAL and its prospects going forward.
Revenue Projections
Mainline Available Seat Miles have been increasing every quarter since 2014 due to the company taking delivery of the new 737NG series. This increase in capacity has caused the load factor to fall.
(Source: SEC Filings)

(Source: SEC Filings)

Due to UAL's planned delivery schedule and capex spending (we'll get into this later on), as it continues to receive more aircrafts, the load factor should exhibit a slightly negative trend.

Passenger Revenue Per Available Seat Mile has fallen by 6% over the past year and Seat Revenue per Passenger has fallen by 10%. UAL has done nothing to remedy this trend and we believe this negative growth will continue for the upcoming quarters. Based on our forecasts, we predict a 3-5% fall in PRASM and SRP up to Q2 2017 which will be followed by 2 quarters of slightly negative growth before these measures will rebound through our prediction period. In the growth period, we forecast a period of high growth between 1-3% for 2018-2019, before growth stabilizes at 1%.
(Source: SEC Filings)


(Source: SEC Filings)


Regional ASM has decreased almost every quarter since 2011 and this trend will continue. However, the load factor on these flights remains healthy and the number of passengers has increased.
(Source: SEC Filings)

(Source: SEC Filings)

What concerns us is the falling PRASM and SRP that was seen in the Mainline analysis above. UAL has proven that it cannot compete effectively in this area and though the decline in these metrics is less substantial than the Mainline operations, it is nonetheless something we cannot avoid. Our analysis projects a 3% decline in Regional SRP and PRASM which will taper off in mid-2017. After which growth will rebound to 2% and slowly taper to 0.5% by the end of 2020.
(Source: SEC Filings)


(Source: SEC Filings)



Fuel Expense Projections
In the past year, we have witnessed an unprecedented fall in the price of oil and with it, the price of jet fuel. Fuel expense has halved for UAL from $3 billion in 2014 to $1.4 billion last quarter. Current depressed prices are not sustainable with industry experts predicting a rebound in the price of oil to $60 in late 2017-2018. Taking this into account, we assume a 2.5% q-o-q growth rate for fuel expenses. In addition, Metric Tons of Fuel per Million ASM has been declined by 1-3% since 2013 due to UAL's efforts to switch to more fuel-efficient planes. As it continues to take delivery of the 900ER series as well as the Emirates' models, we expect this measure to fall in the near future after which it will stabilize as the company prolongs switching to more fuel efficient aircrafts. Reason being that with fuel prices so low and with analysts predicting it to be low for the upcoming years, there is no hurry to dish out billions in cash especially when there are other areas the company can focus on.
Hedged fuel will decline to 0% since the new CFO, Andrew Levy, is a firm believer that hedging does nothing to benefit the company and is a very expensive tool. The Implied Metric Tons of Fuel Used is calculated by taking the Metric Tons of Fuel Used per ASM. As UAL increases to their fleet size, and switches to a more efficient fleet, this measure moves to a lower range.
Taking all the above into consideration, fuel expense for 2016-2021 will be much lower than they were historically. We are predicting an annual fuel expense of $5.3 billion for FY16, and this will rise to $9.7 billion by FY21. Now this is much lower than the values for 2012-2014 and we stand by these figures. There is currently no belief that oil prices will rise to their highs, and UAL as well as other airliners are going to reap the benefits of these deflated prices.
(Source: SEC Filings)

Non Fuel Expense Assumptions
The biggest issue here is the labor disputes that UAL has been having nine years after its merger. After things have finally been settled, it seems UAL had to pay more than it wanted to. Pilots won a 16% pay hike this year, senior executives will see their take-home pay increase by 18-25%, senior attendants will receive a 31% pay increase. On December 5th, 9,000 mechanics approved a compensation package that would lift wages to the highest in the industry. Estimated effects of this would increase salaries expense by $1.7 billion annually. All these will raise Salaries and Wages expense by hundreds of millions of dollars. FY15 Wages Expense was $9.7 billion, after negotiations we expect it to increase to $10.5 billion this year and $11.2 billion in 2017 before rising at the rate of inflation until once again, contract negotiations occur in FY21.
(Source: SEC Filings)


Aircraft Rentals expense has been falling as the company tries to reduce the emphasis of renting and relies more on its own fleet. Landing/Other Fees has remained roughly constant over the years and we see no reason why this trend won't continue into the future. Maintenance has a historical growth rate of 0.6% y-o-y and we expect this to continue. Other costs have stood roughly at 0.2-0.3% of revenue.


Capital Expenditure Assumptions

(Source: SEC Filings)

(Source: SEC Filings)
Shown above are the company's commitment schedule and capex forecasts. In addition, the above commitments are expected to happen 2016-2024. We believe that management's capex schedule is overly-optimistic considering the current situation of an oversized fleet leading to a fall in the load factor. In fact, in its latest investors' presentation, management has stated that it will reduce capex from previous forecasts by $1.6 billion in the upcoming years. We predict $5 billion of capex for 2017 (slightly higher than the $4.2-4.4 billion range that management has predicted), $3.3 billion for 2018, and $3 billion for 2019. These very closely align to management's forecasts due to the stickiness of current purchase agreements. After this period, we expect capex to drop significantly to $1.6 billion for 2020 and 2021. Operating leases will continue to decline as the company relies more and more on its own aircraft fleet. Currently the company has 224 aircrafts on operating leases and this will decline to about 195 by the end of 2021. Total number of aircrafts in the fleet are expected to increase from 715 to 795. 65 of these will be due to the Boeing's NG series with the remainder coming from A350s, E175s, and other Boeing aircrafts.
Debt Schedule
At the end of 2015, UAL has $11 billion in debt with $1.2 billion of them due in 2016 and $5 billion due beyond 5 years. Interest expense for floating rate securities were at Libor + ~3%, and for fixed rate instruments were at 6-6.375% (Source: SEC Filings). The effective interest rate is at 4.88% which we rounded up to 5% due to the uncertainty of the low interest rate environment going forward (Fed Rate hike projections for 2017). Taking into account the fall in revenue that we stated above as well as the capex projections, we expect UAL to tap the debt markets thrice in the upcoming 5 years. Once in 2017 for $3.1 billion, then in 2018 for $1.6 billion, and lastly in 2019 for $3 billion. Most of this will be the issuance of debt to retire debt with the overall amount of debt remaining roughly constant at the end of 2011 at $11.1 billion.
Putting It All Together - Base Case
Taking into account all of the analysis stated above and using our model, we come up with an intrinsic share price of $23.70 for UAL, representing a 69% discount to the current share price. Below you will find the income statement, cash flow statement, and balance sheet projections for UAL.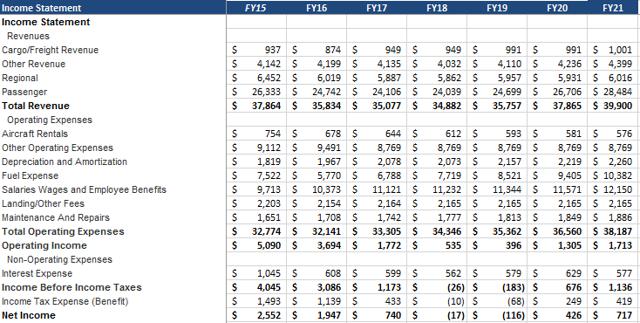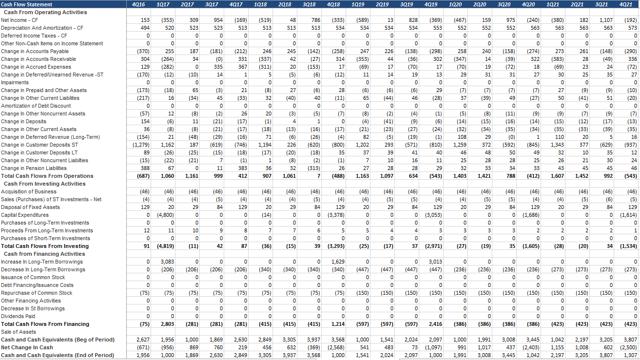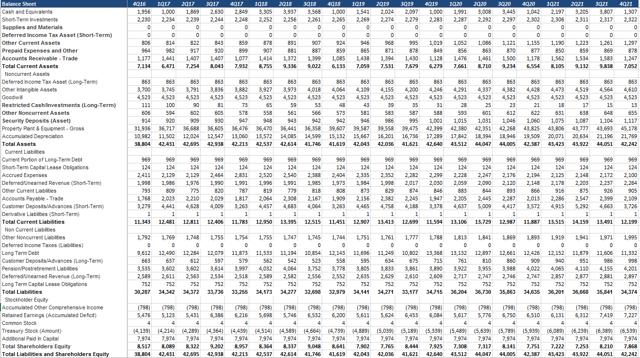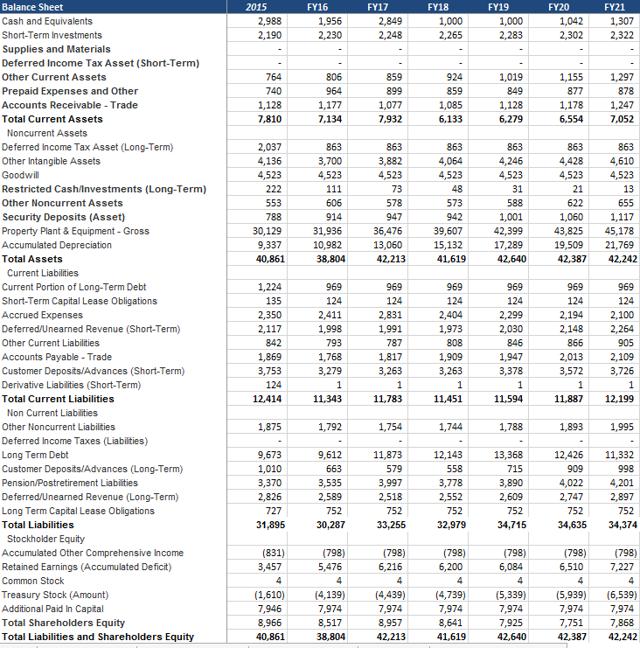 Shown below are the free cash flow projections for UAL as well as a sensitivity table for the share price assuming a range of discount rates as well as terminal FCF growth rates. Both of these provide strong evidence that the company is significantly overvalued based on baseline projections.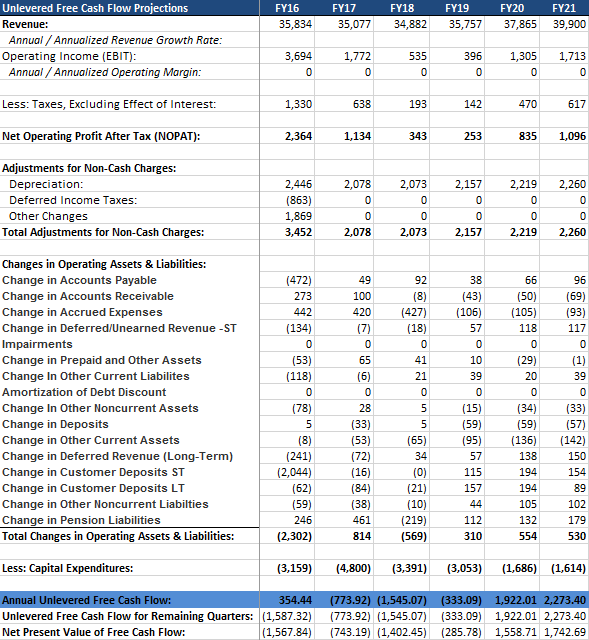 The reason why the Terminal FCF Growth rates are negative are due to their volatility since capital expenditures happens in batches. Therefore, a high UFCF will not last forever and is not representative of the true picture. Our workaround for this was to find a year with positive UFCF and assume a negative terminal growth rate to take into account years when UFCF will be negative due to capex.
The discount rates we used are generous relative to historical standards but might be appropriate given the current environment. Regardless, an investment decision should never be made purely due to a shifting discount rate but it should be based on fundamentals. As we have shown above, taking management's guidance on industry competition and revenue growth, the new union contracts and its effect on wages, as well as capex projections, UAL's value is significantly below its current market price.
Comparable Valuations
As shown in the graphic below, UAL is trading at rich multiples both historically and compared to its peers in regards to EV/EBITDA, P/E, EV/EBIT and EV/Revenue. P/B suggests that the company is still undervalued however the latter should not be trusted because the metric depends on the quality of UAL's fleet. Disregarding this, most multiples suggest that UAL is either fairly priced or may suggest an overvaluation. Its ratios are higher than Air Canada (NYSE:AC) and Delta Airlines (NYSE:DAL), both of which have higher profit margins and operating margins, higher revenue, pay a dividend, and even have lower debt in the case of Delta.

(Source: SEC Filings)
Putting It All Together - Worst Case
In our revenue projections, we stated that SRP was down 10% for both Mainline and Regional and that we don't see this trend changing anytime soon. We forecasted a flattening in 2018 and a rebound in 2019 of 4-6% until ending 2021 with a 4% growth rate. In our worst case scenario, the decline in SRP continues until 2018, flattens in 2019, and then grows 3-5% for 2020-2021. The overall effect is that SRP is 2% lower than it would be in our base case. To put this in perspective, SRP would have a CAGR of 1.3% under the worst case scenario as opposed to 2.3% in our base case. Revenue would fall from $37.9 billion in 2015 to $34.8 billion in 2018 before ending 2021 with $39.5 billion. This may seem like a steep fall but revenue but analysts are expecting UAL to end 2016 with revenues of $36 billion and 2017 doesn't look to be doing them any favors. Keeping our generous view on lower future capex as well as our fuel expenses and non-fuel expenses constant, and not adjusting PRASM, the company's implied share price is still worthless.
Putting It All Together - Best Case
Our best case scenario is foolishly optimistic but by doing so, we believe we can nail the point home that UAL is trading at too high a margin. Instead of SRP falling 10% q-o-q until Q2 2017, we change the assumption to 2 quarters of -10% growth, followed by flattening for the remainder 2017, and then rebounding to 5-7% for 2018-2019, before perpetually increasing by 3%. With this scenario, the implied share price should be $81.31, a meager 10% premium from the current share price.
Conclusion
If you want to be a millionaire, follow these steps: first become a billionaire, then buy an airline. UAL seems to fit this analogy perfectly. In a highly competitive environment, it has increased its fleet and plans to continue to do so. This has led to lower load factors and falling revenues. In order to get past its labor issues, UAL succumbed to their demands and paid a hefty price. A future of depressed margins, unnecessarily grandiose capital expenditures, and cutthroat competition await it. As our analysis has shown, the market is severely underpricing the downsides, instead putting all its faith in management, particularly Andrew Levy, to guide UAL to the top. Mr. Levy has yet to put forth a strategy and even if he is able to put forth a proper plan, it will be years before we see the result. As for now, all that can be seen is an overpriced airline that needs to fall.
Disclosure: I/we have no positions in any stocks mentioned, and no plans to initiate any positions within the next 72 hours.
I wrote this article myself, and it expresses my own opinions. I am not receiving compensation for it (other than from Seeking Alpha). I have no business relationship with any company whose stock is mentioned in this article.