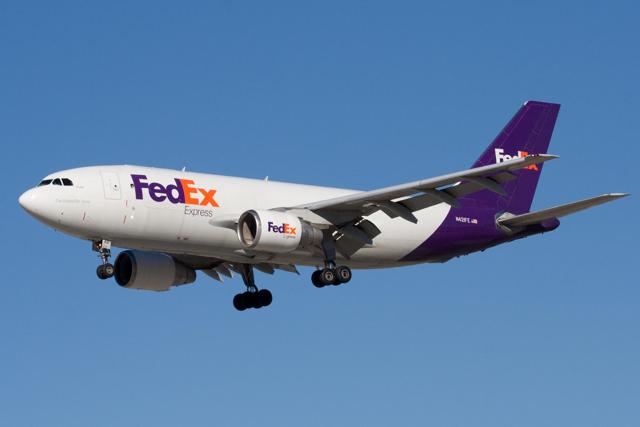 FedEx (NYSE:FDX) reported quarterly earnings earlier this week. Revenue of $14.9 billion was in line, but the company missed on EPS by $0.10. FDX fell over 3% after the earnings miss. I had the following takeaways on the quarter.
Paltry Organic Growth
FedEx reported another quarter of robust revenue growth. Total revenue rose 20% Y/Y. The biggest gainer was FedEx Ground, which grew 9%; the other segments all experienced low-single-digit revenue growth.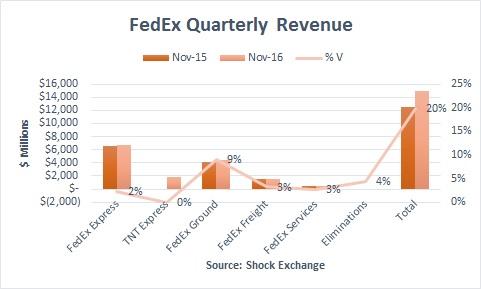 The company benefited from the inclusion of TNT Express; the European road network was acquired in May and generated $1.9 billion in revenue this quarter. Sans TNT, the company's organic growth would have been 5%. FDX is up 35% this year versus a 13% rise in the S&P 500 (NYSEARCA:SPY). However, I do not believe single-digit organic sales growth justifies the performance of the stock.
Declining EBITDA Margins
EBITDA margins were 13% during the quarter, down from 14% in the year earlier period. Salaries and transportation costs were a combined 60% of revenue this quarter, up from 48% in the year earlier period. The company is still integrating the acquisitions of GENCO (made in March 2015) and TNT Express. FedEx expects integration costs to peak next year; after that, margins should expand. If margins do not improve, then it could eventually become a cause for concern. FedEx would have added scale through acquisitions, yet the benefits of that scale - improving margins - would have eluded the company.
Cyclical names like Union Pacific (NYSE:UNP) and Norfolk Southern (NYSE:NSC) have executed cost containment programs amid stagnant revenue. FedEx might have to follow suit by the second half of next year in order to please investors.
Is The Economy FedEx's Friend?
Growth in business-to-business traffic and express mail are largely correlated with the growth in the economy. The company expects 2017 to be another year of moderate GDP growth:
After growing just 1.6% in calendar '16, we expect U.S. GDP growth of 2.2% in calendar '17 anchored by continued robust consumer spending and strong business investment. Industrial production should rebound after contracting 0.9% in calendar '16 to a forecasted 1.6% growth next year. For the global economy, we forecast growth of 2.2% for calendar '16 and 2.6% for calendar '17.
Regardless of what happens next year, I am not bullish on the long-term growth of the economy or FedEx's prospects. Rising rates could choke off the sale of big ticket items like houses and autos that drive the economy. The concentration of wealth in the hands of a small segment of society also does not bode well for consumer spending. Lastly, president-elect Donald Trump's infrastructure spending might not kick in until the second half of 2017. In between, the country faces rising rates and not fiscal stimulus.
Conclusion
FedEx did not deliver in its most recent quarter. Given stagnant organic growth and sliding margins, I do not see any upside in the stock. A P/E ratio of 29x is not justified by the company's growth prospects. Avoid FDX.
Disclosure: I/we have no positions in any stocks mentioned, and no plans to initiate any positions within the next 72 hours.
I wrote this article myself, and it expresses my own opinions. I am not receiving compensation for it. I have no business relationship with any company whose stock is mentioned in this article.