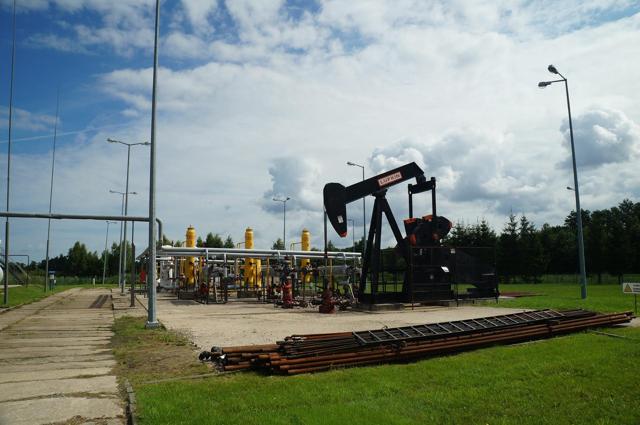 source: Stock Photo
Like myself, Shawn Driscoll, portfolio manager for T. Rowe Price New Era fund (MUTF:PRNEX), up over 17 percent this year, sees 2017 being a much more challenging year then most analysts, money managers and pundits, who are pricing in the OPEC and non-OPEC cut more than warranted in his view, and in my view as well.
Driscoll believes oil is now in a bear market rally; one he sees correcting from 30 percent to 50 percent in the second half of 2017. The primary negative catalyst in his view is going to be a higher-than-expected increase in supply from U.S. shale producers.
He didn't mention it, but what he is looking to come from shale, has already surpassed that level when combining shale, Norway, Libya and Nigeria, which over the next two to three months will add about 600,000 more barrels of oil per day to the market, making his contrarian outlook even more likely.
Are we in a bear market rally?
The first thing to look at is whether or not we're in a bear market rally. My view is, yes we are. Looking at the fundamentals of the market, there is little justification for the degree of upward movement in share price of oil companies over the last nine months or so.
If the verbal intervention of OPEC in particular hadn't been made, and the soaring supply coming from the countries mentioned above, oil would have plummeted once again. It's still going to, although it's going to fall from a higher ceiling than before.
Driscoll doesn't see this market being sustainable, which is why he sees the oil market going through a strong correction in the second half. I agree with him, although if oil supply rises as quick as it has been the last couple of months, it could be as early as the first quarter when the oil market corrects.
What I see happening the early part of 2017 is the media to give the market impetus from heavily reporting on the implementation of the proposed cut. It won't matter in the first week to ten days what happens, as the market will be focused on that and riding the momentum. I think soon afterwards reports of soaring supply in various countries will stop the momentum in its tracks.
I even believe the output deal will fall apart before the end of February. It may not be reported as such, but the truth is none of the countries agreeing to quotas are going to stand by and cede market share. The bear market will be more obvious when the oversupply continues to exceed demand. That is what will trigger the correction.
Everything that could be priced in is already priced in, including stuff that shouldn't be. I'm referring to the market treating OPEC as still being the swing producer, when the U.S. shale oil industry has taken that over. Add to that supply from Norway, Libya and Nigeria, and this could become a bloodbath because the majority of analysts and pundits are expecting oil to respond in the same way it has in the past, when the market is completely different now that shale producers can quickly add supply to the market.
The one thing Driscoll is looking for to consider taking a position
What Driscoll is looking for in what he believes will be a volatile oil market in 2017, is for companies that have taken a lot of costs out of production, with an emphasis on those holding significant assets in the Permian, which is considered by most to be the least expensive location to drill for oil in the U.S.
He's right in my view. I've been calling for that for the last two to three weeks. There is no way to know if the proposed oil cut deal will have a sustainable impact on the price of oil. I think we've seen the best it'll do now, with the probable exception of a quick boost in the first week or maybe two, of 2017. After that is should continue to find support at an average of $55 per barrel until the market starts to price in the huge supply coming in that wasn't expected to be that quick or in that quantity.
For that scenario not to play out, investors would have to believe the participants in the cut are willing to cut even more. I see about zero chance of that happening. There may be talk about it to try to prop up the market, but OPEC has no other arrows left in its quiver; it's done everything it could to make this deal happen; one which is already suspect as far as quotas being complied with. Saying there will be further cuts wouldn't be taken seriously by the market.
This is why the best play for oil over the next year or two will be to take a position in low-cost shale leaders that also have enough assets to continue to increase production over a prolonged period of time. Low-cost production is necessary in this environment, but it does little good if a company doesn't have the reserves to pump out for years into the future.
Companies to consider
Most of us know about the large shale producers like EOG Resources (NYSE:EOG), Continental Resources (NYSE:CLR), Apache Corp. (NYSE:APA), Pioneer Natural Resources (NYSE:PXD) and Devon Energy Corp. (NYSE:DVN). All of them will do very well under almost any oil price environment.
The key for all of them as to the extent of their revenue and earnings success will be determined by how quickly they can complete premium wells and transition away from legacy wells, which cost more to operate with inferior results.
A Concho Resources (NYSE:CXO), and Cimarex Energy (NYSE:XEC), which should do better than some of their competitors if the price of oil drops.
Valuations are important with all of these companies, as well as how much they hedged when the price of oil jumped after the production cut deal was made. How much is locked in and at what price point will determine the winners in 2017. Maturing debt is also important to evaluate these and all the shale producers, as much of it is maturing in 2017, and those with less debt exposure won't be at vulnerable as the others, and of course will have a better overall performance, all things considered.
Those looking for safety in a diverse energy portfolio could look at Driscoll's T. Rowe Price New Era fund as an option. It has done well over the last three and five years, but has lagged behind some of its peers over the last twelve months. I think that's because of Driscoll's investing style, where he protects the fund in a more defensive manner. For that reason it could return to be a leader among its peers.
What to consider with the fund and its competitors is whether or not you believe oil will be higher for longer, or it's going to be brought under pressure. If the latter, New Era will do better than most of its peers. It could even outperform some of the companies listed above, depending on the mix of legacy and premium wells they operate next year.
Conclusion
I'm even a little more bearish in the short term than Driscoll is. I think oil is going to collapse when the market understands how much supply is coming to the market early in 2017. As I mentioned, for all practical purposes the production cut deal will evaporate and countries will produce at levels in their best interests. They're probably going to do that anyway, but a lot more supply will make it more visible if that's how it plays out.
There is some more money to be made in the early part of January in my view. The only negative catalyst there is if the countries ramping up production are found to be increasing supply at even quicker rates than I think is going to happen. It would take a lot to take media attention away from the reports on starting to implement the output deal, but it's already a huge surprise the market wasn't expecting. It will continue to surprise in the next three months, with the U.S., Libya and Nigeria in particular, bringing more supply to the market than anticipated.
Taking it all into account, I see 2017 being much more volatile than the market is looking for, and the ceiling on oil is going to be lower than believed. Those refusing to listen, I think, will get caught by surprise. For that reason, if investors are taking fairly short-term positions, they should keep their stops tight enough to product any decent gains made in the early part of the year.
Disclosure: I/we have no positions in any stocks mentioned, and no plans to initiate any positions within the next 72 hours.
I wrote this article myself, and it expresses my own opinions. I am not receiving compensation for it (other than from Seeking Alpha). I have no business relationship with any company whose stock is mentioned in this article.