Every week, after the EIA releases its Weekly Petroleum Status Report, I download the updated files, consolidate them, and ultimately link them to a simple excel dashboard file, which you can download for free at Excel-Data-Junkies.com. Open it up and follow along below, then let's discuss it in the comments section below. For a methodology review, take a look the intro "Data Download".
Headline: Total Petroleum Stocks Down 11.9 Million Barrels!!
After four weeks of relative stability netting to just a 200,000 barrel draw, we get a surprise draw of 11.9 million barrels. Making the draw even more impressive is the fact that imports were up about 6M bbls compared to last week when we posted a 2M bbl draw.
So what happened? Consumption. It was just last week that I was observing that consumption over the last six weeks was looking particularly weak and running about 300k bbls a day under the same time period last year. So, of course, this week, we see consumption jump 2.5M bbls a day for a weekly increase of nearly 18M bbls.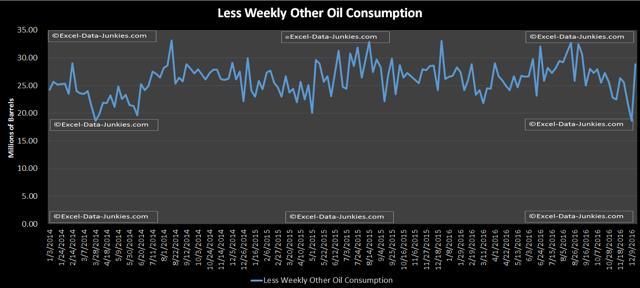 Leading the charge was "Other Oils" up over 10M bbls for the week. "Other Oils" is the EIA's leftover category, think asphalt, roofing tar, NGLs, chemical feedstocks, and even aviation gasoline. It does look like reported consumption of other oils over the last few weeks was pretty low, so maybe this was just a catch-up week either in reporting or in actual flows. Adding to the spike in other, we also saw a solid consumption increase in gasoline, jet fuel, and distillates.
For The Bulls:
This 11.7 million draw is the largest since hurricane Hermine disrupted imports back at the end of August. Even more impressive, the weekly consumption at 21.409M bbls/d is the highest weekly reported by the EIA since December of 2007. The draw leaves total stocks at 2.024B bbls, still about 200M bbls above where the bulls need them to be but this is definitely a step in the right direction. If the US is consistently drawing down stocks at a rate of 3-5M bbls a week by the end of March 2017, odds are oil (NYSEARCA:USO) prices will likely be well over $60.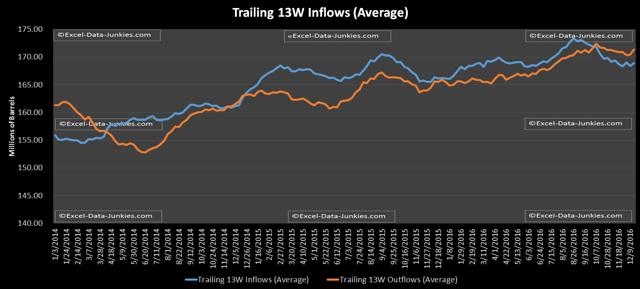 What The Bulls Are Dreaming About Tonight:
For The Bears:
An 11.9M bbl should be just about the bears' worst nightmare, so all I can say is that it was only one week, and odds are it was a bit of a fluke. The "other oils" number looked a little squirrelly and it will take more than a one-week consumption spike to break the weakness in US demand. US production is still strong and the OPEC production cut memorandum should start falling apart right after the holidays.
What The Bears Are Dreaming About Tonight:
OPEC's "Showtime" 1/1/2017
"Other Oils"
Gut Feeling:
It's hard to argue with an 11.9M bbl stock draw. It will take more than a week for my bearish instinct to dissipate, but I am definitely warming up to the possibility the oil patch's two-year winter may be nearing an end. Don't get me wrong, I'm not there yet, but hey, maybe this time is different? Looking at the flows line by line, I definitely see a path to continued weekly draws averaging 3M bbls a week if OPEC can actually deliver and US exports remain elevated.
Disclosure: I/we have no positions in any stocks mentioned, and no plans to initiate any positions within the next 72 hours.
I wrote this article myself, and it expresses my own opinions. I am not receiving compensation for it (other than from Seeking Alpha). I have no business relationship with any company whose stock is mentioned in this article.