After the non-OPEC meeting with OPEC on December 10th, the mainstream media once again got it wrong. The Saudi energy minister, Khalid Al-Falih, spoke, but the reports implied Saudi Arabia would cut deeper, if necessary.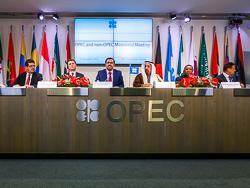 Source: OPEC.
Mr. Al-Falih clarified that. He said that the kingdom sees no need for additional production cuts than the ones already pledged by the OPEC, and some non-OPEC producers. He assumes that oil prices will average $55 in 2017 and $61 in 2018. OPEC's Reference Basket (ORB) was $52.25 on December 21st, so it appears prices are close to where he expects them to average next year.
He went on to say that the Saudis have decided to "nudge along" the rebalancing of supplies with demand during 2017. It seems to me that he would like to fine-tune OPEC's market intervention, so as to not create massive hedging opportunities for U.S. shale oil, which would result in a counterpunch to his strategy to firm-up prices from where they were, or might be, were it not for the announced cutbacks.
Conclusions
Taking him at his word, he is looking for $55/b in 2017 and $61 in 2018. He realizes there could be a massive American shale oil hedging response if he tries to push prices higher.
The big question is what President Donald Trump will do starting January 20th, as well as producers such as Libya and Nigeria. I'm assuming the other OPEC members won't blatantly cheat in the early months. I think the base case is the low $50s (WTI), and we shall see how this plays out. I'm not expecting $60s or $70s in 2017, as I saw others are.
Disclosure: I/we have no positions in any stocks mentioned, and no plans to initiate any positions within the next 72 hours. I wrote this article myself, and it expresses my own opinions. I am not receiving compensation for it (other than from Seeking Alpha). I have no business relationship with any company whose stock is mentioned in this article.