You might be wondering if David's Tea (NASDAQ: DTEA) is good value after its epic earnings miss. Though the valuation has never been this compelling from a numbers perspective, the numbers in this case do not tell the whole story.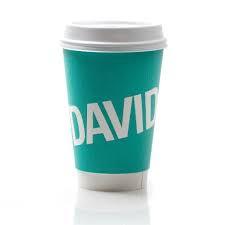 I last wrote about David's Tea on March 9th, in an article titled "Is the worst over?". The company had put the botched IPO behind it and was in a crunch time situation to produce some growth. Clearly, the worst wasn't over as the stock has declined 37% since. The good news is that now, for first time since the IPO, investors do have some numbers they can hang onto and aren't investing based on pure hype. The bad news is that these numbers also explain why the stock is the cheapest it's ever been.
On the positive front, price to book and price to sales have never been lower: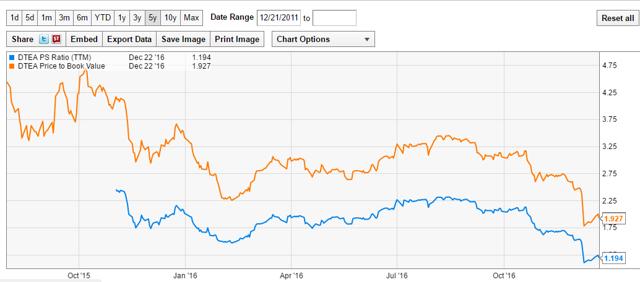 On the other hand, these numbers cannot be taken at face value. Management provided upbeat guidance from the start, but operating cash flow and EBITDA have declined. Losses have been posted in the last two quarters as expenses have just crept up alongside stagnating revenues: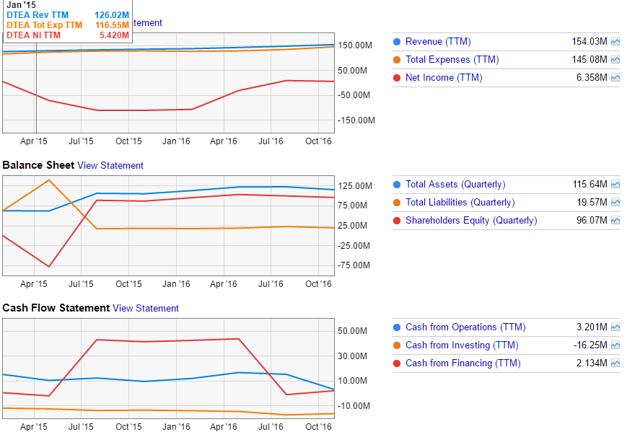 The woes are cultural, not operational
David's Tea made three mistakes: it went public too early, it went public in the wrong market, and its founder doesn't care about its success. He may protest my assessment with words but his action of abandoning the company so soon after it went public speaks for itself. Whether David's can "save the furniture" at this point really depends on who will run the company, and if they can get it refocused on making money.
Investment analysis, in general, is forward looking. "I'm not going to make money from you telling me what has already happened" is a statement that drives the theses we make and the investment cases we spell out on this website. However, sometimes the past allows us to divine important clues about the future. This is especially important with an underfollowed ticker like David's Tea.
I admit that my assessment about the company is harsh so I will break it down piece by piece to justify it. Hindsight as we know is 20/20, but past decisions also define what action you can take in the future, so now we will look at just what a mess has been created.
David Segal was 27 years old when he founded David's Tea with his cousin Herschel in 2008. He is literally the "David" in the brand. Herschel of course founded the Canadian clothing retailer Le Chateau (OTC: OTC:LCUAF), which is now a penny stock that has only survived thanks to Herschel's multiple cash infusions, similar to Sears and Eddie Lampert. In October 2014, David said the following about his stepping down as CEO:
"I started it at 27 and I'm 33 now so you know the company grew faster than I was able to gain years of experience and it got to the point where I had never run a major company (like David's Tea) that was doing a lot of sales and had multiple stores and I don't know if I saw it as clearly as I should have at the time but Hersch, my partner, certainly did." Quoted in October 2014 Montreal Gazette article
Sounds logical on its own, but we should remember that Steve Jobs started Apple at 21, and Mark Zuckerberg started Facebook at 20. The Snapchat guy was 17. The whole point of being an entrepreneur is to be young and brash, not 50 and out of sync with the times. Worse, this year in March he quit being the brand ambassador, so he literally retains no involvement with the company, other than being its largest shareholder.
Without David around to run the company, the board tapped former SAQ (the government owned liquor monopoly in Quebec, where David's is based) executive Sylvain Toutant to run. Mr Toutant's spotty corporate record as well as that of US-based CFO Luis Borgen are described in detail in Melissa Davis' analysis one year ago that exposed how weak the management of this company is.
A litany of operational issues
Returning to the numbers, you can't get too excited about the company's low PE and PS ratios are due to the first, and only profit, it made in Q1 (61 cents) and Q2 2016 (6 cents). In other words, the 29 cents it lost in the last two quarters gives us annual earnings of 35 cents, divided by the 7.50 stock price gives us our current respectable PE of 21.42.
What is concerning, and why this stock trades 50% lower than when I covered it March, is that revenues were flat throughout the summer instead of higher (per guidance) and expenses rose, erasing the profit. The chronic inability of this company in its two-year public history to meaningfully grow revenues or turn a profit has brought us to the nadir; investors have lost patience.
Declining EBITDA is never a good sign for a company with growth plans: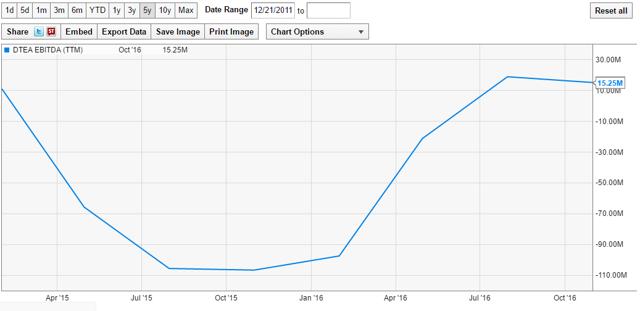 You could hear the exasperation in the question of the four analysts who cover this stock on the December 8th earnings conference call. There were problems with servers and IP addresses that resulted in no promotional emails being opened for several months throughout the summer. And two years after the company debuted on the NASDAQ to pursue the "superior growth opportunities" of America compared to its home market, the fact remains that Canadian stores remain mostly profitable while US stores continue to experience disappointing (and usually unprofitable) results. The company has closed 14 US stores and took a non-cash impairment on the balance sheet this quarter. This recognition that they got the market wrong is worrying.
What the company did on the call was trumpet the performance of a new concept it is trying in the Natick mall in Boston, which includes a self-serve area with employees standing by if needed rather than a traditional service counter. Whether this is rolled out to further stores depends on the success of the concept, which US managing director (and hey! New interim CEO while she's at it) Christine Bullen is supposed to be analyzing.
This exchange between the CEO and an analyst was particularly cringe-worthy:
Analyst:
"…on store growth. So I think you're cutting your plan. I think you said for next year for 25 to 30 down from 40? I mean you've had kind of some hiccups here on the email and a little weaker consumer. I mean is that a reason to slow store growth or… could we see store growth slow even more? …where are returns really coming in?"
CEO:
"In the U.S., we're slowing down. We want to give ourselves the time to really digest all the learnings. I've talked in my prepared notes about the Natick mall test. We think it's a very important test for us and we want to make sure we capture all the learning around that store before we accelerate growth again."
Analyst
"I think, should you really be opening any U.S. stores at this point?"
Ouch.
At this point you are either looking at rock bottom or at the beginning of the end. Young guy starts a company with his 84 year old cousin, whose own expansion plans in the US almost bankrupted the now near bankrupt company he founded. He loses interest and passes the reins off to an executive with a cloudy past who inexplicably leaves after 2 years. The whole premise of the IPO to fund this American expansion has doubt cast on it. Where do we go from here?
David's Tea is not a franchise model, but a retailer. Even though Starbucks acquired its main competitor, Teavana, and no straight comparable businesses really exist, quick service consumables companies, whether they use the franchise model or not, have created enormous wealth for investors and, at the end of the day, market beverages like David's. So that's all we have to compare it to. Restaurant Brands (NYSE:QSR), Dunkin Donuts (NASDAQ:DNKN), Starbucks (NASDAQ:SBUX), and Domino's Pizza (NYSE:DPZ) are just a few examples. Sky-high P/Es and Price to Books? No problem. In this business, it's all about comps, opening new stores, and the sky-high margins (and returns on equity) that happen when the company achieves scale. And this is how these companies are judged. Those are the keys to success in retail franchise food and beverage and those are the metrics a company in this sector, including David's, lives and dies by.
David's Tea? Flat to declining comps, amid a "challenging retail environment" (and don't forget to throw in irrelevant references to the election on your earnings call) reducing new store openings, closing stores, and negative margins for two straight quarters. How bad was this? A 22% decline on December 8th after the earnings call, on a stock that was already down 30% YTD. Earnings miss, weak guidance, CEO departure. A textbook train-wreck.
Is there any hope? Well, the company is a retailer and holidays are usually when retailers make their money. The one bright spot on the call was e-commerce, which is growing, plus they confirmation that the email issue was finally resolved. The Canadian stores for the most part seem to be earning better margins and the company has built up some good brand currency in Canada.
The question is, will it all be enough to pull the stock through while it agonizes through the ongoing US expansion debacle? I am pessimistic. The interim CEO is an unknown quantity. If she makes some good decisions, or a new permanent CEO and a profitable Q4 are announced, it would probably give this stock a nice boost. As of right now, though, if February 8th-ish brings us a 3rd straight quarterly net loss, look out below.
Despite being a total mess, company is actually valued attractively
On valuation, David's is cheaper than its peers on many fronts without a doubt:

Source: my excel table with data obtained from ycharts
Other than having no cash return on invested capital or return on invested capital to speak of, it is by far the cheapest company on this list other than maybe Sportscene, a Canadian sports bar chain who I couldn't even find the OTC ticker for on Seeking Alpha.
It is the only one of these companies not earning double digit profit margins - 4%. 6.5% return on equity compared to double digits for the rest of the group. Not great, but still trending long term profitable. Cheap for a reason.
We of course should look at EBITDA to see if there's any clues about someone maybe looking at buying this basket case:

Source: my excel table with data obtained from ycharts
It is by far the cheapest of the bunch on an EBITDA basis. This stock is trading at multiples that put even below the price generated by the Benjamin Graham formula. But we know when those earnings came from and what a struggle it's been since. The stock could easily double from these prices if the turnaround happens. Any business with cash flow and no debt can usually keep it going for awhile. At this point it is very high risk/high reward. The stock should drift in the $6.50-$8.50 range until the next earnings or it may even trend lower. Returns are usually best during times of maximum pessimism but with the incompetence we've seen on this one, only invest what you can afford to lose. I will be following up on the latest developments in what has been a long, painful saga up to now, in 2017.
Disclosure: I/we have no positions in any stocks mentioned, but may initiate a long position in DTEA over the next 72 hours.
I wrote this article myself, and it expresses my own opinions. I am not receiving compensation for it (other than from Seeking Alpha). I have no business relationship with any company whose stock is mentioned in this article.