Lockheed Martin (NYSE:LMT) is one of the world's leading aerospace and defense players. Over the years the company has been offering attractive returns to investors. Having acquired Sikorsky last year, Lockheed Martin gained scale and unleashed new growth opportunities. Together with anticipated expansion of its F-35 program, the company's prospects are optimistic. Below I will elaborate why you should hold shares of Lockheed Martin, despite they trade close to all-time high (see Picture 1). For this purpose, I will analyze the company's financial position, and then I will estimate the target price of its shares.
Picture 1.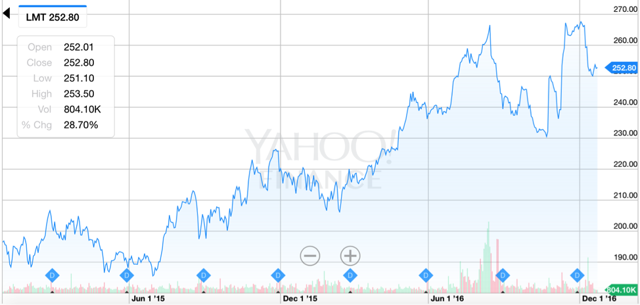 Source: Yahoo Finance
Financial Position Analysis
Based on information from Picture 2, we can observe the following:
Over the last years, revenues of Lockheed Martin have been stable. After acquisition of Sikorsky, the world leader in military and commercial rotary-wing aircraft, in November 2015, it is not surprising to see a 15.4% year-on-year increase of the company's revenue in the first 9 months of 2016. Increased volume on the F-35 program is an additional reason of Lockheed Martin's improved performance. By the end of this year sales will be partially offset due to a divestiture of Information Systems & Global Solutions segment, completed in August.
Operating income has been slowly improving since 2010. Having dropped last year, it rebounded in the first 9 months of 2016. The company reported a 14% year-on-year increase, however the financials are skewed by pension adjustments ($401m gain this year). On an adjusted basis, operating profit increased by 3%. By the end of the year management expects operating profit to be higher than in 2015.
Consolidation of Sikorsky financials, contributing to a large increase in revenues and operating profit, explains a jump in trailing-twelve-months return on equity and return on invested capital. Thus, ROIC increased from 27.2% to 42.6%, almost reaching the peak of 2012.
Lockheed Martin is steadily increasing dividend payouts to shareholders. Over the last 8 years dividends have been growing with a CAGR of 22%. The latest annualized dividend amounts to $7.28, four times higher than in 2008. The dividend yield is 2.9%.
Picture 2.




Sources: Lockheed Martin Q3 2016 Report, Morningstar
Trading Comparables Analysis
On picture 3 you can see multiples comparison of Lockheed Martin with the industry average. Valuation based on both EV/EBITDA and EV/EBIT multiples shows that Lockheed Martin is valued higher than its competitors.
Picture 3.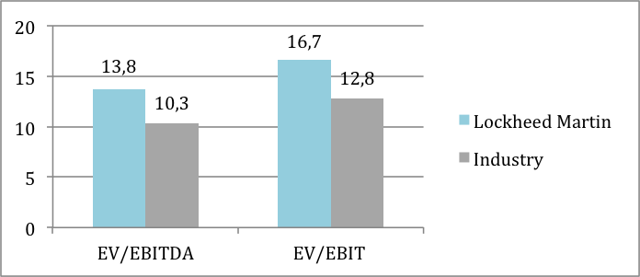 Sources: Lockheed Martin Financial Reports, Morningstar, Damodaran
DCF Analysis
Taking into account Lockheed Martin's performance in the first 9 months of 2016, I expect the company's revenue to increase by 9.7% this year. I factor in a 7% sales growth in 2017, in accordance with the management's statement in the latest quarterly report. The expected increase is driven by the expansion of F-35 production and higher air and missile defense sales. In my view, Lockheed Martin will maintain mid-single digit growth rates by at least 2020.
In 2017, management expects operating margin to lie in a range of 10-10.5%, lower than in 2016. It is explained by two reasons. First, ULA, the investee of Lockheed Martin, is expected to generate lower earnings due to the mix and volume of launch vehicles expected in 2017. Second, the F-35 model will be sold at lower margins than the average for the company.
The results of my DCF model are presented in Picture 4. The valuation date is the 1st of December 2016, for that reason I include a 1/12 stub of 2016 financials for the first projection year. All the assumptions that I made in my analysis are footnoted in the excel file.
My model results in Lockheed Martin's Enterprise Value of $96.9bn. After accounting for net debt and after-tax pension provisions, I derive the equity value of $77.7bn, that implies intrinsic share price of $265.4. With Lockheed Martin's shares currently trading at $252.8, the stock is undervalued by 5%.
Picture 4.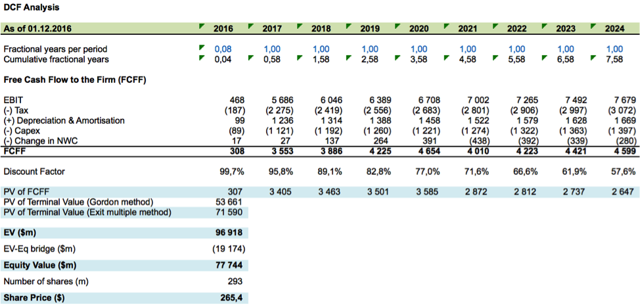 Sources: Lockheed Martin Annual Report 2015, Morningstar, Model created by author
You can see the sensitivity table on Picture 5. Applying different values of the company's WACC and terminal EV/EBITDA multiple, I derive that the intrinsic share price of Lockheed Martin lies in a range of $246-286.
Picture 5.

Source: Model created by author
Recommendation
Lockheed Martin has historically been offering attractive returns to investors. The reasons to remain optimistic are the company's stable performance, growth potential resulting from Sikorsky acquisition, anticipated volume increase of its flagship F-35 program and growing dividend payouts.
I recommend to HOLD shares of Lockheed Martin and expect their price to be in range of $246-286 in the next twelve months.
Disclosure: I/we have no positions in any stocks mentioned, and no plans to initiate any positions within the next 72 hours.
I wrote this article myself, and it expresses my own opinions. I am not receiving compensation for it (other than from Seeking Alpha). I have no business relationship with any company whose stock is mentioned in this article.