Dow Chemical (DOW) is a company known to many people, but in spite of its size it does not attract as much attention as other brands in popular industries. We think this is a temporary phenomenon, as growth rates in the leading developed countries seem to be declining. With that, companies showing a steady financial growth will eventually start to attract more attention from investors. Let us look at Dow Chemical in more detail.
First, Dow's key ratios are looking pretty well. Almost all major metrics, except the operating margin, look better than the market average. Furthermore the P/E ratio of 10.2 (around 9.5 at the time of publishing) seems underestimated for a multibillion dollar company like Dow Chemical with over a century of history.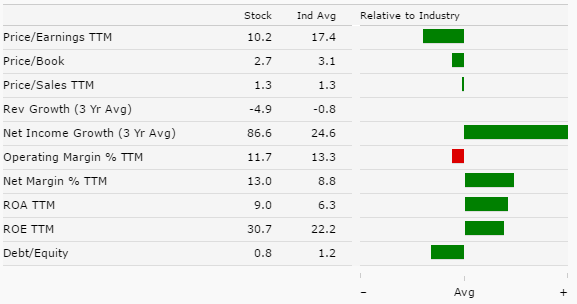 (Source: Morningstar.com)
Currently, the Dow is actively reducing low-margin areas and focuses only on the most profitable businesses. In our view, such an approach is an indicator of the right vector of development, which certainly creates a positive impact on the company's investment attractiveness in the long term. Nevertheless the recent reports show a negative trend in the top line: in 2015, the revenue amounted to $48,778M, which is 19% less than a year before.
Other recent results also seem ambiguous. The net income for 2015 amounted to $7,685 million, which is two times higher than the results in 2014. At the same time, the net income amounted to only $254 million in the first quarter of 2016, against a half billion added a year earlier. Dow reported earnings per share of $0.89 on an operating basis, or earnings per share of $0.15 on a reported basis. This compares with earnings per share of $0.84 on an operating basis in the year-ago period, or $1.18 per share on a reported basis. In addition, Q4 2015 EBITDA rose to $9.6 billion on an operating basis, representing an all-time record, or $13.3 billion on a reported basis.
The bottom line for Q3 2016 is also down by 42% year-over-year, EBITDA has not fared better, having been lowered by 39%, compared to the same quarter a year ago.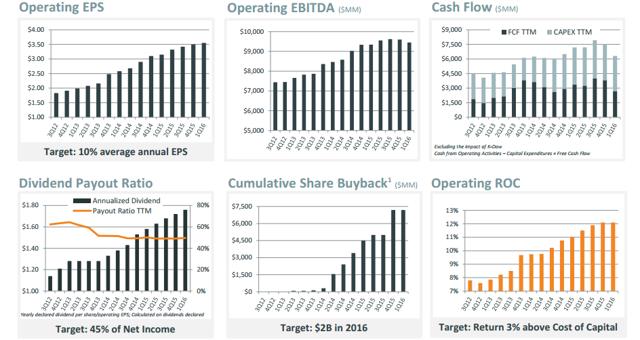 (Source: corporate presentation)
If you look at the company more widely, focusing on a few years of its activity at a time, it is clear that Dow Chemical owns really stable and growing businesses and is constantly working on their effectiveness. The company has demonstrated a strong cash flow performance, ever-increasing dividends, and growing margins (which is the most important fact, in our opinion). At last, share buybacks help promote stock price appreciation.
One of the key investment theses is based on the merger between Dow Chemical and DuPont (DD) in years to come. Few people may remember, but the companies have already had the experience of working together. DuPont-Dow Elastomers was active from 1996 to 2005, and sold products like synthetic rubbers neoprene and Viton. The cost savings the companies may achieve through this merger are considerable. By combining operations, they plan to cut some $3 billion in annual costs. The joint anticipated revenue from the Agriculture business has been estimated at $16B, from the Material Science segment - at as much as $45B, and the Specialty Products should bring about $12B per annum on a pro-forma basis.
The main risk for this investment thesis is the threat of the deal being scuttled by the legislators. The recent news indicates that the ongoing merger is likely to be postponed until March of next year due to regulatory obstacles (the two companies have to sell assets in order to reduce their combine d market share in some markets). In general, experts consider this scenario to be unlikely. Hence, the current share price of ~$59 is attractive for long-term investors. If we factor in our anticipation of investors returning to "safer" equities because of the global economic uncertainty, the stock becomes even more attractive in the medium-term.
Societe Financiers is an investment research team focused on long-term, long- and short-only ideas. Our research objective is to cover equities in various regions, such as North America, EMEA, Asia, Australia, and Emerging Markets.
Readers should consider whether any advice or recommendation in our research articles is suitable for their particular circumstances and, if appropriate, seek professional advice, including tax advice. The price and value of investments referred to in our research articles and the income from them may fluctuate. Past performance is not a guide to future performance, future returns are not guaranteed, and a loss of original capital may occur. Fluctuations in exchange rates could have adverse effects on the value or price of, or income derived from, certain investments.
Certain transactions, including those involving futures, options, and other derivatives, give rise to substantial risk and are not suitable for all investors. Transaction costs may be significant in option strategies calling for multiple purchase and sales of options such as spreads.
Disclosure: I/we have no positions in any stocks mentioned, but may initiate a long position in DOW over the next 72 hours.
I wrote this article myself, and it expresses my own opinions. I am not receiving compensation for it (other than from Seeking Alpha). I have no business relationship with any company whose stock is mentioned in this article.