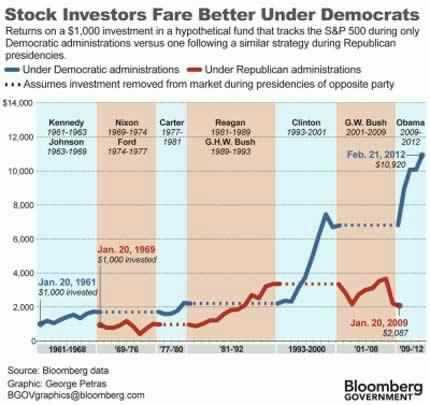 Still no 20,000?
Well, that's got to be disappointing to the bulls (and all those Dow 20,000 hat salesmen). Makes Barron's look a bit foolish but, then again, when don't they? Unfortunately, Jan 20th ushers in the Trump error and, as you can see from this chart - markets usually suck under Republican administrations. Now, some may say that's a political statement, because my FACT involved a political party and, to those people, I say suck it!
Why do the markets perform poorly just because you stop giving money to the Bottom 90%, who spend their money and cause it to move through the economy with a 3.6 multiplier and, instead, give it to the Top 10%, who save it and cause it to have a fractional multiplier? According to many Conservative studies - we'll just never know but, what we do know, is that if we tax the people who don't spend money less, they'll get much, much richer.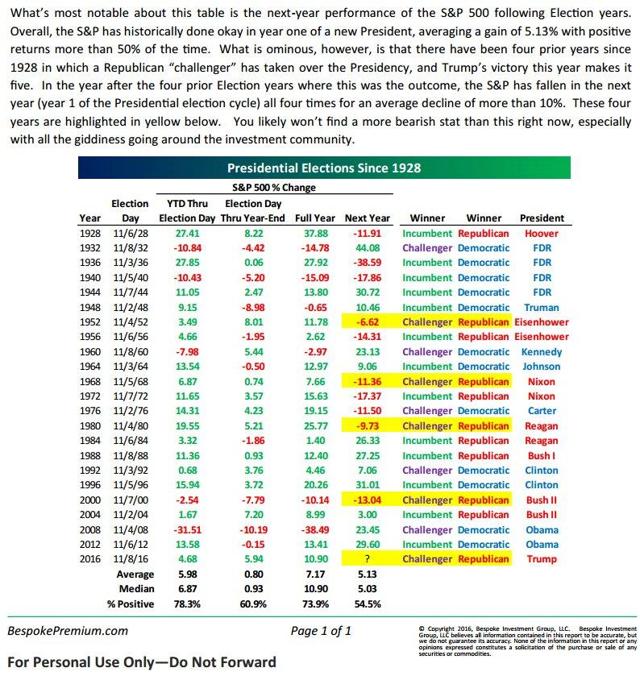 The so-called Trump rally, at the moment, stands at net 6% since the election and that's better than Bush II (the election was contested so chaos) and better than Nixon or Reagan but nowhere near as good as Ike's 8% rally but ALL of them, every single Republican President who flipped the Presidency, all of them has poor markets during their first year.

Hey, maybe this time is different, right. After all, if we don't start a trade war with China, we still have those nukes to fall back on. If nothing else, this will be the most exciting administration since Nixon.
For those of you not old enough to remember, that administration lurched from scandal to scandal and completely destroyed the economy with an aggressive military policy that rewarded their defense contractor backers. At the time (early 70s) we were still practicing our "duck and cover" drills because you never knew when those pesky Russians were going to drop a nuke on our heads.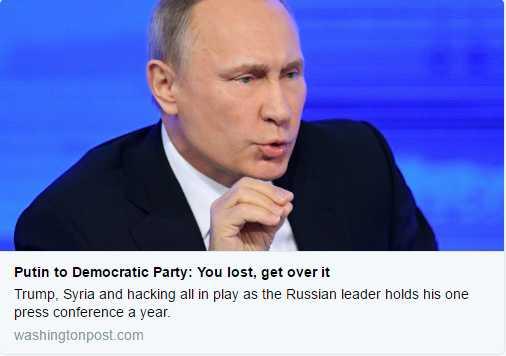 No danger of that now as "Putie" is giving his State of the Union Address this morning and is crowing about the Trump victory, saying:
"Democrats are losing on every front and looking for people to blame everywhere. "They need to learn to lose with dignity."

"Trump understood the mood of the people and kept going until the end, when nobody believed in him," Putin said, adding with a grin. "Except for you and me."
Putin responded to Trump's nuclear tweet (yes, apparently, this is how we conduct diplomacy now) by saying: "We need to strengthen the strategic nuclear forces, for that we should develop missiles capable of penetrating any current and prospective missile defense systems." He also called for the balanced development of all branches of the armed forces, precision weapons, modern means of communication and inspection as well as electronic warfare systems. There was, of course, much celebrating among Global defense contractors and Putin himself will make Billions through his control of Russian contractors.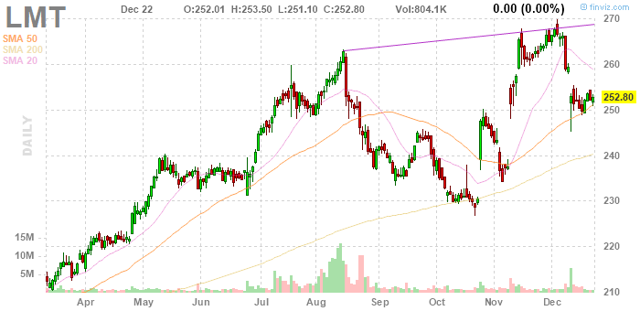 Because of their work on nuclear fusion, Lockheed Martin (NYSE:LMT) is our favorite US defense contractor and they've been down recently as Trump tweeted out his displeasure with F35 cost overruns but, overall, we think it's a nice opportunity to go long LTM:
Sell 5 LMT 2019 $200 puts for $13 ($6,500)
Buy 5 LMT 2019 $220 calls for $45 ($22,500)
Sell 5 LMT 2019 $260 calls for $23 ($11,500)
That puts you into the $20,000 spread that's 80% in the money for net $4,500 so the upside potential, if LMT just manages to move up $10 in two years, then it's a profit of $15,500 (344%) and ordinary margin on the short puts is about $10,000 but those puts are a nice 20% discount to the current price - we're playing conservative because we do expect a market pullback.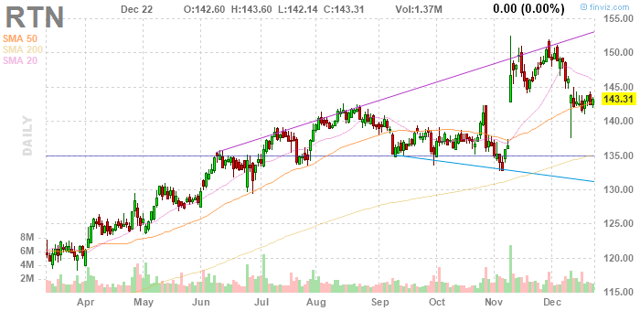 We also like Raytheon (NYSE:RTN), who get paid almost $2M every time the US fires a Tomahawk missile (and we do that a lot!). So, to bet on the escalating cold war (and the proxy wars we love to fight), we like:
Sell 5 RTN 2019 $120 puts for $8.50 ($4,200)
Buy 5 RTN 2019 $120 calls for $29 ($14,500)
Sell 5 RTN 2019 $145 calls for $15 ($7,500)
In this case net $2,800 in cash buys us a $12,500 spread so the upside potential at $145 (where we are now) is $9,700 (346%). As with the LMT trade, we're being conservative in our initial entry, in case the market sells off but, if it doesn't, nothing wrong with "just" making a 346% return on cash. Margin requirement for 5 short $120 puts is just $6,000, so it's a nice, margin-efficient trade as well.
See, we can always find something to trade, in any type of market. If Trump is going to make America great again and great means a massive military power that chews up resources and spurs a stagflated economic disaster of epic proportions - then let's get ready to enjoy the ride.

As approved by our in-house counsel:
To our Liberal friends: Please accept with no obligation, implied or implicit, our best wishes for an environmentally conscious, socially responsible, low-stress, non-addictive, gender-neutral celebration of the winter solstice holiday, practiced within the most enjoyable traditions of the religious persuasion of your choice, or secular practices of your choice, with respect for the religious/secular persuasion and/or traditions of others, or their choice not to practice religious or secular traditions at all.

We also wish you a fiscally successful, personally fulfilling and medically uncomplicated recognition of the onset of the generally accepted calendar year 2017, but not without due respect for the calendars of choice of other cultures whose contributions to society have helped make America great.

Not to imply that America is necessarily greater than any other country nor the only America in the Western Hemisphere. Also, this wish is made without regard to the race, creed, color, age, physical ability, religious faith or sexual preference of the wishee.

To our Conservative Friends: Merry Christmas and a Happy New Year!
All the best,
- Phil
Disclosure: I am/we are long LMT, RTN, DXD, SQQQ, SDS, TZA, LQMT, NAK.
I wrote this article myself, and it expresses my own opinions. I am not receiving compensation for it. I have no business relationship with any company whose stock is mentioned in this article.
Additional disclosure: Positions as indicated but subject to RAPIDLY change (currently mainly cash and an otherwise bearish mix of long and short positions - see previous posts for other trade ideas). Positions mentioned here have been previously discussed at http://www.Philstockworld.com - a Membership site teaching winning stock, options & futures trading, portfolio management skills and income-producing strategies to investors like you.