I am very surprised by how investors have reacted to Steelcase's (NYSE:SCS) fiscal third quarter report: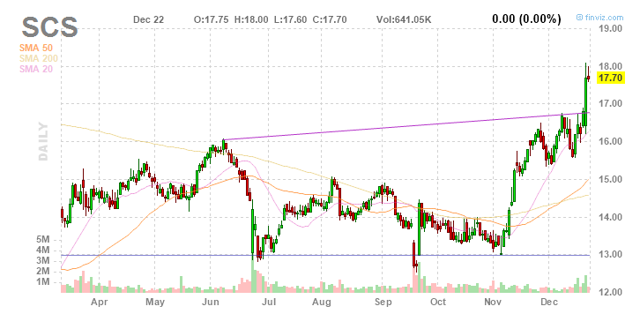 Source: finviz.com
Obviously, SCS is benefiting from optimism driven by Donald Trump's surprise election win and projected lower corporate tax rates. But SCS and HNI Corporation (NYSE:HNI) have outperformed Knoll (NYSE:KNL) and Herman Miller (NASDAQ:MLHR) since the election, and investors seem to have shrugged off yet another disappointing report from Steelcase.
I understand the reaction to some extent: relative to peers, Steelcase has had the most potential for improvement, particularly in Europe. But that potential largely has come because the company's execution has been relatively poor, and because the company seems to be losing share in its core U.S. business. I didn't see much in Q3 results or commentary to suggest a reversal on either front - so I continue to question why SCS is the proper play even if the optimism toward the sector and the economy is correct.
Good News And Bad
Steelcase released preliminary results after the close on December 8th, with both revenue and EPS missing guidance and estimates. Shares declined less than 2% the next day; they then rose 5.4% when the report was released.
It's a surprising reaction given that Steelcase should have a short leash at this point, and given the headline numbers should be considered extremely disappointing in context. Revenue declined 0.1% year over year, with organic sales up about 0.3%. Adjusted EPS was up a penny, and basically flat YOY, excluding an accounting benefit related to accrued liabilities in Europe. Yet Steelcase had an extremely easy comparison: Q3 FY16 (Steelcase fiscal years end in February) results drove the stock down over 20% largely due to significant disruption in EMEA and relatively weak revenue growth in the U.S.
Viewing the quarter from that lens, it hardly looks impressive. Organic revenue growth in the Americas was under 1%; on the Q3 conference call, CEO James Keane blamed weaker-than-expected industry growth for a miss in the Americas. There's some support elsewhere for that argument: Keane said Steelcase had exceeded BIFMA (the industry trade group) market-wide figures in the first two months of the quarter. Herman Miller saw organic revenue decline 5% in its November quarter, and Knoll warned of sluggishness on its Q3 call in October. But Herman Miller was comparing against 12% organic growth, not Steelcase's 3%. Steelcase's growth should be ahead of the industry simply because a few years of underperformance have given it much easier comparisons.
In the EMEA segment, Steelcase highlighted a substantial improvement on the operating line, which reversed from a $15 million operating loss to a nearly $3 million profit. But half of those gains simply came from removing ~$9 million of one-time disruption costs a year ago, and 2% organic revenue growth came against a -8% comparison. (Admittedly, the three-year stack is better: FY15 growth was 14%, implying a 2%+ CAGR in the segment over the past three years.) And a decline in sales in Asia was a disappointment and a miss relative to guidance. Steelcase has had some success in that region, particularly by developing relationships with local companies (as opposed to satellite offices of U.S. and European businesses), and the company did blame revenue slippage for some of the weakness. Indeed, Q3 orders were at an all-time record.
Overall, I thought the quarter was a negative for Steelcase. The improvement in EMEA has been a pillar of the "buy on weakness" bull case over the past few quarters, in particular. But Steelcase got a huge benefit there - and it was almost completely offset by the Americas segment, where gross margin pressure led operating income to decline almost 20% year over year. Steelcase called out revenue shifts into Q4 in both Asia and the Americas - but Q4 guidance for flattish organic revenue and maybe a modest increase in EPS looks relatively weak in that context. And the pressure in the Americas now is being cited as the "day-to-day" business while project orders are strong; that's almost a 180-degree reversal from where SCS was a year ago. And it seems to imply that Steelcase products simply aren't hitting to the same extent as peers and/or that it's losing more share to smaller competitors. To put it bluntly, the performance simply hasn't been good enough. Given that Steelcase doesn't seem to really have a confident answer as to why that is, it's difficult to be optimistic toward an improvement. And given how long this has gone, the market's relative patience toward Q3 strikes me as very surprising: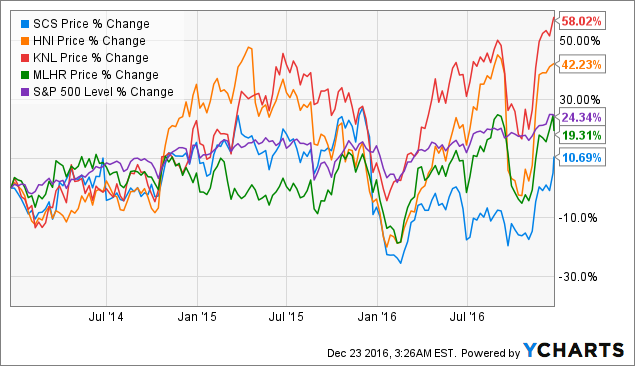 Where This Goes
Coming out of Q3, the story for SCS really hasn't changed all that much. There's still incremental opportunity for improvement in EMEA: while the segment turned profitable this year, guidance suggests a reversal to a loss in fiscal Q4, and seasonality likely will keep the segment unprofitable through H1 2017. With ~$500 million in segment revenue likely for FY17, even an improvement to mid-single-digit margins implies $40-50 million in incremental operating income, a $0.25-0.30 boost per share after-tax. No other company in the space has that type of low-hanging fruit.
But with SCS now at its highest levels since its post-Q3 plunge last December, much of that seems priced in. Assuming FY17 adjusted EPS of $1.05 (at the midpoint of Q4 guidance), SCS trades at a P/E multiple just under 17x. That's a touch ahead of KNL and a full turn ahead of MLHR. And I really can't see paying a premium for Steelcase until execution improves. The margin erosion in Q3 in the Americas adds another layer of skepticism - if that business isn't stabilized, the benefits of further improvement overseas largely are offset. And it's clear that some improvement is priced in: SCS adjusted net income is guided to decline on a full-year basis in FY17, yet the stock trades at one of its highest multiples in the past couple of years.
Coming out of Q3, I'm surprised that multiple has expanded, as I didn't see a lot of good news. I don't yet like SCS as a short - HNI continues to look sharply overvalued to my eye, though clearly the market disagrees - but I can't see paying a premium for SCS over KNL (one of my largest positions) or even MLHR. There's reason to like the space - and the response to poor results from both SCS and MLHR on Wednesday shows that investors believe the industry should strengthen in 2017 and beyond. But Steelcase has to prove it can capture at least its fair share of that improvement - and Q3 should give little confidence on that front.
Disclosure: I am/we are long KNL.
I wrote this article myself, and it expresses my own opinions. I am not receiving compensation for it (other than from Seeking Alpha). I have no business relationship with any company whose stock is mentioned in this article.