Fiat Chrysler (NYSE:FCAU) is well positioned both geographically and in product terms to reap the benefits of its position, as we go into 2017. CEO Sergio Marchionne has astutely managed the strategic and brand issues involved. The company is better placed than its traditional rivals Ford (NYSE:F) and General Motors (NYSE:GM) and the stock market has undervalued its strong position. Recent announcements detailed below only serve to reinforce this strong outlook.
Europe
My article in November covered in some detail the successful increases in market share the company continues to enjoy in both Europe and North America, and the potential of the Alfa Romeo brand.
The growth in Europe has been stunning. Figures released recently show that in the first 11 months of the year, the company sold 918,600 vehicles. This was an increase of 14.2% year-on-year. This compares to an industry growth of 6.9%. The growth has been consistent across all the major European countries.
Historically, FCA has been very strong in the small car sector in Europe. This continues with the Fiat "Panda" and Fiat 500 enjoying a market-dominating 29.4% share of the small car market. The diesel emissions scandal affecting traditional small car rival Volkswagen (OTCPK:VLKAY) has no doubt helped Fiat.
GM and Ford both continue to do badly in Europe and lose money there, unlike FCA. In November for instance, FCA sales rose 10.3% while those of Ford rose just 1.9% and GM Opel declined 1.1%.
Importantly, FCA has greatly increased its sales of the Jeep and Alfa brands this year. This will improve its European profitability as well, as these brands enjoy higher margins than the small Fiats.
Pictured below are Alfas at the Cassino Assembly Plant in Italy: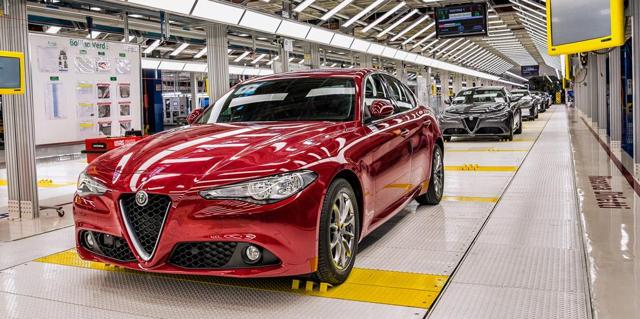 This is a highly robotized and zero emissions plant emphasizing Alfa's Italian heritage. 2017 will be the year when we see whether Marchionne's re-launch of Alfa has traction.
A negative for the company is its paltry EV offerings. Europe is serious about EVs, as was seen by Germany's decision to phase out all ICE vehicles by 2030. Currently, FCA has virtually nothing to offer in the EV sector.
Based on the official figures from FCA for the first 9 months of 2016, Europe represented 22% of vehicles sold for the company.
North America
The Trump Administration should benefit FCA. There will be less costs involved in connection with emissions standards. Lower corporate tax rates will benefit FCA as it is a profitable business in the USA.
Marchionne's brand strategy to concentrate on Jeep and Dodge has been a success as the U.S. market has swung strongly to SUVs and pick-ups. Vehicle sales for the company in general have risen 11% in the first 11 months of the year. The Chrysler "Pacifica" and Dodge "Caravan" mini-vans have been at the forefront of this, along with Jeep products.
The chart below illustrates what types of vehicle Americans are buying, in stark contrast to Europe.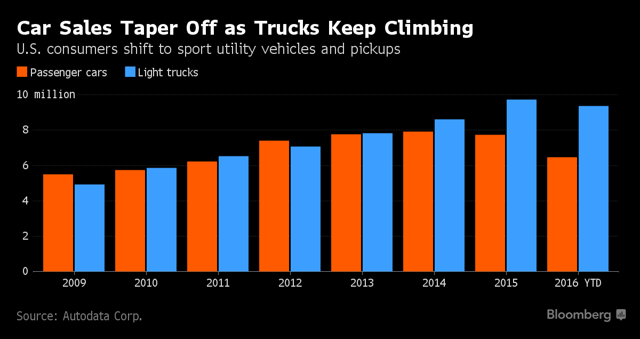 Rival GM has been particularly hit by the move away from conventional sedans and is now instituting widespread lay-offs. In early December it instituted 3,300 permanent lay-offs along with substantial temporary lay-offs. FCA has been less hit recently as it had previously phased out much of its Dodge "Dart" and Chrysler 200 production due to poor sales.
Many analysts believe the bull market in U.S. auto sales is in the late stages of its cycle. In mid-December, J.D.Power & LMC Automotive released a report in which it forecast 2017 sales of 17.4 million to 17.5 million. This would represent a very slight decline on what it estimates 2016 sales will be.
NAFTA represents 58% of vehicles sold by FCA. Its market share in the USA has been increasing in recent years:
2012 = 11.2%
2014 = 12.4%
2015 = 12.6%
FCA itself has recently seen sales of its Chrysler brand decline while Jeep and Ram Trucks are doing well. The policies of the incoming Trump Administration, unknown at present, may have a strong effect on the auto companies in 2017-18.
South America.
My previous article covered some of FCA's strong investments in Brazil and Argentina. Other companies such as Hyundai and Renault have also announced ramped-up production there recently, in anticipation of an uptick in auto sales.
FCA has a manufacturing capacity of 1.2 million vehicles in South America, which I previously detailed closely here. When the auto market in Brazil comes back to allow for this sort of production is an open question. FCA though is primed to take advantage, with most of the costs already accounted for.
According to recent figures, FCA has 18.3% market share in Brazil so far. This is actually down from 19.5% in 2015. Its commercial director for Brazil, Sergio Ferreira, was recently quoted as expressing confidence in increasing market share in a growing market next year. This would be on the back of new pick-up and SUV models including the Jeep "Compass."
Latin America represents 10% of vehicles sold by FCAU, as per the figures for the first 9 months of the year. This could well increase in importance over the next few years.
Asia
FCA's market share in Asia is quite low and has fallen by a further 4.6% this year so far. In the first 9 months of 2016, the APAC region accounted for only 2% of vehicles sold by the company, though China has improved. Most importantly, it has begun the manufacture of new Jeep models in the country.
The Maserati brand is however a strong niche product for the company in China and doing well. A new marketing push has begun for the Alfa Romeo brand. Sales of luxury vehicles and SUVs are on a roll in China, and Maserati and Jeep should benefit from this.
One negative for FCA in China is its lack of EV options in a country which has got very serious about pollution. A tie-up with one of the leading EV manufacturers such as BYD (OTCPK:BYDDF) in which Warren Buffett has a substantial stake might be an option.
FCA has a manufacturing agreement in China with the Guangzhou Automobile Group Co. for Fiat and Jeep products. It was reported it quadrupled sales in the first 7 months of the year, to 75,834 vehicles. This is still quite a low number though. FCA is rumored to be in talks with another manufacturer, Beijing-based BAIC Group.
The lack of large-scale investment interest in China may now turn out to be a blessing in disguise. It appears that the new administration could be itching for a trade war with China. GM has already effectively been threatened by China with retaliation. FCA's limited involvement is probably at a comfortable level now while we see how the political situation evolves.
Electric Vehicles
FCA has been slow to embrace the rush to EVs. This may be wise in the current circumstances. One sees the losses GM will sustain on the Chevrolet "Volt" and the pro-fossil fuel make-up of the incoming Trump Administration.
The product it does have is the Chrysler "Pacifica," pictured below.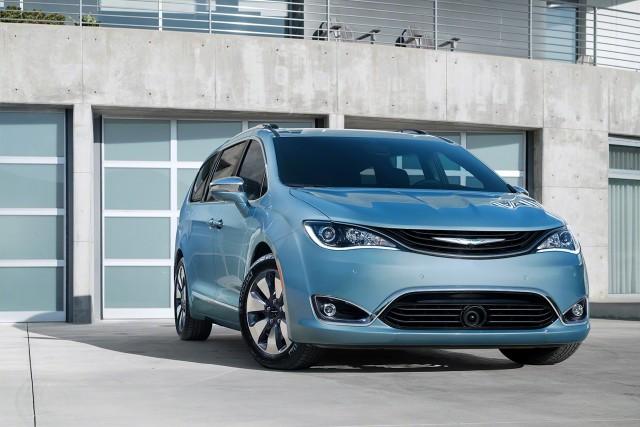 This is the only plug-in hybrid minivan in the market. It is competitively priced and has been well-reviewed. This could be the right product for the market in the USA at the current time. It will, however, presumably lose the benefit of the US$7,500 Federal tax benefit at some stage soon.
The company announced in December that 100 of these vehicles were being fitted out for the Waymo autonomous vehicle unit of Alphabet Inc. (NASDAQ:GOOGL) (NASDAQ:GOOG). Earlier in the year the two companies had announced a general car partnership.
One such model is pictured below: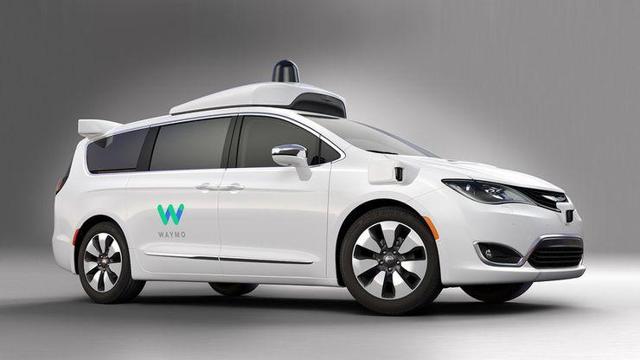 This makes FCA the first major auto company to work with Google on its long-standing autonomous vehicle plans. It could work out to very advantageous long-term positioning by FCA, though commercial realization of this is some way off.
It has been rumored that FCA will unveil a new fully electric vehicle at the CES in Las Vegas in January. This is not confirmed. The company currently has the Fiat 500E, pictured below: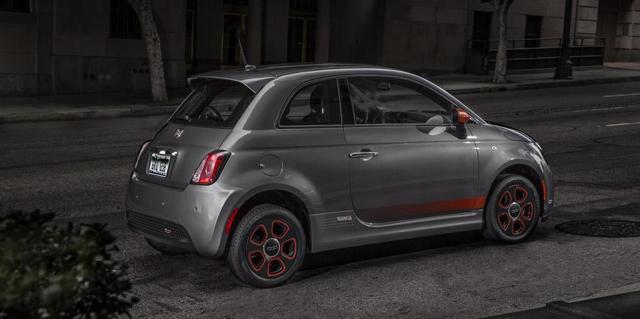 The company's support for this product has been lukewarm and it always looked like a short-term idea while the company looked more seriously at the market. It is an electrification of a current vehicle rather than a whole new EV concept.
For its European products, the company has just announced it has secured a loan of 250 million euros from the European Investment Bank and the EU. This was granted specifically for research and development in the fields of emissions reductions, alternative fuel engines and hybrid products.
Conclusion
The value of the component parts of FCA is far greater than the sum of the total at present. The stock price is yet to reflect this despite recent gains.
Some of this value might get realized in the form of divestments. There has been talk of both components parts manufacturer Magento Marelli and luxury brand Maserati in this regard. Personally, I doubt Marchionne will go down that road.
The enterprise value of US$19.4 billion as compared to the market capitalization of US$11.7 billion does however indicate how the company still has quite a lot of debt on its books.
The stock price is basically flat for the year, as per the chart below: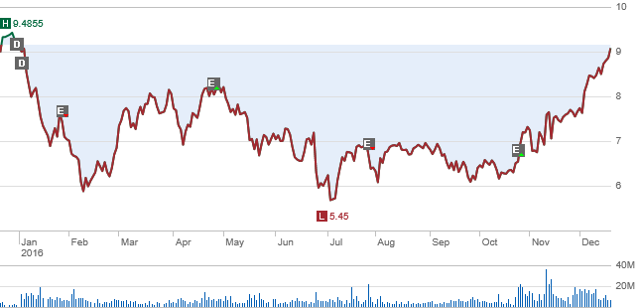 The P/E ratio at 8.39 and forward P/E at 5.71 tell their own story. The PEG ratio of just 0.11 is even more favorable. Profit and margins should continue to expand in 2017 on the back of new products and cost-cutting measures.
The stock price has improved over recent months but there is still a lot of upward potential in 2017 based on company fundamentals.
Disclosure: I/we have no positions in any stocks mentioned, and no plans to initiate any positions within the next 72 hours.
I wrote this article myself, and it expresses my own opinions. I am not receiving compensation for it (other than from Seeking Alpha). I have no business relationship with any company whose stock is mentioned in this article.