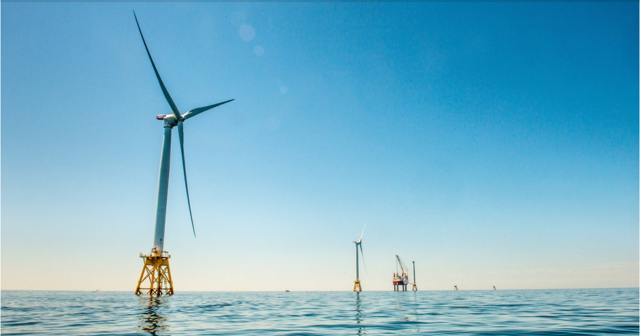 StarMine Is Very Bearish On GE
In a recent article (Adding Downside Protection To Anadarko), we mentioned StarMine was bearish on Anadarko (NYSE:APC). StarMine has one worse Equity Summary Score than "bearish" though, "very bearish." And that's the score it gives to General Electric (NYSE:GE), creator of everything from washing machines to wind turbines. You can see a video explaining how the Equity Summary Score works at the link, but for those who missed our Anadarko article, here's the summary. StarMine, a division of Thomson Reuters, standardizes the ratings provided by third-party stock analysis firms, giving numerical equivalents to ratings such as "hold," "strong buy," etc. Then it looks at how accurate those firms have been in their ratings, and weights their ratings accordingly, so a "sell" rating, for example, from the most historically accurate firm, has more impact on the Equity Summary Score than a sell rating from another firm.
But Institutions Are Buying
After seeing StarMine tag GE as "very bearish," we wondered if dark pool investors agreed, so we pulled up GE's chart on Squeeze Metrics (remember: we have an affiliate relationship with that site and get compensated if you subscribe to it).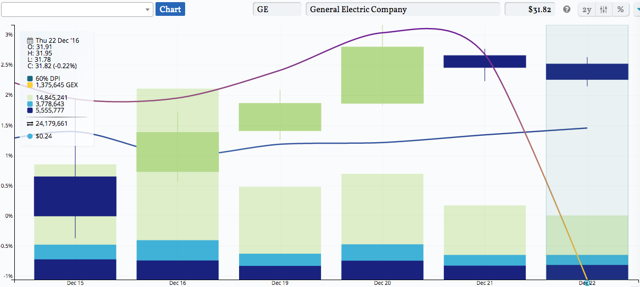 Judging from that chart, it doesn't look like it. (For new readers: dark pools are private exchanges where institutions trade shares without the transparency of public markets. Dark pools were elaborated on in an article earlier this year, Seeking Alpha In The Dark.) The DPI (Dark Pool Indicator) was in bullish territory (above 50%) in 6 of the last 7 trading days, indicating that most of the institutional trading in GE in dark pools was buying. At 60%, Thursday's DPI was a 7-day high for GE.
In our recent look at dark pool data on Citigroup (NYSE:C) (Citi On The Edge Of Forever), we raised the prospect that some of the institutional buying at the end of the year could be window dressing - the same might be true of GE. That said, there's another indicator that also casts doubt on StarMine's bearish view: hedging cost, as you'll see below.
We'll look at two ways of hedging GE in the event StarMine ends up being right and note what those hedges suggest about GE's prospects over the next several months.
Downside Protection For GE
If you'd like a refresher on hedging terms first, please see the section titled "Refresher on Hedging Terms" here). We'll present two optimal hedges for GE, both designed for investors who are unwilling to tolerate drawdowns greater than 14% over the next several months (you can hedge against larger or smaller risks than that, we're just using 14% for illustration purposes). We used the Portfolio Armor iOS app to find these hedges, but you can find optimal hedges without it using the method explained here.
Uncapped Upside, Low Cost
These were the optimal puts, as of Thursday's close, to hedge 1,000 shares of GE against a greater-than-14% drop by mid-June.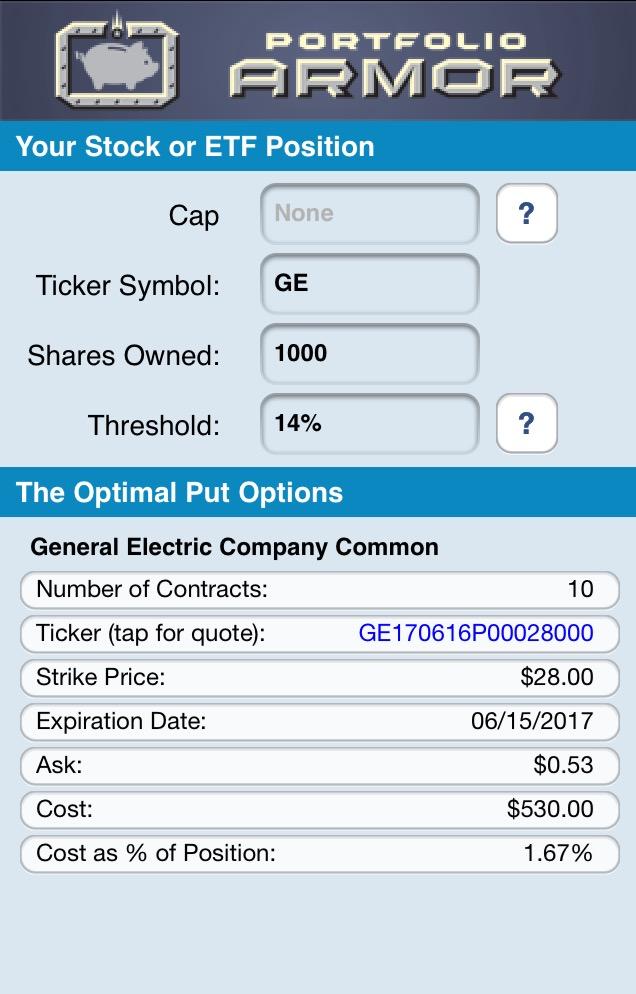 As you can see above, the cost was $530, or 1.67% of position value. Note that the cost here was calculated using the ask price of the puts and the bid price of the calls. In practice, you can often buy puts for less and sell calls for more (at some price between the bid and ask, in both cases). This was only about 20 basis points higher than the cost of hedging the SPDR S&P 500 ETF (NYSEARCA:SPY) over the same time frame. This suggests that option market participants are almost as equanimous about GE's prospects over the next six months as they are about the broader market.
Capped Upside, No Cost
This hedge caps your potential upside at 6% over the time frame of the hedge. That cap is higher than the potential returns over the same time frame estimated for GE by our site (2%) and the one implied by Wall Street's consensus price target (3.5%).
As of Thursday's close, this was the optimal collar to hedge 1,000 shares of GE against a >14% drop while not capping an investor's upside at less than 6% by mid-June.
As you can see above, the strike used in the put leg of this collar was the same as the one in the first hedge, so the cost was the same, $530, or 1.67% of position value. But as you can see below, the income generated from the short call leg was the same.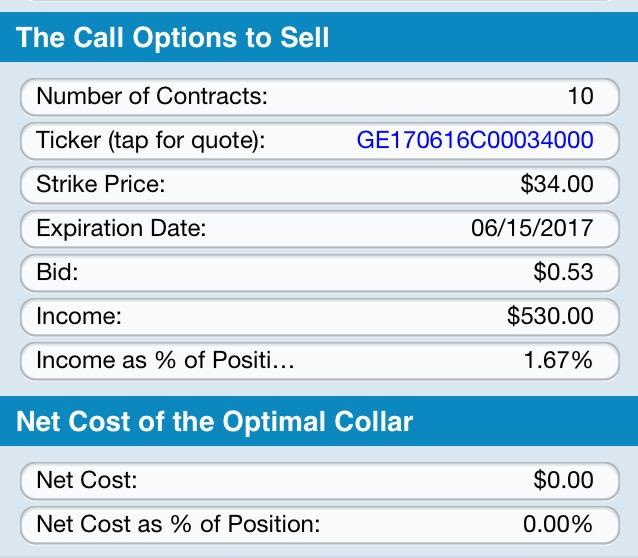 So the net cost here was zero. As in the optimal put hedge, the cost here was calculated conservatively, so, in reality, an investor opening this on Thursday would likely have collected a net credit when opening this hedge.
That we had to set the cap at 6% to wipe out the net cost on this hedge suggests option market participants are only mildly bullish about GE over the next several months.
Disclosure: I/we have no positions in any stocks mentioned, and no plans to initiate any positions within the next 72 hours.
I wrote this article myself, and it expresses my own opinions. I am not receiving compensation for it (other than from Seeking Alpha). I have no business relationship with any company whose stock is mentioned in this article.