Investors in U.S. fuel retailer Murphy USA (NYSE:MUSA) have been taken for a wild ride since the beginning of November as the company's share price has experienced a large amount of volatility following the U.S. presidential election. An initial plunge after it became clear that GOP candidate Donald Trump had won the contest was followed by a 22% rally in the subsequent two weeks amidst broader market gains (see figure). December has been grim, on the other hand, and Murphy USA's shares are about halfway back down to a multi-quarter low with only a week of trading remaining before the year's end.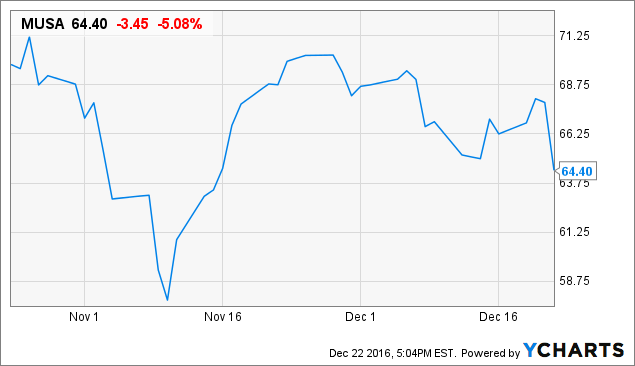 Two factors explain why concern among the company's investors is mounting. The first explanation is quite conventional. Murphy USA (and the fuel retail sector in general) has benefited from margin expansion ever since petroleum prices began to decline in the second half of 2014. Other things being equal, falling petroleum (and, by extension, gasoline) prices result in rising retail margins for both fuel and merchandise, the former as drivers reduce their comparison shopping and the latter as they take advantage of lower expenditures at the pump to spend more inside of the store itself. The decline in the price of retail gasoline from a high of $3.75/gal in 2014 to a low of almost $1.75 earlier this year generated high sales margins and volumes for Murphy USA, leading to multiple strong quarterly earnings reports and a 50% gain to its share price.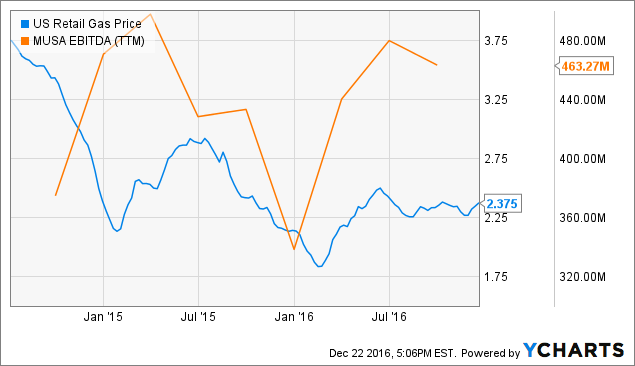 US Retail Gas Price data by YCharts
Margin compression was bound to occur at some point, however, as fuel prices eventually stabilized. Rather than stabilize, though, a few weeks ago, OPEC finally decided to reduce its petroleum output and thereby encourage higher prices. The WTI crude spot price jumped by more than 20% in just a few weeks (see figure), resulting in higher gasoline prices. Just as fuel retail margins expand as fuel prices decline, rapid price increases cause margins to compress as drivers resume their comparison shopping and spend less on merchandise. Some compression had already occurred by the end of Q3 just due to price stabilization, leading to a 24% YoY reduction to the average margin in that quarter and a large earnings miss in the same. A rapid price increase in Q4 raises the prospect that the average margin will fall by still more by the end of the quarter.
The second explanation for the share price's December performance is the growing influence of would-be reformer of the revised Renewable Fuel Standard [RFS2] and activist investor Carl Icahn in President-elect Trump's inner circle. Mr. Icahn controls the merchant refiner CVR Refining (NYSE:CVRR) via CVR Energy (NYSE:CVI) and the former has been incurring increasingly high expenditures on Renewable Identification Numbers [RIN], which are the RFS2's blending credits. Record average RIN prices in 2016 prompted Mr. Icahn to launch an extensive lobbying campaign aimed at both the media and the U.S. Environmental Protection Agency [EPA], the latter which oversees the RFS2's implementation. The goal of this campaign is to convince the EPA to change the definition of "obligated blenders" - i.e., those companies that are required to submit RINs to the government each year - from just refiners to a broader group that also includes fuel wholesalers and retailers.
Earlier this week the Wall Street Journal announced that Mr. Icahn is expected to be appointed a special adviser to Mr. Trump on regulatory reform with a remit that will likely include his proposed reform to the RFS2. The implementation of his proposal would be advantageous for merchant refiners in that it would reduce their individual blending obligations and, by extension, their individual RIN expenditures. Fuel retailers, on the other hand, would join refiners under the proposal in being required to submit RINs to the EPA each year. At present, these fuel retailers (and wholesalers) are able to sell the RINs generated by their blending operations instead, so the proposal would eliminate one of their high-margin revenue streams.
Just how high margin varies by retailer. Murphy USA's quarterly reports provide some indication of the value of the RIN sales, however, and it is not inconsequential. The company has generated $153 million from these transactions in the TTM period ending last Q3, up from $93 million in 2014 and only $9 million in 2012. The rising value of these sales has coincided with a sustained rally in RIN prices since the end of 2014 (see figure). This has equaled $0.038/gal over the TTM period, not an inconsiderable amount compared to the total average fuel retail margin of $0.12/gal over the same period. Ethanol has traded at a premium to gasoline on an energy-equivalent basis in recent years so Murphy USA's RIN sales do not have a 100% profit margin, but this value is still quite high.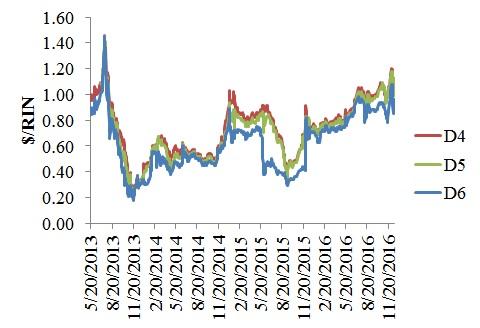 Source: EcoEngineers (2016)
Murphy USA was on track at the end of Q2 to generate $164.2 million from its RIN sales in 2016. RIN prices have increased further since then, however, and the company is now on track to generate $181 million for the full-year period. For comparison, the consensus analyst estimate for its EBITDA in 2016 is currently $398 million. Suffice to say that being required to submit to the EPA even a fraction of the RINs that it currently sells onto the market would have a decidedly negative impact on Murphy USA's earnings. The retailer is not alone in this regard: fuel retailer Casey's General Stores (NASDAQ:CASY), which also sells RINs but has greater exposure to merchandise sales than its peer, fell by more than 3% on the news of Mr. Icahn's appointment.
Conclusion
None of this is to say that Murphy USA's investors should consider selling their shares based on recent developments. The average analyst share price target of $83 is 29% higher than its price at the time of writing, and analysts have grown increasingly bullish about its outlook since October as its price has fallen. That said, the company's investors should be aware of the potential for headline volatility now that Mr. Icahn's role within the upcoming Trump administration has been formalized. While Mr. Icahn's proposed reform will be opposed by oil & gas majors (while these companies are required to submit RINs to the EPA through their refining operations, their retail operations are believed to produce RIN surpluses that are sold onto the market), heralding a lengthy lobbying and possibly legal fight, the impact that the news of his appointment has had on fuel retailer share prices is a sign of things to come.
Disclosure: I/we have no positions in any stocks mentioned, and no plans to initiate any positions within the next 72 hours.
I wrote this article myself, and it expresses my own opinions. I am not receiving compensation for it (other than from Seeking Alpha). I have no business relationship with any company whose stock is mentioned in this article.