In trading and investing it is usually a good idea to step away from headlines and markets' momentum to concentrate on value. One stock, which showed up on my radar screen is AB InBev's (NYSE:BUD).
This enormous brewing company holds the top spot in the beer industry, controlling about one third of the global beer market. BUD accounts for nearly 30% of global beer sales and 46% of global beer profits. In the U.S., AB InBev retains its leading position with 44% share in the beer market, while Molson Coors (NYSE:TAP) has grown to become the second-largest brewer controlling about 25% market share.
The stock has recently declined nearly 28% from 135 to 98. The decline is justified based on several reasons: The stock was expensive; restructuring took place, which produced uncertainty; dividend yielding stocks fell out of favor when interest rates began to rise; and the whole Alcoholic Beverages industry has suffered. The following chart illustrates that fact:

The basic technical chart below shows how the stock got oversold. Every time I see an oversold condition for an industry leader, I start looking for red flags like accounting problems or scandals or total mismanagement or massive loss of market share… In the case of BUD I didn't find any of that. I found a normal cyclical decline and valuation adjustments. Those declines typically don't last long.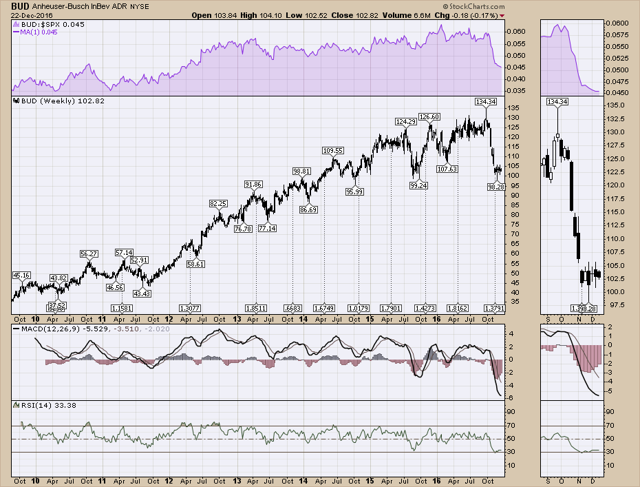 Now, what will work for BUD in the future?
The U.S. added around 4.6 million new beer drinkers in 2014, the largest number of new twenty-one-year-olds since the Baby Boom. According to Nielsen, while craft beer forms 10% of all beer purchases outside the home for the older generation, the figure stands at 15% for younger customers between ages 21 to 27, and is growing by two percentage points each year. BUD will look to capitalize on this large group of potential beer drinkers by targeting future advertisements for Budweiser specifically at the younger population. I also hear a lot of talk about the cannabis industry taking over the beer industry. I don't think it makes a dent at this point. It is way too early or ever to worry about this hypothesis.
Increasing disposable incomes and falling unemployment rates should boost sales of premium beers going forward, thereby improving the average revenue generated by breweries. The unemployment rate fell to below 5% in 2016. Per capita disposable income in the country, which grew by 1.2% between 2009-2014, is expected to grow 2.2% through 2019 to over $42,000.
The Chinese beer market grew by 6.8% annually between 2010-2015 to $33 billion, still 15% smaller than the U.S. beer market. The value of the Chinese beer market is expected to rise by 45% by 2017, mainly due to growth in premium beer brands such as Budweiser. According to Deutsche Bank, while China drinks a quarter of the world's beer, it accounts for only 3% of brewers' profits, due to low premiumization. This signals growth potential for premium beer brands in China, which according to Anheuser-Busch, are growing around 2.5 times faster than the overall industry.
The average analysts' price target for the stock is 126 with a range of 108 to 141. The stock is trading around 102, which means that the least optimistic target is still 6% above the current price. Keep in mind that the stock has a good dividend yield of about 3.4%.
My analysis is not designed for short-term traders in this particular case. I believe this under-the-radar stock will find its way into 120+ levels sometime in 2017. Buying it around current levels down to mid-90s levels represents good value in my book.
Take a look at this stock next time you open a cold one!
Disclosure: I/we have no positions in any stocks mentioned, but may initiate a long position in BUD over the next 72 hours.
I wrote this article myself, and it expresses my own opinions. I am not receiving compensation for it (other than from Seeking Alpha). I have no business relationship with any company whose stock is mentioned in this article.