The investment case for Hartford Financial Services (NYSE:HIG) is based on the core ROE of the group, when measured to exclude Talcott Resolution, an annuities business that is in run-off.
Present group ROE is about 7.6%, while that of the group excluding Talcott is 9.1%. Of the two main divisions ex Talcott, P&C insurance typically generates 11% ROE while Group Benefits comes in at 9.7%. P&C comprises a dynamic small commercial segment business that is extending its industry focus and personal lines, primarily auto insurance. The difference between the ex-Talcott group ROE and the individual divisions' ROE is explained by centralized costs.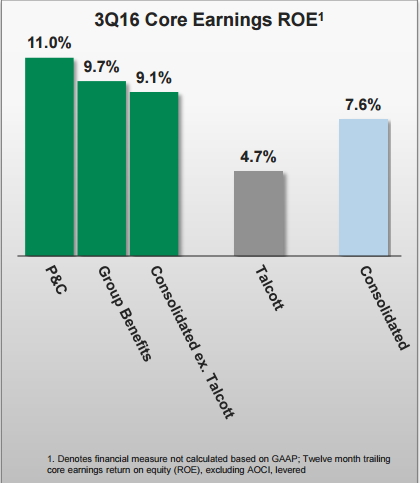 Company data
Hartford has hired JP Morgan Chase to find a buyer for Talcott. This article in September mentioned an unsubstantiated list of buyers including Apollo Global Management, Berkshire Hathaway and JC Flowers & Co. as potential acquirers.
Before Talcott is sold, the run-off is generating cash that is being used for a strong buy back facility. It's also the case that the prospect of higher interest rates should make a variable annuities business for sale somewhat more attractive, of course, but my own interest comes from what the buybacks are going to do to the Book value per share of this stock.
Start with what we can establish objectively, namely 3Q 16 BVS, which was $48.3. At $48.16 per share, Hartford is trading on 1x BV. As capital is freed by the lower business volumes at Talcott, the share count of Hartford is falling rapidly. Look for 386 by year end 2016, then 370 and 350 by 2018.
Let's take Hartford's current rate of BVS growth, around 6%, and project it to 2018, which gets us to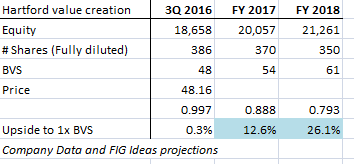 Investing now, you can look forward to 26% upside due to the moderate BVS growth from all divisions combining with a sharp reduction in share count to end 2018. To that add a yield of just under 2% annually. 1x BV for a 9% core ROE is reasonable in a business such as this which is of low risk (as a reference, banks typically price of 10% cost of equity and they are generally more volatile businesses than the likes of HIG)
It's important for Hartford to improve the performance of its auto insurance book. The ex-cat combined ratio in auto is a little over 100% and the company aims to raise pricing by 7% across the book. This has led to a decline in New Written Premium which is a sign that pricing is improving (it's good when established insurers walk away from business given the soft pricing backdrop, especially in saturated lines like auto).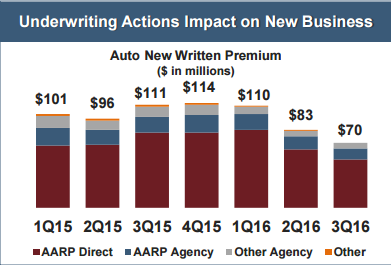 Note that in the valuation exercise above, we assumed core ROE will continue at around 9%, so improved auto book margins will increase the warranted valuation by raising ROE. There is no need to assume any particular level of improvement in Auto as yet however, since we have attractive value anyway by virtue of the buyback program.
Conclusion
Hartford is trading on a core PE of 10-11x, with a 2% yield and rapid growth of BVS. At sub 1x BV for 2018 there is a mechanistic quality to the outlook for book value growth that adds another dimension to this story over and above interest rate gearing and a potential Talcott disposal. I don't see the S&P increasing 26% in the next two years, but in any case, The Hartford is a buy.
Disclosure: I/we have no positions in any stocks mentioned, and no plans to initiate any positions within the next 72 hours.
I wrote this article myself, and it expresses my own opinions. I am not receiving compensation for it (other than from Seeking Alpha). I have no business relationship with any company whose stock is mentioned in this article.