Blackstone Mortgage Trust (NYSE:BXMT) is an interesting income and yield play for dividend investors. The real estate finance company has excellent credit quality stats and robust dividend coverage. Positive interest rate sensitivity and expert property management expertise support the bull case. An investment in Blackstone Mortgage Trust throws off a 8.10 percent dividend.
The last time I covered Blackstone Mortgage Trust was in June 2015 after the company said that it was acquiring a $4.4 billion loan portfolio from GE Capital (Yes, it was a 'Buy' back then). Fast forward eighteen months, and the real estate finance company still looks like a good income bet in my opinion. But this time it is largely because the REIT is primed to pull in more money from its floating-rate loan portfolio as short term interest rates get a lift.
Blackstone Mortgage Trust Real Estate Platform
Blackstone Mortgage Trust invests in loans and securities that are backed by commercial real estate assets. Typically, Blackstone Mortgage Trust looks to invest in loans with sizes ranging from $50-$500 million with an LTV of 50-80 percent.
Blackstone Mortgage Trust leverages its large real estate platform and invests in all real estate sectors from office properties to hotels.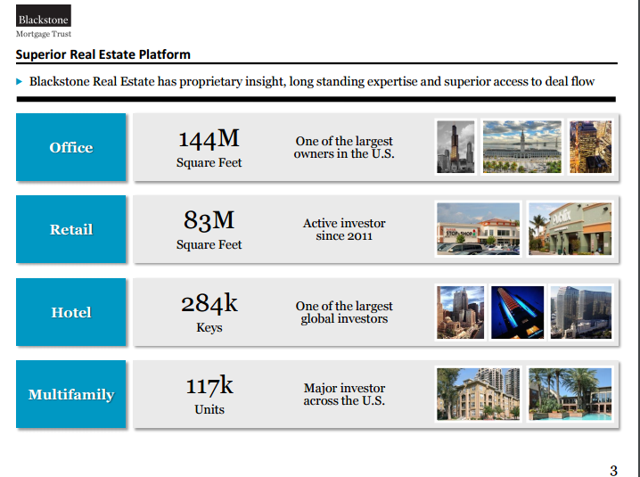 Source: Blackstone Mortgage Trust
Blackstone Mortgage Trust's investment portfolio is diversified along multiple property types and geographic locations, insulating the Real Estate Investment Trust from downturns in local property markets.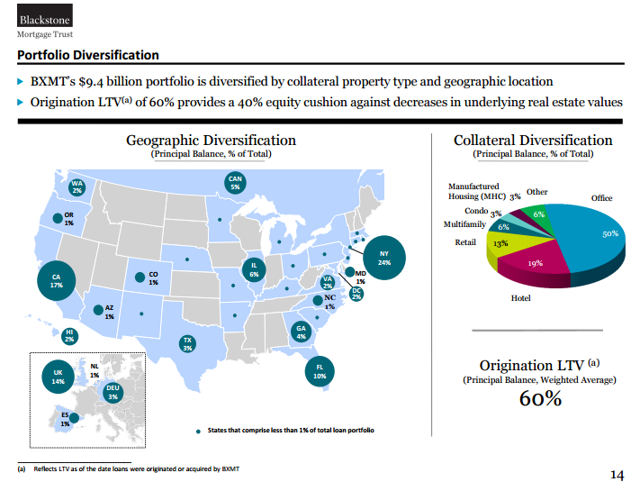 Source: Blackstone Mortgage Trust
Excellent Credit Quality
Credit quality - expectedly - is a big issue for loan originators and investors in real estate finance companies that deal with such investment loans.
Blackstone Mortgage Trust's loan portfolio is fully performing, underscoring the high quality of its loans.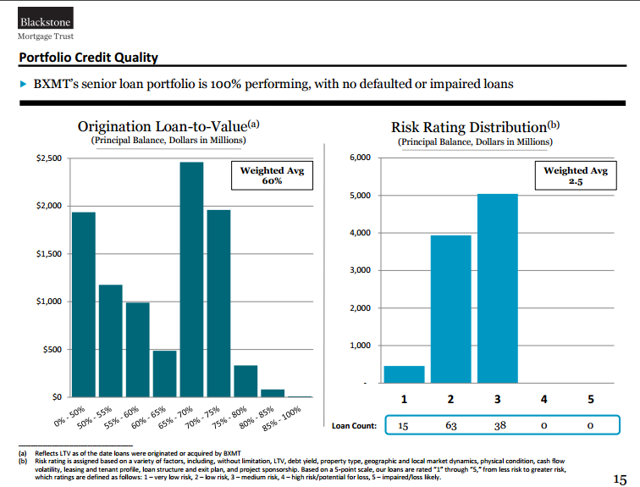 Source: Blackstone Mortgage Trust
Positive Interest Rate Sensitivity
With the Federal Reserve being on the cusp of more interest rate hikes in 2017, positive interest rate sensitivity is a desirable feature that we income investors look for in an income producing investment.
Blackstone Mortgage Trust's loan investment portfolio is 86 percent floating-rate, thereby lending positive interest rate sensitivity to an investment in this real estate finance company. Higher short term interest rates mean higher net interest income, and potentially also imply a higher dividend in the not too distant future.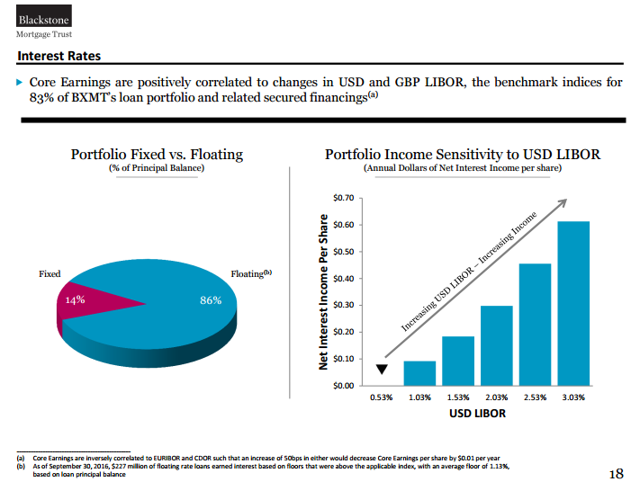 Source: Blackstone Mortgage Trust
Blackstone Mortgage Trust estimates that a 1 percent increase in the US LIBOR rates translates into a $0.19/share boost to net interest income.
Dividend Payout Easily Covered By Core Earnings
Blackstone Mortgage Trust pays shareholders an 8% dividend, and the dividend has easily been covered by the REIT's core earnings.
See for yourself.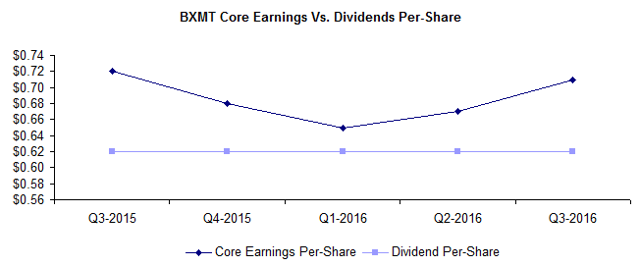 Source: Achilles Research
Blackstone Mortgage Trust's core earnings payout ratio is well below 100 percent. The lower the payout ratio, the more headroom for Blackstone to grow its dividend.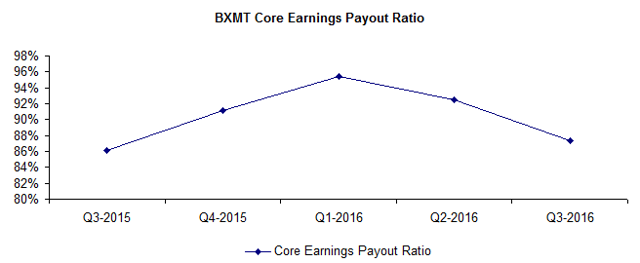 Source: Achilles Research
Not Overvalued
In order to get access to Blackstone Mortgage Trust's covered eight percent yield, investors have to pay ~10.8x Q3-16 run-rate core earnings.
Your Takeaway
Blackstone Mortgage Trust brings a lot to the table for an eight percent yielder. The real estate finance company has great dividend coverage, which could actually improve even more if the central bank continues to move along the interest rate curve in 2017. Solid credit quality and moderate LTVs are other positives. Buy for income and capital appreciation.
If you like to read more of my articles, and like to be kept up to date with the companies I cover, I kindly ask you that you scroll to the top of this page and click 'follow'. I am largely investing in dividend paying stocks, but also venture out occasionally and cover special situations that offer appealing reward-to-risk ratios and have potential for significant capital appreciation. Above all, my immediate investment goal is to achieve financial independence.
Disclosure: I/we have no positions in any stocks mentioned, and no plans to initiate any positions within the next 72 hours. I wrote this article myself, and it expresses my own opinions. I am not receiving compensation for it (other than from Seeking Alpha). I have no business relationship with any company whose stock is mentioned in this article.