Introduction
I am still looking for additions to my portfolio, and still searching for decent opportunities in the healthcare sector. In my previous article, I analyzed Becton, Dickinson (NYSE:BDX), and found it to be a great company. As I also own Medtronic (NYSE:MDT), I decided that it would be wise to compare the two, as they both operate in similar industries. Hopefully, it will help me choosing between the two.
A comparison between the two should check which company seems more attractive using my analysis thesis. Again, investments are more personal than it seems. Even when one company seems like a "better" investment, an investor might prefer a different one because he gives more weight to different aspects. I use the following flow chart that was introduced in a previous article.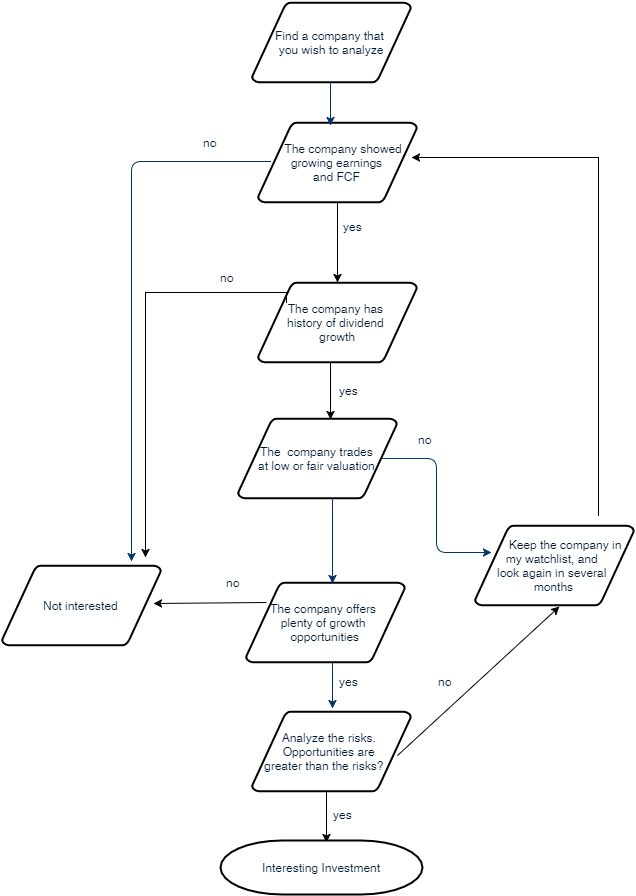 Medtronic manufactures and sells device-based medical therapies worldwide. The company is a leader in cardiovascular devices. Its Cardiac and Vascular Group segment offers pacemakers and cardiac resynchronization therapy devices. The company is well-diversified and offers orthopedic devices as well. It serves hospitals, physicians, clinicians, and patients.
Fundamentals
As you know, I start by looking at the EPS and FCF growth over the past several years. Just like BDX, with its acquisition of CareFusion, Medtronic also made a significant acquisition. It acquired Covidien in order to expand even more its broad range of devices it offers. This acquisition started to show a positive effect on the cash flow generated by MDT, and according to the company's outlook, it is only the beginning, as synergies will contribute more to the bottom line in the coming years.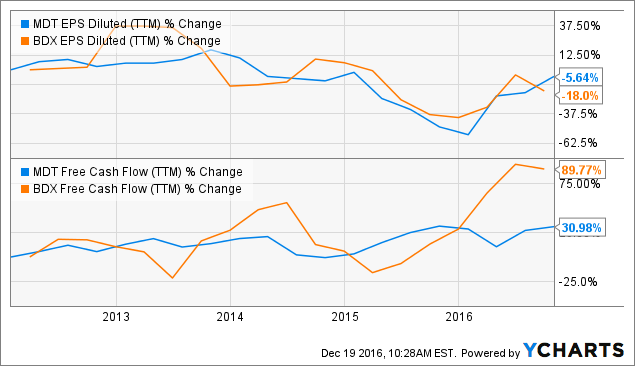 MDT EPS Diluted (TTM) data by YCharts
Revenues, as you can see, grew up very steeply because both companies made significant acquisitions. These acquisitions have their impact on revenues first, and only then on FCF and EPS, as companies manage to cut expenses. MDT still has more cost-cutting to do in order to have Covidien fully integrated into it and operate as one unit efficiently. However, the positive effect on the sales can already be seen.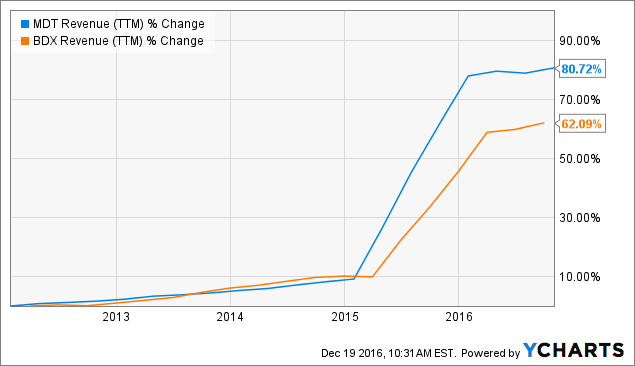 MDT Revenue (TTM) data by YCharts
The dividend here is very attractive. The yield is higher than 2.2%, which is similar to the average. The growth is fast, and MDT raised its dividend by double digits over the past decade. The payout ratio is highly sustainable. Again, just like in the case of BDX, the payout, which is sustainable at 50%, is much lower when using the FCF. It is actually closer to 30%. With plenty of room to grow and fair yield, I believe that MDT offers an attractive dividend.
MDT Dividend data by YCharts
Another advantage that MDT has over its peer is the buybacks. As I said before, I don't mind companies avoiding buying back their own shares aggressively. However, I appreciate it when they don't dilute me as a shareholder without a reason. MDT did dilute me when it issued new shares to buy Covidien. However, I found it to be reasonable. Moreover, the company is buying back its stock in order to negate some of the dilution.
When I look at the fundamentals, I prefer MDT. However, it is far from being a knockout. The reason is that it grows earnings quickly while offering a higher yield, and a buyback company. Still, BDX has fantastic fundamentals as well, but at the moment, for me, MDT seems to offer slightly more attractive fundamentals.
Valuation
The valuation here is tricky. Look at the charts below. It seems like MDT is much cheaper than BDX when analyzing the P/E ratio and the forward P/E ratio. Using the forward P/E, it seems like MDT is 10% more expensive than BDX, and therefore, MDT is more compelling from a valuation point of view.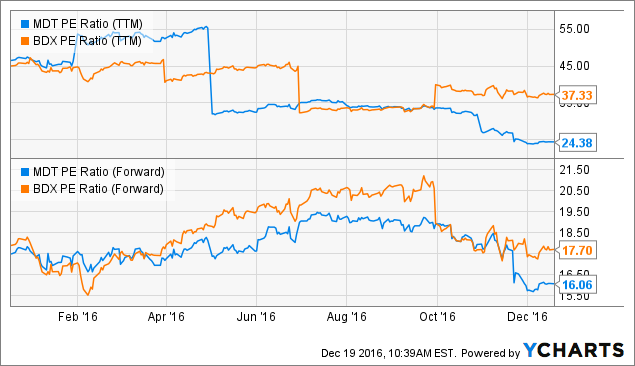 MDT PE Ratio (TTM) data by YCharts
Using P/B and forward P/S ratios give me about the same results. The valuation compared to sales is 10% cheaper. When I look at the P/B ratio, the gap is even wider. However, I usually look at the P/B compared to the average over the past several years, and both companies have expanded it. Still, even here, from a valuation point of view, MDT seems more attractive.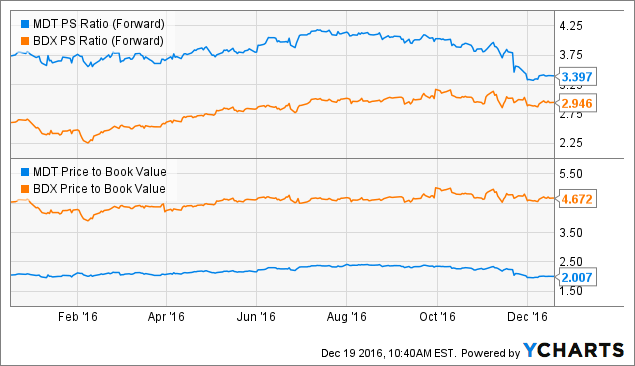 MDT PS Ratio (Forward) data by YCharts
However, when I analyze the valuation using the cash flow, I see a different picture. In this case, BDX seems much more attractive than MDT. The graphs below show that BDX trades for lower valuation when using the cash flow instead of earnings. Cash flow is where dividends come from, so it does make sense to evaluate a company using it.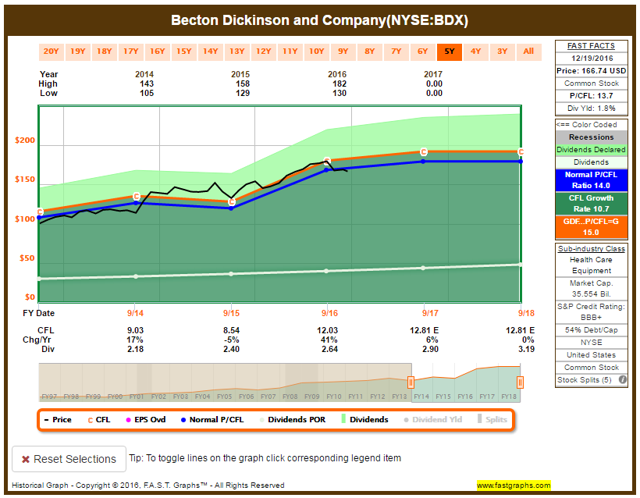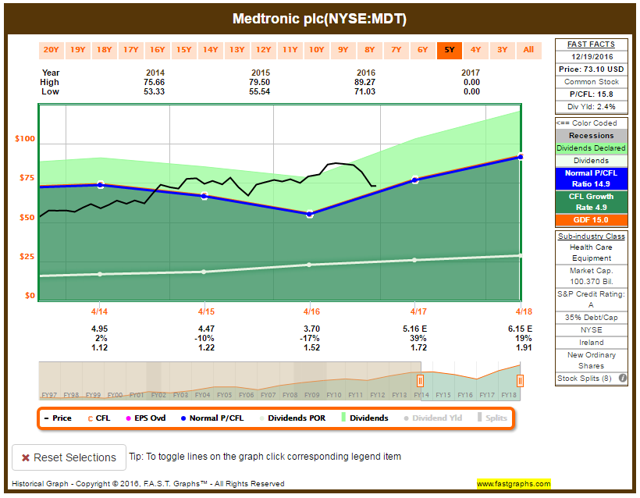 After analyzing all these metrics, I believe that it is a draw. I cannot really decide between the two from a valuation point of view. The fact that BDX is cheaper using the FCF is very meaningful. Both companies here report very different GAAP EPS and non-GAAP EPS. Therefore, I give a lot of weight to the valuation using the cash flow metric. On the other hand, MDT is also cheaper when looking at the P/S and P/B and therefore, it is a draw in my opinion.
Opportunities
The first opportunity I see with MDT is the sharp drop that the stock suffered from recently. According to my analysis of the fundamentals and valuation, the stock was oversold, especially when we look at the outlook for the company. It really reminded me the case of CVS (NYSE:CVS) when the shares plunged to less than $70 only to rebound over 10% very quickly. MDT now offers some margin of safety to investors.
MDT has two main strengths when looking at its business segments. I am very optimistic about its cardiovascular and orthopedic divisions. The company is investing a lot of capital to maintain its leading position and to offer new products with higher profit margins. It is similar to what BDX is doing with its diabetes care division. MDT is a much larger company, so it must concentrate on several divisions in order to create significant growth. Heart diseases are the number one cause of death in the western world while orthopedic problems damage the quality of life for millions in the U.S. alone.
MDT is a huge company. Its market cap is higher than $100 billion. It gives the company stronger pricing power. While the pricing power is limited by the fierce competition, the company can still use it in segments where competition is more limited. Its size allows it to be diversified as it owns different leading divisions, and like BDX diversified geographically, as emerging markets serve as a growth catalyst. It has a very strong brand, and the acquisition of Covidien made it an even more diversified company.
While MDT is more diversified and larger, which allows it to be more stable and have stronger pricing power, I still prefer the growth opportunities that BDX has. While they might seem similar, it is much harder to show consistent growth when you are already huge. I prefer BDX here, but again, it is not a knockout.
Risks
As I said before, risks are more important to me than opportunities, because if a major risk materializes, the whole investment thesis might collapse. The pricing power MDT owns might weaken as small companies will try to achieve market share in some key markets like cardiovascular devices. It might cause the margins to contract significantly, as MDT will battle to maintain its market share.
The strength of the USD seems more and more like a growing problem for companies operating outside the U.S. The recent rate hike and the plans of the Trump administration might push the USD further, and it will have a significant effect on the EPS for the short and medium term. This is the drawback of the exposure to the emerging markets as the USD is getting much stronger.
Like BDX, MDT might suffer from changes of the government regulations on healthcare. Moreover, MDT has moved its headquarters to Dublin, Ireland, which might seem wrong to the president-elect who keeps saying "Buy American, Hire American". Moreover, healthcare was a major issue during his campaign, and changes in the regulatory environment might influence MDT.
While the risks are pretty similar, I prefer MDT over BDX in this case. MDT's larger size will make it easier to deal with regulation changes. It is more diversified, and therefore, will be able to cope better with the uncertainty in the business environment.
Conclusion
My comparative analysis found two fantastic companies, and both of them will suit most investors. They have strong fundamentals, fair valuation, strong growth prospects and limited risks. Yet, I need to choose between the two. Using the same analysis, different investors might choose differently.
I chose MDT and bought some more shares for my portfolio. I preferred it due to the higher dividend yield and the fact that I believe that it will be able to deal better with the risks. I believe it also offers a higher margin of safety. The company is larger and more diversified, so it has more anchors in case the environment becomes harsher.
Other investors might choose BDX as it offers some more growth opportunities and better valuation based on cash flow. However, I will wait for a pullback in the share price. We saw it happening with MDT and with another peer Abbott (NYSE:ABT). Until this pullback happens, I am very confident with increasing my MDT position.
Disclosure: I am/we are long CVS, ABT, BDX, MDT. I wrote this article myself, and it expresses my own opinions. I am not receiving compensation for it (other than from Seeking Alpha). I have no business relationship with any company whose stock is mentioned in this article.