HanesBrands, Inc. (NYSE:HBI) caught my attention when I saw it trading in the low $20's. I don't often get excited about underwear, but below average multiples, earnings growth, and a discount to intrinsic value changed that.
Valuation
At $22 per share, Hanes trades at a P/E of 12.9 on a TTM basis and a P/E of 11.6 for the current year's estimates of $1.90 per share. Historically, the company traded at an average (10 year) annual P/E of 15.5. The five-year average is 14 times earnings. Figure 1.1 below illustrates where the earnings multiple has been against the 10 and 5 year averages.
Fig 1.1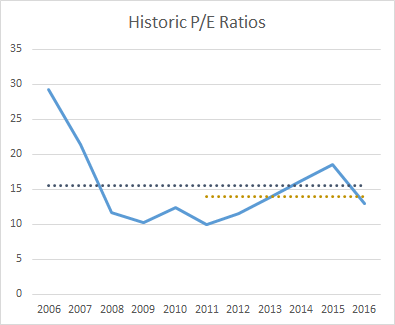 Source: Adapted from Value Line data
The P/E using the last four quarters implies HBI trades at a 17% discount to its five-year average (11.6 vs 14.0.) The P/E was this low back in 2012 when the stock traded between $6-9, which ran up to $33 in 2015.
Recent acquisitions like Knights Apparel, DBApparel, and Pacific Brands will drive sales. Because Hanes owns the majority of its production facilities and has a cost-efficient supply chain they are capable of increasing margins on these businesses to meaningfully impact the bottom line.
Debt
Long-term debt increased from $2.4 billion a year ago to $3.7 billion in the most recent quarter. This pushed the total debt/ equity ratio to 3.1 - the highest it has been since the crisis. Figure 1.2 below shows their loans stated in the last 10-Q. With a weighted-average interest rate of about 3.8% and a cost of capital of around 6%, they are acquiring companies with IRR rates in the mid-teens (according to figure 1.3 from their presentation.)
I expect over $500 million in free cash flow per annum going forward (you can take a look at my DCF below - to note, I assume a normalization in CAPEX) which gives us a debt-to-FCF of about 7.4. This is conservative given the company expects FCF of $800 million. Unless underwear goes out of style, I do not think HBI is too highly levered. Most of the debt is due in the next ten years and HBI has a BBB credit rating with Moody's. The investment-grade debt implies they should not have a problem refinancing if needed.
Liquidity ratios provided by Morningstar are stable:
Current ratio = 1.90
Quick ratio = 0.75
Accounts payable, short-term debt, accrued liabilities are higher but not out of line with historic figures
Fig 1.2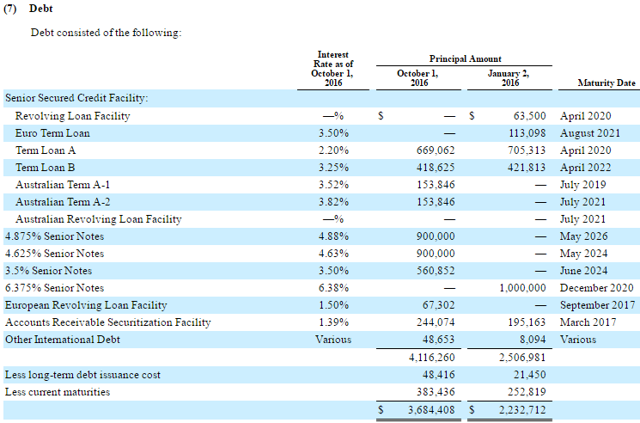 Source: SEC filings
Growth Opportunities
The average analyst EPS growth rate is 15% for 2017. Hanes has seen earnings growth of over 20% over the last five years and low-to-mid double digit growth is expected. Assuming a 15% EPS growth rate, the implied PEG ratio is 0.77. This is highly attractive; it is rare to find a cheap growth company with a sustainable business.
Hanes is able to achieve this from a few different factors:
Acquisitions add materially to their sales and profits (Figure 1.3).
The self-owned supply chain and manufacturing capabilities has allowed for margin expansion (net margin has increased from 6% five years ago to 12% today; operating margin has expanded from 12% five years ago to 17% today.) Figure 1.4.
Synergies from acquisitions, incorporation into supply chain leads to margin expansion and solid earnings growth.
80% of sales are domestic while they are positioned around the globe. Europe, the Pacific Rim region, and South America are key markets going forward.
Higher-margin products like activewear and additional brands that have pricing power are being incorporated into their business model.
Fig 1.3 - Investor Presentation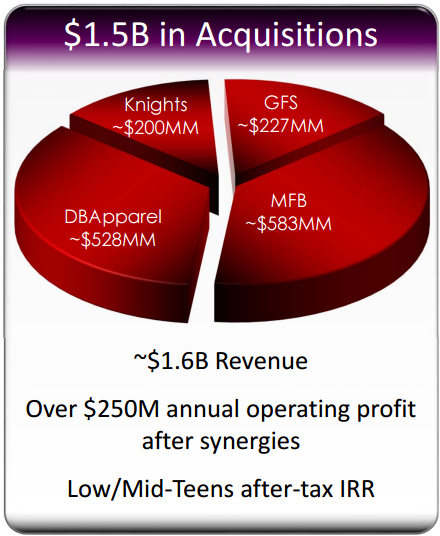 Fig 1.4 - Feb. 2016 Investor Presentation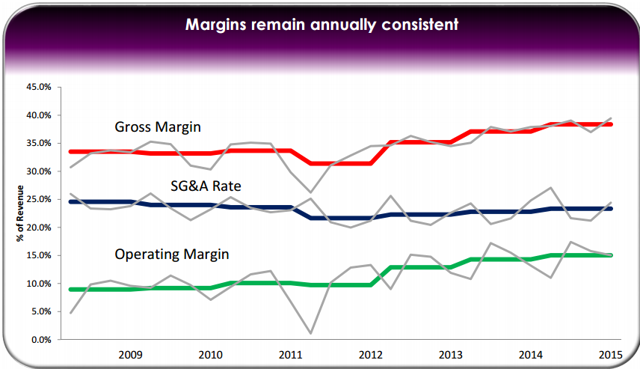 Yield
Hanesbrands started paying dividends in 2013 at $0.15 per share and is now $0.44 per share. The stock currently yields about 2%. The dividend is below that of the S&P 500 yield but is growing faster. As debt gets reduced on the balance sheet I expect Hanes to continue to raise its dividend - to note, the payout ratio is under 25% currently. Given its short history, I am encouraged by management's decision to pay and raise dividends. Year over year, they were increased "only" 10% from $0.40 to $0.44 - look for another 10-15% raise in 2017.
DCF Valuation
The company has a 29% upside according to my DCF model. I attached my core assumptions below. It is realistically conservative and does not factor any continued increasing margin efficiencies.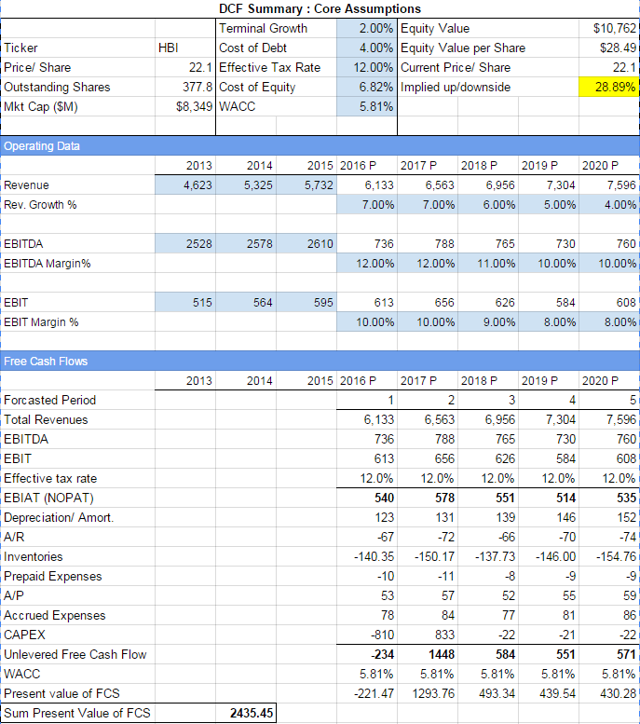 Source: Adapted from Morningstar data
Thesis
Hanesbrands is a worthwhile consideration at the current price. It has not found a bottom yet from its decline but the company looks fundamentally sound. Though levered, the company has a decent yield, attractive valuation, good growth, and real upside from the current quote.
Supporting Documents
Disclosure: I/we have no positions in any stocks mentioned, but may initiate a long position in HBI over the next 72 hours.
I wrote this article myself, and it expresses my own opinions. I am not receiving compensation for it (other than from Seeking Alpha). I have no business relationship with any company whose stock is mentioned in this article.