Allergan (NYSE:AGN) has been among the worst performing stocks of the S&P 500 in 2016, despite the company executing very well the integration of legacy Allergan with the old Actavis and they were able to sell the generics business to Teva (NYSE:TEVA) at a healthy 16x EV/EBITDA, just before the pressure on pricing in the generic space mounted in H2 2016.
There are two key reasons behind the bad performance in 2016:
1. The management has been involved in too many transformational operations in 2016, confusing the investor base that has thus lost faith in the management's abilities.
2. Negative earnings momentum with consensus for sales in 2017 decreased from around $17 bln to around $15.3 bln during the last few months.
Despite that, I like the company's long-term strategy and I think the management has pursued the right steps to poise the company for a bright future:
- Exiting the generics business was a right move, given the pricing competition in this space and the need for continuing investing and consolidating. Allergan has the aim to become a leading growth pharma company, so a presence in the generics space was not needed anymore.
- The failure of the transaction with Pfizer (NYSE:PFE) was a major dent to the sentiment, but was not caused by anything related to Allergan standalone, but just for all the noise about tax inversion.
- Estimates downgrade to a more reasonable level was needed because Allergan benefited in the past from higher than 10% pricing increase every year on some legacy brand and this practice is not sustainable anymore in the future.
So, looking forward, I think Allergan is strongly poised to outperform from the current valuation of 12x 2017 P/E for a series of reasons:
1. After the earnings revision sell-side consensus appears more reasonable; looking for 5% sales growth and 20% EPS growth in 2017, that should be feasible especially after the ASR made in November where the company used $8 bln for an accelerated buyback.
2. Recent LifeCell acquisition is a nice bolt-on acquisition, looking to strengthen the key Aesthetics franchise of Allergan and adding a new leg in the regenerative medicine space, with potential revenue and cost generics very likely to be generated given the dominant presence of Allergan in this space.
3. At 12x 2017E EPS, shares trade at the low end of the diversified biopharma group, despite a highly attractive portfolio of assets.
4. Allergan could benefit from a broad and underappreciated pipeline with several upcoming catalysts, having 10 to 12 assets with >$500 mln peak sales and with some high risk/high reward programs (Rapastinel, CGRP assets, DARPin and Cenicriviroc) that are entering ph3 studies.
5. The use of $30 bln net cash received by Teva for the generic business disposal has been exceptional, with $10 bln debt repayment, $15 bln buyback and $5 bln M&A for acquiring pipeline assets (e.g., Tobira) or immediately accretive assets (e.g., LifeCell).
Lastly, in terms of valuation, I think the market is still missing the value of the Botox/Aesthetics Franchise. These 2 businesses are the key pillars of Allergan's strategy in the future and would benefit to be like a consumer business, without reliance on pricing increase or expected pressure from the patent cliff.
I would show now what multiple is implied in the current 12x P/E 2017 valuation of Allergan, using a SOTP in order to classify Allergan's key drugs in 3 buckets and making the assumptions that Legacy Brands is composed by declining drugs with the highest profitability.
- Durable brands (Botox/Aesthetics)
- Branded Pharma/Recent Launches (Eye Care, Dermatology, GI + recent launches as Viberzi, Vraylar, etc.)
- Legacy Brands (Namenda, Minastrin, Asacol, Bystolic, etc.)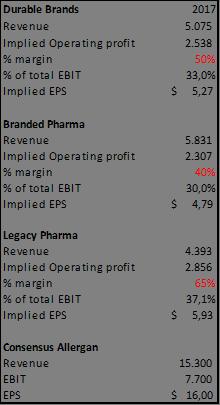 This analysis shows that even assuming a depressed 8x P/E valuation to the legacy assets and a valuation of 14x P/E (in line with sector) for Branded Pharma, the market is totally missing the quality of Botox/Aesthetics franchise that should at least trade at around 20x.
With solid management execution and positive earnings momentum expected in 2017, I believe Allergan could close the valuation gap with peers during 2017 and strongly outperform.
Disclosure: I am/we are long AGN.
I wrote this article myself, and it expresses my own opinions. I am not receiving compensation for it (other than from Seeking Alpha). I have no business relationship with any company whose stock is mentioned in this article.