Ormat Technologies (NYSE:ORA) designs, develops, builds, owns and operates geothermal and recovered energy-based power plants. Back in February, I wrote a Seeking Alpha article (Ormat: Clean Energy Is Powering Financials And Shareholder Value) and suggested the company was 25% undervalued. Since that time, the stock is up 38%. I apologize for my off-base analysis, but I am sure shareholders will forgive me.
In Q3, ORA reported record revenues, an increase of 13% yoy, and were evenly distributed across the electricity and product segments.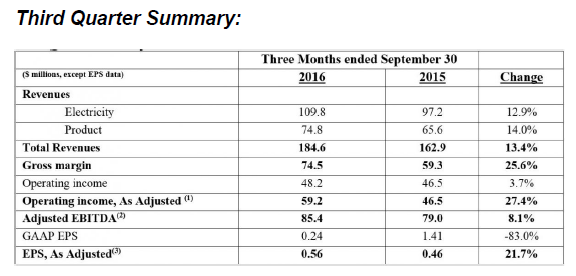 Total electricity generation increased 10.8% compared to the third quarter of 2015, from 1.1 million MWh to 1.3 million MWh. Adjusted EBITDA was up 8.1% as gross margins improved a whopping 25.6% on increased operating efficiencies.
And the company is not resting on its laurels. Since the Q3 EPS release on November 7th, the company has (details here):
Sold a 36.75% equity interest in the second phase of the Don A. Campbell geothermal power plant in Nevada for $44.2 million. That implies a healthy 11.5x EBITDA multiple.
Issued $92.5 million in senior secured notes due in 2033 at 4.03%. Such attractive interest rates on long-term notes is testament to confidence in company's long-term power purchase agreements.
Announced it entered into a 25-year Power Purchase Agreement with Southern California Public Power Authority to deliver electricity from its Ormesa geothermal complex in Imperial Valley, California, beginning November 30, 2017. The contracted capacity is for 35 MW, and the power will be sold at $77.25/MWh with no annual escalation.
Signed a $36 million contract to provide Cyrq Energy with one air-cooled ORMAT® ENERGY CONVERTER for the Soda Lake geothermal power project in northern Nevada. The project is expected to come online in the first half of 2018.
In other geothermal news, Chevron (NYSE:CVX) announced yesterday that it sold its geothermal assets in Indonesia and the Philippines. Terms were not announced, but Bloomberg had previously reported the assets were valued at around $3 billion. Assets included Chevron's Indonesia Salak field - one of the world's largest geothermal power plants with a total capacity 377 MW. It is important to note that Chevron did not sell these assets because of any loss of faith in the geothermal energy. The company saw strong demand for the assets and is in the midst of an asset sale program to pay down debt after the low-price commodity downcycle.
According to a recent company presentation, Ormat has reduced its net debt-to-adjusted EBITDA to 2.1x and net debt to capital is 57% to 37% over the past three years. Meantime, cap-ex/MWh - a measure of efficiency - continues to improve with a resulting increase in margins.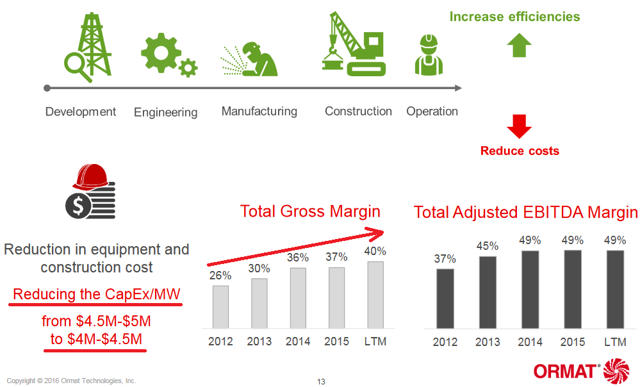 Source: Ormat Investor Presentation
As margins increase, shareholders benefit in two ways:
Financial returns.
Improving geothermal efficiencies lower the cost of supply and will lead to more geothermal projects.
As a result, Ormat has been able to deliver strong and consistent (albeit not spectacular) EBITDA growth.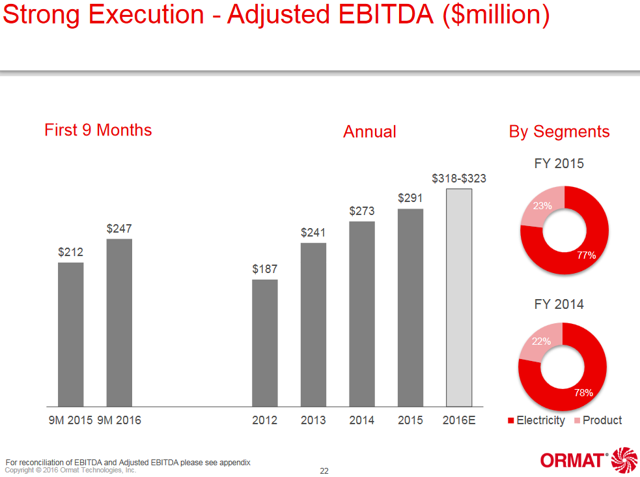 Summary and Conclusions
Ormat is one of the world's leading geothermal clean energy owners/operators. The future looks bright, and the company is making all the right moves. As I explained in my first article, Ormat has a dividend policy of paying ~20% of profits to shareholders. The dividend is lumpy with the largest payment typically paid out in March after the release of full-year results. However, although Ormat can be viewed as a "utility" company, the investment thesis is more of a capital appreciation theme as it is for income. Shares could rise another 20% in 2017.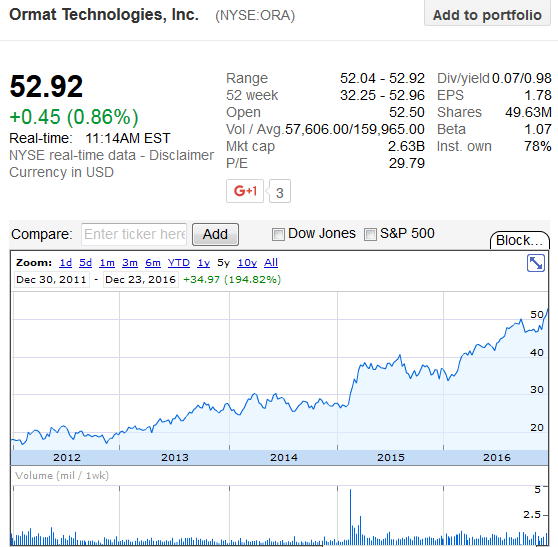 Disclosure: I am/we are long CVX.
I wrote this article myself, and it expresses my own opinions. I am not receiving compensation for it (other than from Seeking Alpha). I have no business relationship with any company whose stock is mentioned in this article.
Additional disclosure: I am an engineer, not a CFA. The information and data presented in this article were obtained from company documents and/or sources believed to be reliable, but have not been independently verified. Therefore, the author cannot guarantee their accuracy. Please do your own research and contact a qualified investment advisor. I am not responsible for investment decisions you make. Thanks for reading and good luck!