On January 20, 2017, President-Elect Donald Trump will become America's 45th President and from a global stock market point view his first 100 days, as well as the next four years of a Trump administration, should be interesting. Wall Street hates nothing more than uncertainty and surprises and with a Trump administration the markets should get a continuous stream of both that should generate some serious volatility. It seems the President will mostly attempt to govern through his Twitter (NYSE:TWTR) feed because he seems to be addicted to it. You can't blame him for doing so because his Twitter feed helped him to get elected. President Trump is obviously not a big fan of the press and will use his feed to circumvent it and speak directly to the public.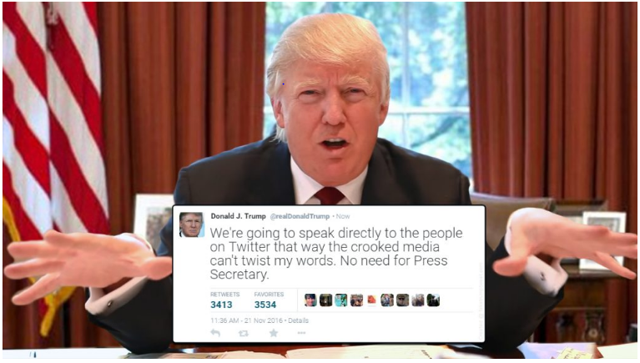 A large part of my job these days has been reading Trump's tweets as each one can cause billions of dollars in trading in each direction. The hardest job to have in the Trump administration will go to Sean Spicer, the newly appointed White House Press Secretary.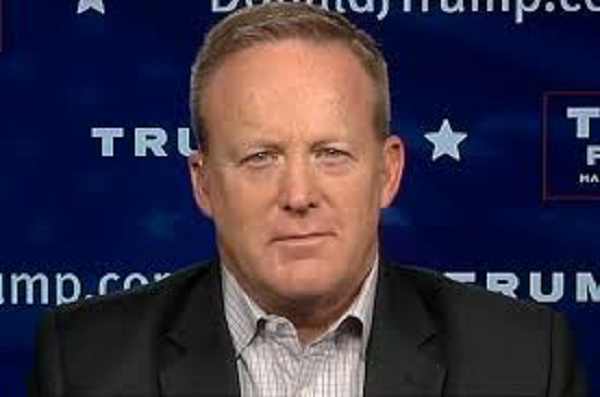 Mr. Spicer went on the usual talk shows after being appointed and right from the start had to try and clarify what President-Elect Trump had just tweeted in regards to Nuclear weapons: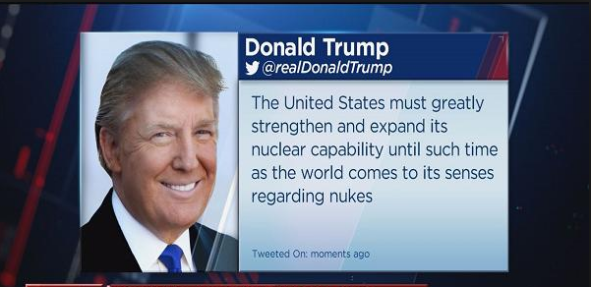 Mr. Spicer also had to deal with Trump's comments during an off-air conversation with Mika Brzezinski of MSNBC, the President-elect surprisingly said of nuclear proliferation, "Let it be an arms race, we will outmatch them at every pass. And outlast them all."
Spicer a half hour later told TODAY's Matt Lauer, " There is not going to be" an arms race, forced to clarify Trump's comments that the MSNBC morning show reported on earlier in the day.
Obviously with Trump having such a hawkish tone, the smart move for an investor to make is to invest in the Defense industry, because this tone sounds very similar to President Reagan's "600 Ship Navy" strategy that boosted military spending by government considerably during his entire term and eventually helped the US win the Cold War.
So, if you are going to invest in defense then the smart move is to invest in the most profitable and largest defense contractor Lockheed Martin (NYSE:LMT), which I have done as it is still an amazing bargain based on its strong free cash flow generation as my quantitative chart below shows.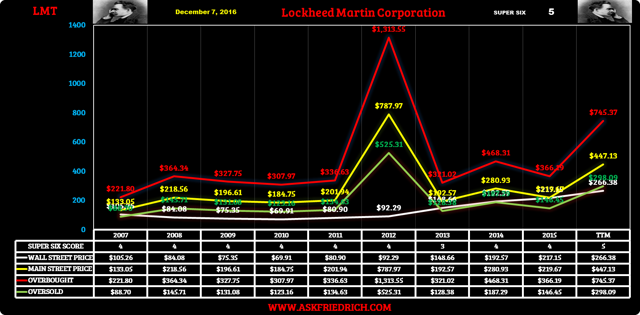 If President Trump's objective is to expand the US Nuclear Arsenal, then he must go to Lockheed Martin in order to do so:
Lockheed Martin (United States) is responsible for the construction of the Trident II (D5) nuclear missiles for the US and the UK. It is also involved in the production and maintenance of the Minuteman III nuclear intercontinental ballistic missiles for the US. It is part of the joint venture AWE-ML, which manages the UK Atomic Weapons Establishment, that designs, manufactures and maintains nuclear warheads for the UK.
So, under a Trump administration Lockheed Martin will greatly benefit as will its chief rival Boeing (NYSE:BA). After the news broke that Donald Trump had won the Presidential election both Boeing and Lockheed Martin shares erupted to the upside, as many investors clearly saw what I did, but Lockheed Martin has since retraced a bit due to various Trump Tweets that have surfaced.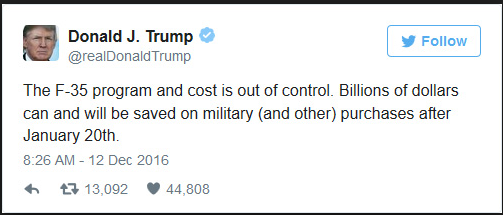 Then after meeting with the CEO of Lockheed Martin, Marillyn Hewson he then tweeted this: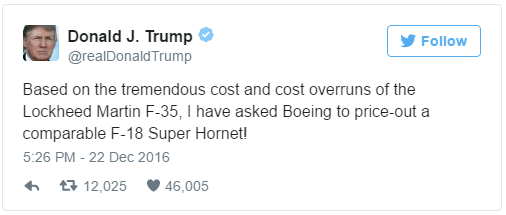 And this all happened on the day that this news was announced by Seeking Alpha:
Lockheed inks $1.5B Patriot system deal
Lockheed Martin (NYSE: LMT) has been awarded a $1.5B foreign military sales contract to upgrade Patriot missile defense systems in South Korea, Taiwan, Saudi Arabia, Qatar and the UAE.

Work is slated for completion in 2020.
Then in order to attain Donald Trump's goals for a much stronger military we get this news as well:
The U.S. Navy says it needs as many as 355 ships, according to the Force Structure Assessment sent to Congress today, up from its current fleet of 272 ships and above a previous goal of 308, in line with a goal expressed by Pres.-elect Trump.

Such a program could mean increased sales for General Dynamics (NYSE:GD) and Huntington Ingalls (NYSE:HII), the top producers of combat vessels, as well as Lockheed Martin, with its Aegis combat system, and Raytheon (NYSE:RTN), which makes electronic combat systems and the new Air and Missile Defense Radar.

The Congressional Research Service estimates a 350-ship Navy would cost an average $4B/year extra above the current $16.3B/year forecast for new ship construction through 2021.
So, it seems that history is repeating itself, but if one wants to increase the size of the nuclear arsenal and increase the size of the military then one has to use Lockheed Martin for all of the above.
The reason for the F-35 cost overruns is because the F-35 does not just come in one model, but actually comes in three variants and each serves a different purpose. Therefore, just like when adds special options to a new car that one is looking to buy, it costs much more to make three separate versions of an aircraft, rather than one. Here are three versions as described by Lockheed Martin: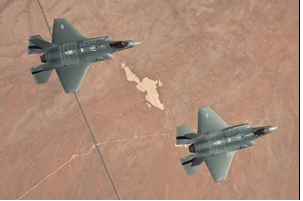 The F-35A conventional takeoff and landing (CTOL) variant is designed to operate from conventional runways, and is the only version to carry an internal cannon. The F-35A will be the most prevalent variant of the F-35. The U.S. Air Force as well as the majority of allied air forces and Foreign Military Sales (FMS) Force nations will operate the F-35A, replacing their 3rd and 4th generation aircraft.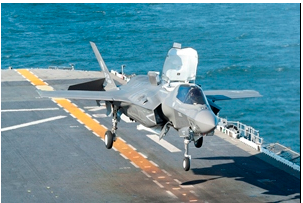 The F-35B model short takeoff/vertical landing (STOVL) variant is designed to operate from austere, short-field bases and a range of air-capable ships operating near front-line combat zones. The F-35B can also take off and land conventionally from longer runways at major bases.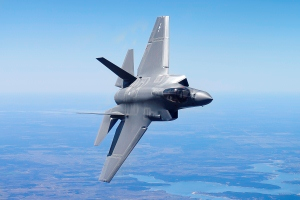 For the first time in U.S. Naval aviation history, radar-evading stealth capability comes to the carrier deck. The F-35C carrier variant (CV) is the Navy's first stealth fighter and the world's only 5th Generation, long-range stealth strike fighter designed and built explicitly for aircraft carrier operations.
The Boeing Super Hornet that President Elect Trump tweeted about is just one model and is not a pure stealth aircraft and can never do what the F-35 can. Boeing's plan is to take the Super Hornet out of production by 2020, but those plans may have changed now after this latest tweet. So good news for Boeing shareholders.
Plane production as we have seen with Boeing's Dreamliner 787, takes more than a decade to go from the drawing board to testing, then production and finally mass production as there are always hiccups along the way. It was that way when the Boeing 747 went into production in the 1960's and will always be that way as fighter jets are highly complex machines and the more bells and whistles you add, the harder it is to get everything working together smoothly. This is because most parts on the F-35 are new and innovative, such as its incredible stealth technology. So, if President Trump wants to build the strongest and most powerful military on earth, then the technology advantage of the F-35 is clear vs. a Boeing Super Hornet. Now if he wants to wait and have Boeing redesign the Hornet to have it do what the F-35 can do now, then he will never see it fly over the next 8 years, (if he were to be re-elected) as it needs to be redesigned.
Thus, investors in Lockheed should not worry that much because it is clear from his rhetoric that a President Trump will always be hawkish when it comes to defense and I believe he will always give the military whatever it asks for and the F-35 fighter is the all-out favorite, based on the thousands of orders that were made by the combined branches of the military. No other fighter has ever been built to serve all branches of the military like the F-35 has, thus a replacement would need years to be developed and produced.
So, for those who own Lockheed Martin shares, I would not worry too much about President Trump's tweets, as there are only a hand full of defense contractors that can build an F-35 or that are designed to serve the military as a contractor, like Lockheed Martin is.
Going forward there has been a massive paradigm shift in the world as a result of the Trump election and going into 2017 and beyond investors must expect to see a great deal of Tweets from a President Trump, as his twitter account is his bully pulpit and there is nothing investors can do to stop him from tweeting. So expect major volatility in any company he decides to tweet about. It is every investors responsibility to track his tweets as you never know when a company you own is going to be in his cross-hairs or not. One day it could be Apple (NASDAQ:AAPL) or the next day it maybe Amazon (NASDAQ:AMZN). The only way to stop him is through an act of Congress and I don't see that happening anytime soon.
Disclosure: I am/we are long LMT, BA.
I wrote this article myself, and it expresses my own opinions. I am not receiving compensation for it (other than from Seeking Alpha). I have no business relationship with any company whose stock is mentioned in this article.
Additional disclosure: DISCLAIMER: This analysis is not advice to buy or sell this or any stock; it is just pointing out an objective observation of unique patterns that developed from our research. Factual material is obtained from sources believed to be reliable, but the poster is not responsible for any errors or omissions, or for the results of actions taken based on information contained herein. Nothing herein should be construed as an offer to buy or sell securities or to give individual investment advice.