Every month, we get an update from the European Alternative Fuels Observatory regarding sales of electric vehicles. In late November, I detailed how the numbers were not looking good for Tesla Motors (NASDAQ:TSLA). Well, now that the site has provided another update, we can see that Tesla has continued to fall further behind 2015's pace, especially on the Model S. Take a look at the chart below.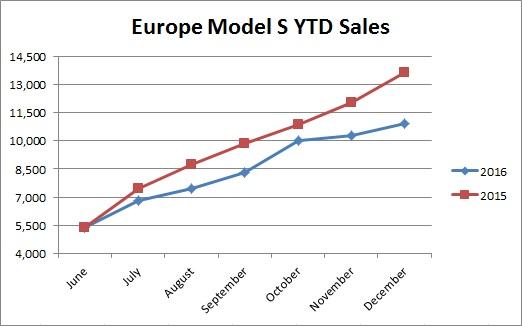 (Source: EAFO site)
From the November to December update, 630 Model S units apparently were delivered. As a comparison, almost 1,600 units were delivered in the year-ago period. Through the most recent update, Tesla is down over 2,700 Model S units compared to the 2015 period. The Model X is a little over 2,600 units, but that means less than 400 X units since the prior month's update. So even though Tesla launched a new model, it is still down 118 units as compared to the same period a year ago. The main culprits are below.
Denmark has seen just 58 Model S units so far compared to 1,488 in the year-ago period. In fact, 59 Model X units are more than total sales of the Model S, and the X hasn't been on sale for the full year there.
Norway has seen 1,788 Model S units so far, compared to 3,666 in the year-ago period.
The math also seems to be even tougher going forward. Between the "year to date" update and the 2015 total, the site shows exactly 3,000 Model S units being delivered. Almost 1,250 of that comes from Denmark alone, where tax breaks expired at the end of the year providing a big sales rush. With just 58 Model S units sold in the year to date figure, how is Tesla going to match those 1,200 sales in the final part of the year for that country?
When we add these numbers to the lightly rumored first two months of the quarter in the US as I previously discussed, it means that a lot of pressure will be on Tesla to have a huge finish to 2016. Guidance was for more than 25,000 deliveries in Q4, up a little sequentially from the record Q3 period. Unfortunately, analysts seem to be a bit skeptical, as the current estimate is for revenues to decline from $2.30 billion to $2.29 billion sequentially. That's despite analysts expecting around $75 million in revenues coming from SolarCity (SCTY) during the quarter, so unless analysts are calling for a major rise in average vehicle selling prices, they think Tesla's Q4 is at risk.
Disclosure: I/we have no positions in any stocks mentioned, and no plans to initiate any positions within the next 72 hours.
I wrote this article myself, and it expresses my own opinions. I am not receiving compensation for it (other than from Seeking Alpha). I have no business relationship with any company whose stock is mentioned in this article.
Additional disclosure: Investors are always reminded that before making any investment, you should do your own proper due diligence on any name directly or indirectly mentioned in this article. Investors should also consider seeking advice from a broker or financial adviser before making any investment decisions. Any material in this article should be considered general information, and not relied on as a formal investment recommendation.